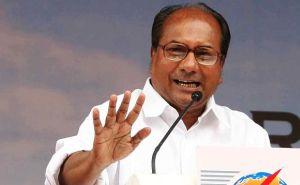 The much talked about report of the AK Antony panel, which went into the reasons of worst-ever poll debacle of Congress, was today submitted to party President Sonia Gandhi.
All the four members of the panel Antony, Mukul Wasnik, RC Khuntia and Avinash Pandey met the Congress President and submitted to her the voluminous report.
Apart from giving a condensed over-all report on the Congress' poor show nation wide, the multi-volume report has also focused on specific states incorporating the discussions held with their leaders on the reasons for the defeat and the recommendations of the panel, the sources said.
With the assembly polls in four states approaching, the report would help the leadership to take the remedial steps at the earliest to stem the rot.
Sources said that the recommendations are not critical of the leadership of Rahul Gandhi, which has been speculated in a section of media.
Though there was no official confirmation on this count, sources indicated that instead of being critical of the leadership, the report talks about the manipulation of media coverage by the BJP and the controversial role played by the media, the lacunae in Congress campaign vis a vis the blitzkrieg of Narendra Modi's election campaign and organisational weaknesses of the party.
The four-member panel was set up a fortnight after the results were out on May 16, which had come as a huge shock for the party.
The panel had begun the review exercise in June starting from Delhi, where all its 7 Lok Sabha candidates including Kapil Sibal, Ajay Maken, Krishna Tirath, J P Agrawal and Sandip Dikshit had lost.
The panel had also met the PCC chiefs, CLP leaders and other party functionaries from various states during the exercise.
It was undertaken at the behest of Congress president Sonia Gandhi who was assigned by the party's apex decision-making body Congress Working Committee to effect necessary changes in the organisational set up.
The Congress had got its lowest tally of 44 seats in the 543-member Lok Sabha in the general elections held in April-May this year.