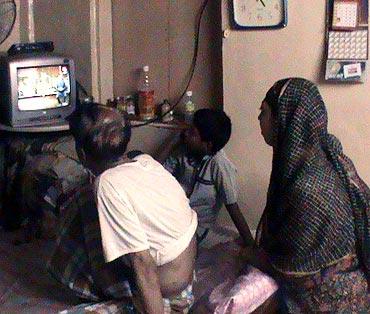 The sensational acquittal of 26/11 Mumbai terror accused Fahim Ansari and Sabahuddin Ahmed have raised many eyebrows. But for Fahim's family, the decision has simply reinforced their belief that he was innocent. Krishnakumar P visits Fahim's house in Mumbai, and brings forth their reactions.
Mumbai terror attacks accused Fahim Ansari's acquittal was possible only because of his slain lawyer Shahid Azmi's hard-work and the watertight case he built against the state's charges, Ansari's family said on Monday.
"We are very relieved that the court has acquitted him. From the beginning we were never in doubt about Fahim's innocence. Now the court has given the verdict, and we are so happy. All this is due to the hard work of Shahid. Nobody is talking about him in the news now. But its only because of him this was possible today. In fact, had it not been for his untimely murder, this verdict would have come much earlier. It is very sad that he is not here to see this verdict," Mohammed Ismail Ansari, Fahim's father-in-law, said.
His wife Mehrun Nisha, elder son Asif Ansari and Fahim's eight-year-old daughter Ikra were in his small one-room house in Mumbai's Agripada, when news of Fahim's acquittal broke and they couldn't suppress a round of applause.
"We clapped," he said. "Some neighbours also came to give their good wishes. We were never in doubt of Fahim's innocence. But still, after the painful time of the past year, I was finally relieved," he added.
As he was talking, special public prosecutor Ujwal Nikkam appeared on the television screen and said the state would appeal against the acquittal.
"The special court has given its verdict, which is big. He is saying the state will appeal. Let the state appeal. We will see that also through. We are sure Fahim's innocence will be proved in any court," he said.
Despite the joy after the landmark verdict, the family was guarded.
"I think they will now take him to Uttar Pradesh now (in connection with the Rampur CRPF camp attack case). But we have full faith that he will come through that also," said Asif Ansari, Fahim's brother-in-law.
Fahim's father-in-law said the arrest of Pakistani-American Lashkar-e-Tayiba operative David Coleman Headley on charges of surveying the targets was the point when they decidedly knew Fahim's case got strengthened.
"If Headley had collected so much information and virtually walked out of the country, what was the need for someone else to prepare a ridiculously sketchy map and take it via Nepal to Pakistan? Anyway, it was clear from the beginning that the map was planted on him," he said.
While speaking about Headley, Mohammed Ismail Ansari added that such a trial and a verdict could not have happened anywhere else but India. "In no other country could we have been so confident that he would get acquitted after being charged with such a big crime. This wouldn't have happened in America or anywhere else in the world. It is this Indian system that made it possible," the retired primary school teacher said.
The whole family, however, is happiest for Ikra, to whom the truth about her father was revealed only recently. "In the first few months, she would constantly ask where her father was. We had told her he had gone to Dubai to work. Then slowly she also learnt from the TV and we told her the truth. She then met him a few times in the jail," Asif said.
Too young to understand the importance of the day, Ikra only knows that the chances that her father will come back home have become stronger.
"When I met him in jail, he had asked me not to trouble mummy and concentrate on my studies. I came second in my second standard exam. I want to show him the rank card," the child said.
Image: Fahim Ansari's family members glued to the TV set in their Mumbai house when news broke about his acquittal | Photograph: Krishnakumar P