The Rajasthan government has launched a scheme to provide free electricity to farmers having general category connections, Chief Minister Vasundhara Raje said on Saturday.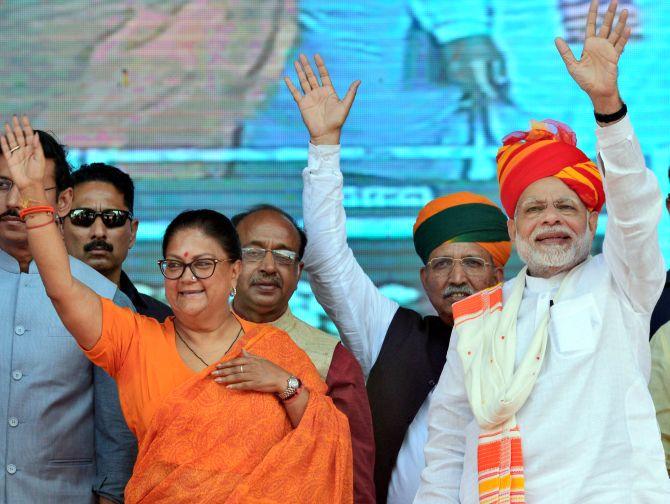 Addressing a public rally on the culmination of her Rajasthan Gaurav Yatra, the chief minister said the scheme launched on Friday would help increase the income of farmers.
"I want to announce that the government yesterday had started a scheme of free electricity for all farmers in rural areas having electricity connection in general category for specific limit," she said.
Raje said the electricity infrastructure in the state was in bad shape when she came to power, adding that the government turned the situation around by infusing nearly Rs 40,000 crore.
She said currently, domestic power was available for 20-22 hours a day.
"We want the farmers to get free electricity to some extent so that they their income can increase," Raje said.
She also announced that the state government was working on the Rs 37,000 crore "Eastern Rajasthan Canal Project" to address the water-related issues of the region.
Taking the stage after Raje's address, Prime Minister Narendra Modi said the Centre was evaluating the issues of the ERCP and a decision would be taken soon.
The project will provide water for drinking and irrigation purposes to 13 districts in eastern Rajasthan.
Modi said ever since the Indira Gandhi Nahar Pariyojna, Rajasthan had not laid foundation of any other irrigation project.
He lauded the developmental work carried out by Chief Minister Raje, saying the Bharatiya Janata Party government in the state had worked hard to electrify 13 lakh villages, ensure housing for all and implement strict laws against crimes like rape.
"It takes courage to reach out to people to get a report card of the works done in five years," the prime minister said referring to Raje's yatra.
He asked party workers to strengthen their booth management, saying booths won meant elections won.
The rally ended shortly before the Election Commission's press conference in Delhi announcing the polling dates for Rajasthan, Madhya Pradesh, Chhattisgarh, Mizoram and Telangana.
Rajasthan will go to the polls on December 7. Counting will take place in all five states on December 11, the EC announced.
The BJP had earlier said Raje would be its chief ministerial candidate in the upcoming assembly elections in the state.