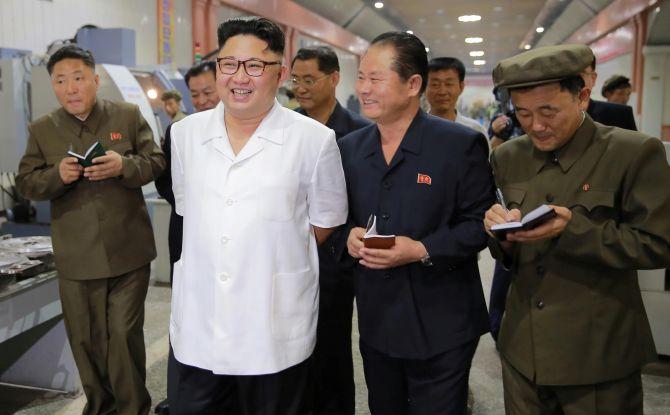 Ahead of a planned meeting with United States President Donald Trump, North Korean leader Kim Jong-un has announced the country will suspend its nuclear and missile tests and shut down a nuclear test site.
Kim has said he would halt nuclear tests and intercontinental missile launches.
South Korea's Yonhap News Agency reported that North Korea, amidst preparing for discussions with the United States and South Korea, would shut down its nuclear test site in the northern area.
'From April 21, North Korea will stop nuclear tests and launches of intercontinental ballistic missiles,' Yonhap quoted the Korean Central News Agency as saying.
'The North will shut down a nuclear test site in the country's northern side to guarantee transparency in suspending nuclear tests,' the statement from North Korea added.
The decision was made in a meeting of the ruling Worker's Party of Korea's full Central Committee that had convened to discuss a 'new stage' of policies.
Kim Jong-un is set to hold a summit with South Korean President Moon Jae-in next Friday.
The announcement was welcomed by the US President.
'North Korea has agreed to suspend all nuclear tests and close up a major test site. This is very good news for North Korea and the world -- big progress! Look forward to our summit,' Trump wrote on Twitter.
Pyongyang's declaration, long sought by Washington, DC, will be seen as a crucial step in the fast diplomatic dance on and around the Korean peninsula.
A meeting between United States President Donald Trump and Kim Jong-un will possibly happen in May or early June, this year.
China also welcomed its close ally's decision to discontinue nuclear tests, saying it could ease tensions in the Korean peninsula.
Chinese Foreign Ministry spokesperson Lu Kang said in a statement that it would help ease the situation and promote the denuclearisation of the Korean Peninsula as well as a political settlement of the peninsula issue.
A nuclear-free peninsula and lasting peace in the region are in line with the common interests of the people on the peninsula and in the region, he said, adding that these are also the common expectation of the international community.
"We hope that the DPRK (Democratic People's Republic of Korea) will continue to achieve results in its economic development and improvement of people's living standards," Lu said.
China supports the DPRK and the parties concerned to resolve their respective concerns through dialogue and consultation, so as to improve their relations, he said.
It is hoped that all parties concerned will meet each other halfway, take concrete actions and make due efforts to achieve lasting peace and common development in the region, Lu said.
"China will continue to play an active role in this regard," Lu said.
However, Kim gave no indication of Pyongyang willing to give up its nuclear weapons, or the missiles with which it can reach the mainland US, saying its possession of nuclear weapons was 'the firm guarantee by which our descendants can enjoy the most dignified and happiest life in the world'.
The North had successfully developed its arsenal, including miniaturising warheads to fit them on to missiles, Kim said, and so 'no nuclear test and intermediate-range and inter-continental ballistic rocket test-fire are necessary for the DPRK now'.
As such the North's nuclear testing site was no longer needed, he told the central committee of the ruling Workers' Party, according to the official KCNA news agency.
The party decided that nuclear blasts and ICBM launches will cease as of Saturday -- the North has not carried any out since November -- and the atomic test site at Punggye-ri will be dismantled to 'transparently guarantee' the end of testing.
Pyongyang has made rapid technological progress in its weapons programmes under Kim, which has seen it subjected to increasingly strict sanctions by the United Nations Security Council, the United States, the European Union, South Korea and others.
With inputs from agencies.