'Our dealing of counter-terrorism has been far more effective without killing anyone'
'My impression is "Kashmir" is not an issue in Pakistan'
'A strong, stable and secure Pakistan is in best interest of India'
Read what the ex-chief of R&AW, A S Dulat, told our readers on Rediff Chat!

In a career in intelligence-gathering spanning over three decades, Amarjit Singh Dulat rose to the very top as special director of the Intelligence Bureau (India's internal intelligence agency) as well as the Research & Analysis Wing (India's external intelligence agency), before becoming advisor in the Prime Minister's Office, occupying the ringside for a spectacular view of events as they unfolded.
Dulat recently co-authored a book, Kashmir: The Vajpayee Years, by journalist Aditya Sinha, that is packed with revelations on the disastrous Agra Summit of 2001, the Rubaiya Sayeed kidnapping of 1989, the release of terrorists in exchange for passengers aboard the hijacked IC-814 in 1999, the relationship and contrast between Atal Bihari Vajpayee and L K Advani...
Dulat appeared on Rediff Chat on Wednesday to take questions from our readers on several issues raging from the 2008 Mumbai terror attacks to Kashmir.
Read the chat transcript to know about the revelations made by the former R&AW chief.
Hijack of Indian Airlines Flight IC814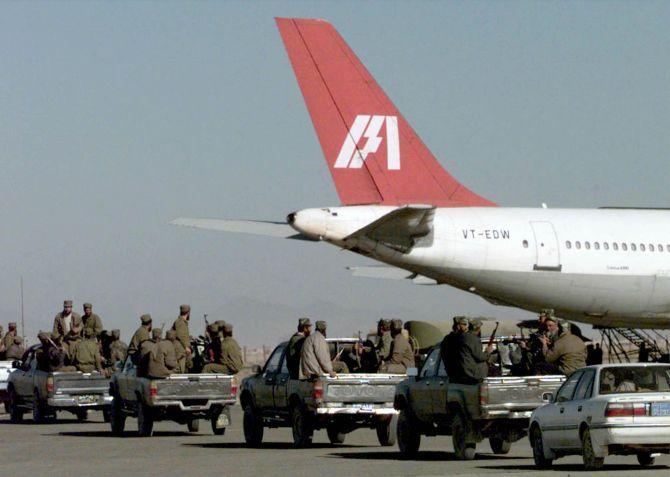 Image: A file photograph of armed Taliban cadres taking up positions near the hijacked Indian Airlines plane at Kandahar airport in southern Afghanistan in December 1999. Photograph: Reuters

Naitik: Why did US and Saudi not help Indian NSG storm IC 814 in Dubai?
Hi! Naitik, The US was having Christmas. There was no response from Saudis.
madhukar choudhary: What really happened on Chandigarh airport during IC 814 hijack?
Everybody used restraint so that lives of the passengers were not put in danger.
2008 Mumbai terror attacks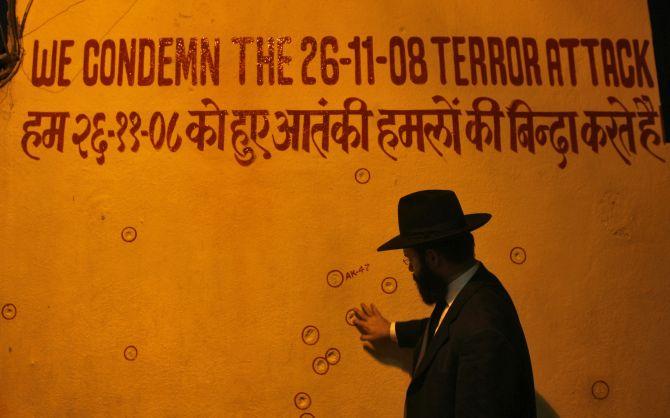 Image: A rabbi at a wall riddled with bullet holes in front of Nariman House after a multi-faith candelight vigil for victims of the attack by gunmen in Mumbai. Photograph: Arko Datta/Reuters
Gangadhar Kurakula: Does R&AW have any intention or role to bring back the 26/11 terrorists to Indian court of law and punish the culprits?
Government has been trying persistently since 26/11 to persuade Pakistan to bring culprit to justice but the matter is pending in Pakistan's court. The court moves slowly. And, government of Pakistan is not helping.
sunil jain: Why now? Just to sell book? Was there any need for these revelations when our country is already full of negativity?
Hi Sunil! Actually, the idea was to bring some positivity and get the negativity out of my head which is stuffed with Kashmir. If the book sells hurrah! Have you bought a copy? It is not such a bad book! You will enjoy the laughs.
Image: Closed circuit television footage released on December 3, 2008, shows Pakistani terrorists walking across a parking lot after a shooting spree at the Chhatrapati Shivaji Terminus train station in Mumbai on November 26, 2008. Photograph: Reuters

Janu: Mr Dulat: Why India intelligence agency never thought of bumping off Hafiz Saeed and Lakhvi? Kill them to find permanent peace.
Hi Janu! Individually we might think and dream of many things but this has never been Indian government's policy. In the long run "killing" does not help. Our dealing of counter-terrorism has been far more effective without killing anyone.
Anupam Gupta: Does RA&W tap phones of civilians like the CIA?
Targets are never civilians unless you have terrorist's connection!
Kashmir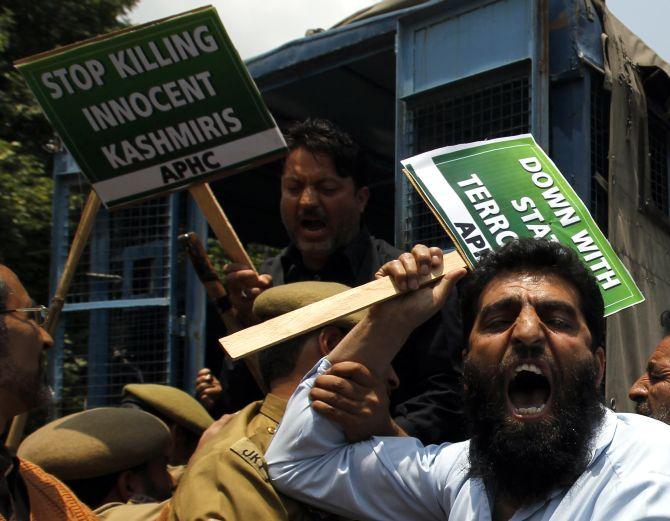 Image: Supporters of Mirwaiz Umar Farooq, chairman of the moderate faction of the Hurriyat Conference, shout slogans while being detained by the police during a protest in Srinagar. Photograph: Fayaz Kabli/Reuters

Shinde: Mr Dulat: Do you think if Advaniji had not intervened, India Pakistan would have found a peaceful solution for Kashmir under Vajpayee government with Musharraf?
Advaniji facilitated the process of negotiations with Kashmir's separatists by personally taking to them. He was also the architect of Agra though some people believe he was the spoiler.
Meghan Yeragi: Why do you call Manmohan Singh's era as the lost decade for Kashmir?
Hi Meghan! This is the quote of Mirwaiz of Kashmir but Dr Manmohan Singh's tragedy is that while wanting to do the most he ended up doing nothing. Because of lack of support around him.
Kunika: Mr A S Dulat: What percentage of Pakistani population is against India?
Dear Kunika, A difficult question to answer. Suffice to say that every Pakistani is not "anti-India" and by and large civil society is for better relations and peace between two countries. I have been to Pakistan four times between 2010 and 2012. My impression is "Kashmir" is not an issue in Pakistan. It was not even raised during the last election.
Shitalkumar Pande: Do you think Modi govt. can do something on Kashmir issue?
Mr.Pande, of course PM Modi can. Nobody in recent years has been better placed than him. His election as PM was welcomed in Kashmir and even in some quarters in Pakistan. That's why PM Nawaz Sharif came for the swearing-in of the new government in last May.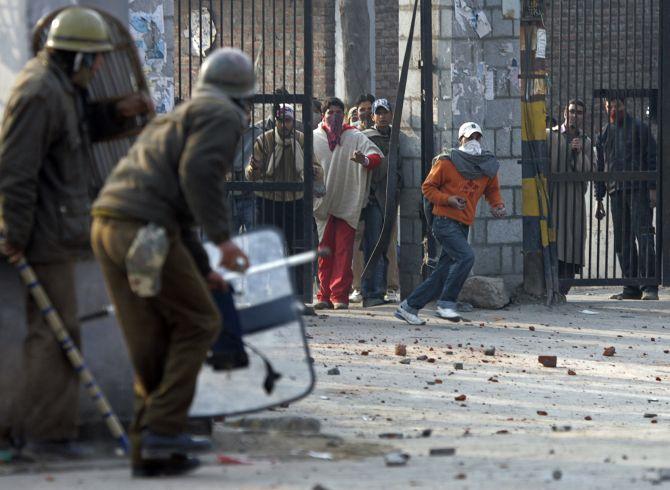 Image: Policemen hold shields as Kashmiri protesters throw stones at them during an anti-India protest in Srinagar. Photograph: Fayaz Kabli/Reuters
atanu sarkar: How do you think we can best resolve the Kashmir issue? Will we ever get back PoK?
Dear Sarkar ji, realistically getting back PoK is not likely. The best solution to Kashmir is to convert LoC into an international border which in a sense Gen.Musharraf and then PM Dr. Singh were quite close to doing , in a sense.
Farhan Aziz: Sir your expose, nonetheless, has cast doubt on the integrity of our leaders, and politics. Who would trust them now! And, should we trust them?
Aziz saab, Are you talking of Kashmiri leaders? Why should you not trust your leaders? Please read the book.
Nitin Deshmukh: When they say that Mehbooba Mufti is 'close' to Hizbul Mujahideen, does it mean close to the outfit or close to any individual in the outfit?
Nitin ji, this was perception at time of election in 2002 when the PDP surprisingly got more seats than expected in their first election. You could ask then Kashmir governor Gen. S.K.Sinha if you have any doubts.
Image: A paramilitary trooper keeps guard near a polling station during the second phase of the state assembly election in Kulangham, north of Srinagar. Photograph: Danish Ismail/Reuters
Dinesh: Mr Dulat: Do you think Pakistan can disintegrate as a nation? What will be its implication on India if that happens?
Dear Dinesh ji, Strong, stable and secure Pakistan is in best interest of India. This is what PM Vajpayee said in Lahore. He, also, said hum jung na hone denge.
Rahul: Hello Dulatji: Can you tell us did Vajpayeji regret not sacking Narendra Modi Gujarat government for 2002 riots? Did he say that to you?
Vajpayee ji never gave me that impression that he regretted not sacking him or even wanting to sack him. All he said was, may be, Gujarat may have damaged them in 2004 election.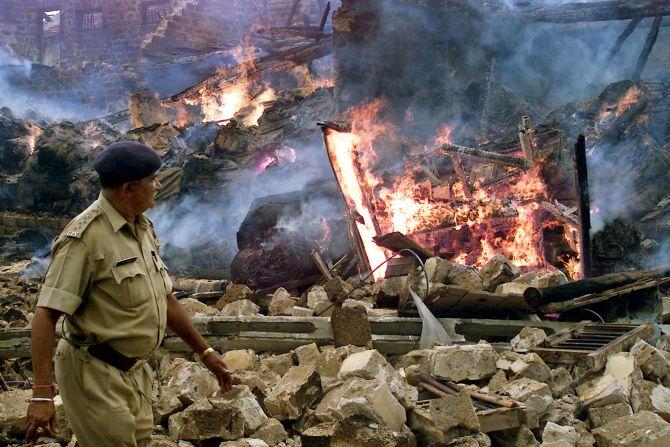 Image: A police officer walks past a building burnt by an angry mob in Veraval, 320 km southwest of Ahmedabad, Gujarat, July 28, 2004. Photograph: Amit Dave/Reuters
Amit: RAW is not a strong organization as it used to be during Indira Gandhi's regime. With many failures over the last several years including Kargil and Mumbai massacre what do you think is the main reason behind it?
Dear Amit, R&AW is as good as any other intelligence agency. This has been conceded even by the ISI. That's why they blame us for interfering in Pakistan whether we interfere or not.
Friends, I have to rush. Thanks for joining me. Will catch up some other time. Thank you, rediff.