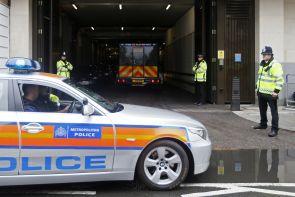 Scotland Yard have arrested four teenagers in connection with a fire at an Islamic boarding school in south-east London.
Around 128 pupils and staff were evacuated from DarulUloomSchool, in Foxbury Avenue, Chislehurst, on Saturday over a suspected revenge attack in reaction to the killing of soldier Drummer Lee Rigby on the streets of London last month.
Two 17-year-olds and two 18-year-olds were being questioned on suspicion of arson, the Metropolitan police said, adding that security and patrols have been stepped up around Islamic centres in London.
"There is an increased police presence around potentially vulnerable locations in the borough of Bromley and across London," a spokesperson said.
"It's only by luck that the fire attack didn't prove to be fatal. Fortunately [it] was identified very quickly," Met Commander Simon Letchford told BBC London earlier.
A school spokesperson, Sayed Mahmood, said he was "deeply saddened" and that intruders had been caught on the school's security cameras.
The four arrests came as counter terrorist officers continue to investigate a fire that destroyed an Islamic centre in Muswell Hill last week.
Graffiti linked to the far-right group -- the English Defence League -- was found on the outside of the building.
No one has been arrested in connection with that incident.
The incidents follow a rise in religious hate crimes after the killing of Lee Rigby in Woolwich, south-east London, by suspected Islamist terrorists on May 22.
Fiyaz Mughal, director of the conflict resolution charity Faith Matters, has said too many mosques remained vulnerable to attack in the aftermath of Woolwich.