Moshe's laughter rings in the home of the Rosenbergs, his maternal grandparents in Afula, Israel. Abhishek Mande Bhot listens in.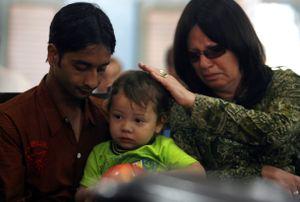 The sounds of a child playing in the background.
Occasionally, the voices of an old woman speaking to the child in Hebrew.
An old man struggling to hear you from the other line.
Another phone rings.
The child shrieks gleefully again; the old woman tries to make herself heard.
"Hello," says Rabbi Shimon Rosenberg. "Who is this?"
It isn't a demanding voice. There is kindness, patience. It isn't gruff. He isn't dismissive. Or bitter, even though he has good reasons to be.
Rabbi Shimon Rosenberg is the father of Rivka Holtzberg and father-in-law to Rabbi Gavriel Holzberg, the couple who were tortured and killed during the 26/11 attacks at Chabad House in Mumbai.
They live in Afula in northern Israel with Baby Moshe, one of three survivors from the Chabad House carnage and who became the face of hope for the city.
Today, Moshe is seven. And he seems a handful.
His grandfather, like most grandfathers, seems indulging. At no point during our conversation does he chide or shush him. He chuckles at something Moshe says.
Rabbi Rosenberg speaks broken English.
A senior officer from the consulate general of Israel has told me that Rabbi Rosenberg is willing to speak to me as has Rabbi Israel Kozlovsky. I am assured my call will not be an intrusion.
"We have built a memorial. It has three floors," Rabbi Rosenberg says, struggling to put together the two sentences. "I cannot forget this day."
When he speaks of Moshe though, he does so almost in a single breath, as if reading out from a prepared statement: "He remembers his parents. Every morning and evening he prays for them to return to him. He says he is waiting for them."
Rabbi Rosenberg says Moshe has few memories of the evening:
"He doesn't recollect (the details) exactly. But he says he remembers seeing his parents lying on the floor and not speaking to him. He remembers crying."
The rabbi says they have told him that his parents were killed by some men, but these are about all the memories Moshe has of that evening.
Moshe is the third child of the Holtzbergs.
After being married in 2002, their first son Menachem Mendel was diagnosed as being afflicted with Tay-Sachs, a disease common amongst Ashkenazi Jews. He died when he was three.
Dov Ber was their second son who was born in 2004 with the same ailment. After being institutionalised for long-term care at a facility in Jerusalem, he died in December 2008, about a month after his parents's death hundreds of miles away.
Rivka Holtzberg was five months pregnant with another child when she was killed.
Sandra Samuel, Moshe's nanny who went with him to Israel, works in the same institution that housed Dov Ber in Jerusalem. She visits the family over the weekends.
Moshe speaks to her in English.
With his grandparents, he speaks in Hebrew.
"Moshe is in the second grade at the Chabad School here," Rabbi Rosenberg, says trying to make his voice heard over Moshe's. "He is drawing pictures right now; he is playing."
Ralphy Jhirad, a friend of the family and a publisher based out of Mumbai, has visited the Rosenbergs. Much like the rabbi, Jhirad describes Moshe as a happy child:
"He is very active; he doesn't like watching television. Instead he prefers painting and craft. Last year he made New Year's greeting cards. He is very, very, creative."
"As a baby, Moshe's mother would keep him busy. He wasn't left before the television so he has grown up not liking to watch it."
"At school, Moshe has wonderful friends. When he joined the school the prime minister sent him a letter welcoming him there."
Jhirad says Moshe has a good memory. He remembers people -- be it Sandra, his nanny, or Dr Aaron Abraham, a former Mumbaikar who has now migrated to Israel and who visits Moshe more regularly than the others.
"The last time I visited him, he wrote my name in Hebrew (using alphabet pasta). We played a game of cards and we talked about this and that. He is a very happy child."
The rabbi is away.
We had spoken the previous night with much difficulty -- he speaks little English; I speak no Hebrew. Rabbi Rosenberg requests for a translator.
Raplhy offers to step in. We make the call again.
There is no response.
Much later, we get through. This time Yehudit Rosenberg, Moshe's grandmother and Rabbi Shimon's wife, replies. She isn't very happy hearing from an Indian journalist. I explain that her husband and I had spoken earlier. She suggests I call up the next evening.
At the appointed time, we make the call; the phone keeps ringing. Hours pass. No response.
On what must have been the dozenth attempt, someone answers.
It is Moshe.
I try to imagine him on the other line, running from one end of the house to answer the phone and ask: "Is this Moshe?"
"Yes, this is Moshe."
Could I speak with your grandfather?
"No, he is not here. He isn't here." his English is much better than his grandfather's
"How are you doing?"
"I am ok..."
"Is your grandmother around?"
Yehudit Rosenberg cuts in. She does not sound pleased and asks me not to call up again.
"It is painful for us."
As the phone line is disconnected, I hear Moshe's cheerful voice fill the background.
Nothing, not even bullets can drown out that sound.
Image: Moshe Holtzberg, then 2, held by his grandmother Yehudit Rosenberg and Jackie, who also survived the Chabad House attack, during a condolence meeting at a Mumbai synagogue. Photograph: Arko Datta/Reuters