'After Independence, whoever has been the prime minister of the country has sent a chaadar'
'The Salafists and Wahhabis are extremists and cannot be associated with Islam'
'We have peace in our country because of the tradition of Sufis and saints'
IMAGE: Congress president Sonia Gandhi along with other party leaders holds a 'chaadar' before sending it to the shrine of Khwaja Moinuddin Chishti in Ajmer. Photograph: Subhav Shukla/PTI Photo.
Prime Minister Narendra Modi and Congress president Sonia Gandhi may be bitter rivals in the political arena.
However, there is one activity that the both carry out each year.
Both the leaders, among many others in India, offer 'chaadar' at the Ajmer Sharif dargah every year on the occasion of the annual Urs of Sufi saint Khwaja Moinuddin Chishti. This year, too, while Sonia Gandhi's 'chaadar' was offered on Thursday, PM Modi's 'chaadar'was offered on Saturday.
While it is an event that has now become a political tradition, Rediff.com's Syed Firdaus Ashraf speaks to Haji Syed Salman Chisti, Gaddi Nashi, Dargah Ajmer Sharif, the hereditary custodian of the dargah and the 26th generation descendant of Khwaja Garib Nawaz (as the Pir is known) to understand the meaning and significance of the gesture.
What is the history behind the offering of the 'chaadar' at the Ajmer Sharif dargah?
This is a very ancient tradition in India. Be it Mughal kings or the kings before them, they all have been practising this tradition.
Even Britain's Queen Mary used to offer the chaadar at Ajmer dargah. She made a place for ablutions and till this day it is called as the 'British monument' inside the dargah.
After Independence, whoever has been the prime minister of the country has sent a 'chaadar'. This is not restricted to the Indian prime minister alone; the rulers of Pakistan, Bangladesh and Sri Lanka have also sent across 'chaadars' regularly.
This practice has been going on for the last 800 years, after it was started by Sultan Altamash (1211-36). He had also constructed the dome at Ajmer dargah.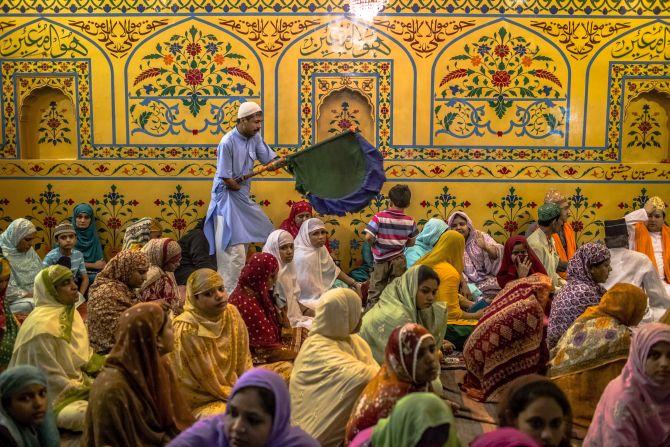 IMAGE: Thousands of pilgrims and fakirs from all across South Asia have been coming to celebrate and pay their respects to the saint at the dargah for the last 800 years. Photograph: Daniel Berehulak /Getty Images.
What was the reason for Sultan Altamash to send this chadar?
It was in 12th century when Khwaja Garib Nawaz went 'behind the curtain' (as passing away is referred to in Sufi tradition).
Sultan Altamash was his disciple and therefore he started this practice. This tradition has been practised for the last 800 years. This year we complete 805 years of this tradition.
Till date, we receive Vajpayee Sahab's 'chaadar'. We also receive one from Congress president Sonia Gandhi.
Even former president of the United States of America, Barack Obama, sent a 'chaadar' to Ajmer in 2013. He was the first US president to send a 'chaadar'.
But what is the significance of this 'chaadar'?
It is to cover the saint's grave with respect. It is said that those who send the 'chaadar', their wishes are fulfilled by Allah.
But these things are not allowed in Saudi Arabia, right?
Wahhabi Islam (practised Saudi Arabia) cannot be associated with Islam. The Salafists and Wahhabis are extremists and they cannot be associated with Islam. When the Ottomans ruled Saudi Arabia, they had different rules. With the coming of the present rulers of Saudi Arabia, they abolished all the ancient practices of Islam in Saudi Arabia.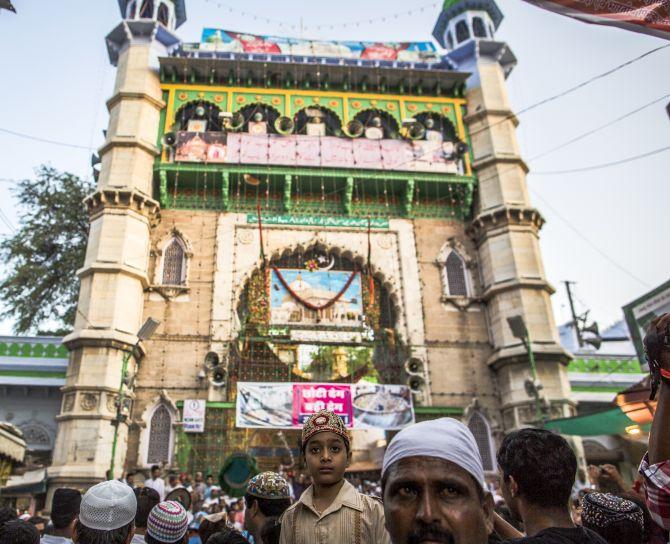 IMAGE: Muslim devotees at the Ajmer dargah where Khwaja Moinuddin Chishti is buried, during the annual Urs procession. Photograph: Daniel Berehulak /Getty Images.
But why is Moinuddin Chishti the most revered Muslim saint of India?
The first message of humanity in India was sent by Garib Nawaz. He spread the message of humanity across South Asia. Ajmer Sharif is the centre of Islam in South Asia and the design of the tomb of Ajmer dargah is replicated across India.
Why did Garib Nawaz Moinuddin Chishti came to Ajmer?
When Garib Nawaz was in Medina he saw a dream where Prophet Mohammed (peace be upon him) gave a signal to him that he must go to India and spread the message of peace and humanity. He then took permission from his own guru, Hazrat Harooni, for the same which he gave. He came to India in the 12th century at the age of 52 and lived here till he was 94 (1141-1236) after which he went behind the curtain. He taught how humans should be treated and how untouchability needs to be abolished. It was a very different India then. He embraced the people and spoke of human rights. He said that in front of Allah, all are same.
'The world media does not see one million people coming to Ajmer every year for the last 800 years. But if one man becomes a suicide bomber for the cause of Islam, he gets covered in the media.'
But there are people who say that he came to India to convert people to Islam?
In Chishtiya Silsila (Chishti dynasty of saints) no one was told to convert to Islam. Anyone who converted from his heart was welcomed and even those who did not convert were welcomed.
Even today, a majority of the people at the Ajmer dargah are non-Muslims. There is no forced conversion happening. Sufis never ask anyone what is your name or what is your religion, they only ask for what work they have come to the dargah (naam ka nahi, kaam ka poonchtey hai yahaan).
More importantly, thousands of people who eat at the dargah's langar are served vegetarian food. For the last 800 years the langars at the dargah have served only vegetarian food. It is done because no non-Muslim must feel that he or she cannot eat at the Khwaja's langar. Everyone is welcome and no one asks anyone about his/her name or religion. Nobody talks of anything which will hurt anyone. This conversion allegation is only for political agenda.
Are you saying that for the past 800 years, no non-vegetarian food has been served at Ajmer dargah?
Yes. Never has non-vegetarian food has been served inside the dargah. The official langar, which opens at 5 am, has never served non-vegetarian food.
Even during the Mughal rule, when Akbar sent across his huge utensils to cook, he ordered only sweet rice to be cooked in it and no non-vegetarian food. This place is the biggest example of secularism in India.
Why do people believe their 'mannat' (wish) will be fulfilled?
The belief is that no one goes empty-handed from here.
During the Urs, one million people come over 10 days. They come because they get peace of mind at Ajmer.
What is the significance of Urs?
Historian-author Rana Safvi on Urs and offering 'chaadar'
The death of a Sufi saint is celebrated like a wedding anniversary. The ultimate goal of the Sufi is union with the divine. This is the visal (meeting) of which we talk about in shayaris. The Sufi visal is with Allah.
This is based on the quote in one of the Hadiths (the Prophet's sayings) where he says on the first night, sleep on the bed as a bride sleeps on her bridal bed.
It is based on that concept, like you are going to meet your beloved. As the saying goes, Yeh duniya mere babul ka ghar, woh duniya mera sasural. This is a grand sending off and therefore Urs is celebrated on a large scale.
On offering the 'chaadar'
It is out of respect. Or sometimes it is offered out of happiness when a wish has been fulfilled.
Sufism has made a great contribution to Ganga-Jamuna tehzeeb. They never divide on the basis of religion or caste. For them, it was always service towards humanity.
It means union. It is from a Persian word, shab-e-urusi (night of union). When the saint went behind the curtain it is not mourned because the Sufis have only one wish when they are alive and that is to meet Allah. All their lives they serve people and desire only one thing, when will they meet Allah. They never desire anything for themselves. And during this moment of Urs, Allah accepts their will and therefore it is celebrated.
People from all over the world celebrate this day because Khwaja is meeting Allah. People pray and meditate. Every human being rejoices at this blessed moment.
Prime Minister Narendra Modi too sends a 'chaadar' every year?
Yes. Every year he has sent a 'chaadar' to Ajmer Sharif.
Prime Minister Modi speaks highly of Sufi Islam. Do you feel Sufi Islam is the right way in today's world?
Sufi Islam is no different from Islam. Sufi Islam is the essence of Islam. The new ideologies of Salafis and extremists have spread terror. They have made organisations like the Taliban, Al Qaeda and the ISIS. They have got nothing to do with Islam. They have hijacked Islam.
They have perpetrated terrorist acts and people think that is the only true face of Islam. They do not see one million people coming to Ajmer every year for the last 800 years and celebrating love and life. The world media never sees this angle of Islam but if one man becomes a suicide bomber for the cause of Islam, he gets covered in the media. The more they get coverage in the media the more they get encouraged.
Is it true that Indian Muslims don't follow Sufi Islam in large numbers?
This is wrong. India has the second largest Muslim population in the world after Indonesia. How many ISIS members came from India? Not more than a dozen, and that too from south India.
The ideology of Sufis is very strong in India and therefore Islam has been saved in India. A majority of Indian Muslims come to dargahs. India is safe because they follow Sufis and the saints' ideologies. We have a spiritual tradition and therefore India is safe and will always be safe in future.
Wherever Sufi tradition has been eliminated, extremism has risen in those places. See the condition of Afghanistan, Pakistan and now even Bangladesh is suffering. Wherever Sufis have been attacked, extremism has increased and peace has disappeared.
Alhamdullilah (by god's grace) these things are not happening in India. In spite of such a large Muslim population we have peace in our country because of the tradition of Sufis and saints.
PLEASE READ: