'Why doesn't the prime minister wake up to these social issues?'
'This government is basically saying rape is all right.'
Illustration: Dominic Xavier/Rediff.com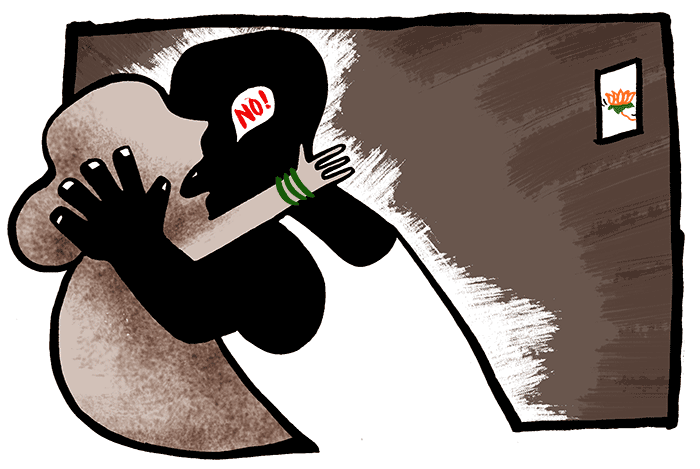 One in five married men in India have had non-consensual intercourse with their wives and such cases amount to between 9% and 15% of the total rapes in the country, stated a private member's bill tabled in the Rajya Sabha in 2015 by a Congress MP.
Non-consensual sexual intercourse between a man and his wife, or marital rape, is not an offence under Section 375 of the Indian Penal Code. This protects a man from being tried for the rape of his wife.
Two years after the bill was moved, the Delhi high court is hearing a clutch of petitions seeking to criminalise marital rape.
The Centre has opposed the petitions saying marital rape cannot be made a criminal offence as it could become something that might destabilise the institution of marriage and could be an easy tool for harassing husbands.
While the petitions in the Delhi high court seek a holistic view, criminalising marital rape per se, the Supreme Court, on the other hand, is hearing a petition on the Constitutionality of Exception 2 of Section 375 of the IPC which states that the rape law would not apply to sexual assault or sexual intercourse by a husband on his wife if she was over 15 years of age.
The petitions in the Delhi high court have been filed by the NGO RIT Foundation, the All India Democratic Women's Association and a marital rape victim.
As the case comes up for hearing again on September 20, Senior Supreme Court Advocate Dr Colin Gonsalves, left, who is representing the RIT foundation, tells Rediff.com's Swarupa Dutt that by allowing the decriminalising of marital rape, the government is justifying sexual slavery.
Why are you seeking the criminalisation of marital rape?
Very simply, because a person had come to our office a couple of months ago. She had been brutalised by her husband on a daily basis for many years. So we decided to take up the case.
In fact, it has been in our mind for a long time as it is a very important legal issue.
The Centre has said criminalising marital rape could become a 'phenomenon destabilising the institution of marriage' and that Section 498A (harassment caused to a married woman) is often misused, and so can criminalising marital rape.
You know, the same argument was used in Nepal, a similar society, a predominantly Hindu society.
The attorney general told the Nepal supreme court that it would destabilise Hindu society. But 15 years ago, the court gave a judgment saying it was a bogus argument.
In fact, the court said that society would become purer if marital rape is made a crime.
Second is the misuse of the section. It is rape, OK. Let's understand first what will happen.
The distinction between marital rape and rape will go. It will become rape.
So to people saying the rape provision is being misused in marital rape, I would say categorically that there is no data anywhere in the country that says rape provisions are being misused.
Misuse happens when the courts are unable to catch a false case. Women do file false rape charges, but the courts catch them.
False rape cases, the few that I have seen... the courts are quite capable to distinguish between a genuine case and a false case.
For example, suppose a woman falls in love with her partner and has sex and then the man says I won't marry you, and she files a rape case... Now, these kinds of cases, the courts are able to make out at once.
It's one thing to say there will be false rape allegations, quite another to say a false rape charge will end up in conviction.
The courts are quite capable in weeding out such cases.
If you say that false cases will happen and therefore you won't change the law, it means you don't have a legal system in place at all.
There are false intellectual property rights cases, false rent cases, false property cases, false commercial cases, you know...
Of course, there are false cases in the system, but they are being weeded out.
The petitioners have co-related the Right to Privacy (Article 21) and sexual autonomy of the wife.
How is sexual autonomy a part of Right to Privacy?
Does the wife have a right to privacy from her husband? It comes out of that.
The husband says, nothing doing, your whole personality is dissolved in the personality of the man.
It means I, the husband, can do no wrong.
Once I've married you, I can have sex with you as many times and your consent is of no importance.
What the husband is then saying is that the marriage licence is the licence to rape.
And since he also says your personality dissolves in mine, you don't have any independent point of view, personality, consent... All these things disappear.
So once that concept goes -- it's basically a very old concept of matrimonial relationships which date back to the British period, maybe late 1700, early 1800s -- things will change.
It is so strange that the NDA (National Democratic Alliance) government is justifying a law made in the 18th century, which said that you have no existence apart from your husband.
And that once you marry, until death, you give a licence to your husband to have sex with you whenever you want.
This amounts to a State-sanctioned licence given to the husband to violate the sexual autonomy of his wife and therefore is a violation of the Right to Privacy guaranteed to the wife under Article 21 of the Constitution (Right to Privacy).
The NDA government -- I can't understand this, even a Hindu society like Nepal changed its law 15 years ago, and these people are still articulating this archaic nonsense.
But even the Justice J S Verma Committee recommendations and the Criminal Law (Amendment) Act, 2013, (constituted in the wake of the 2012 Delhi gang rape), said the exception to marital rape be removed, but said it should be accompanied by changes in society.
He (Justice Verma) never said that. He categorically said marital rape should be criminalised.
Irrespective of the kind of society, societal mores India has?
What is the argument for the kind of society?
The argument is that many Indian women are not financially independent, or literate, and what follows is that if you give that woman a right to appeal against marital rape there will be a breakdown in marriages and she will be unable to fend for herself.
Let's look at it this way. We have produced studies in the high court (Delhi) that says 10 per cent of married couples complain of marital rape. Which makes it a huge number.
Studies in Uttar Pradesh show 50 per cent of men admit to forcing their wives to have sex.
Now, look at the corresponding women. Hardly one per cent of women admit or file a complaint that their husbands are forcing them to have sex. Which means the exercise of the right is pitiably low.
Why don't women speak up more? Why is it just one per cent?
Because women know marital rape is lawful. They know their husbands can attack them day after day. They know they don't have a right to protest.
So, coming to the Centre's claim that criminalising marital rape will lead to a breakdown of marriages, I want to say that if marital relations break up because of violence in the family, isn't that a good thing?
Is it correct to say we have to keep the couple together for the sake of the family when violence is perpetrated day after day?
Would it not be better if the woman is freed?
In cases of marital rape what is going to happen to the woman? That is what we are asking, right?
So there must be a national programme that all marital rape victims must get financial support.
They should get half the land, half the money, financial support from the government. Women have to be supported to exercise this right, especially the poor.
Rather, what the government is saying is, 'Well, they don't have support, poor thing, let them live and be raped'.
Is that a justification for rape?
They say, 'Oh we don't know what's going to happen to them, let the rape continue'.
The government is therefore saying, they are poor, they cannot be financially independent and look after themselves, so let them be sexual slaves.
India is a largely patriarchal society. How much of role does patriarchy play in ensuring marital rape is decriminalised?
Patriarchy is a convenient word. We should substitute patriarchy with government.
How much of a role does the government play in pushing this kind of perspective that women in marriage can be raped?
If a prime minister comes on TV and tells women, 'Don't allow any force in your marriage', can you imagine the impact that will have?
Instead of which the government says, 'Oh we don't know, maybe it's our culture'.
'If we tell women it is your culture to be raped, it is your custom to be raped, it is your tradition to be raped, they will listen.'
Why doesn't the government, the prime minister, take a more dramatic and progressive stand?
It's like that movie PINK. No, means No.
Did the UPA (United Progressive Alliance) government have a different stance?
Or did the marital rape plea come up after the NDA government came to power?
Correct. The marital rape plea came up during this government (the first plea was filed in 2015).
Why doesn't the prime minister wake up to these social issues? This government is basically saying rape is all right.