'Our priority will be to settle land disputes in Bihar, which I believe is the root cause of almost all crime in the state.'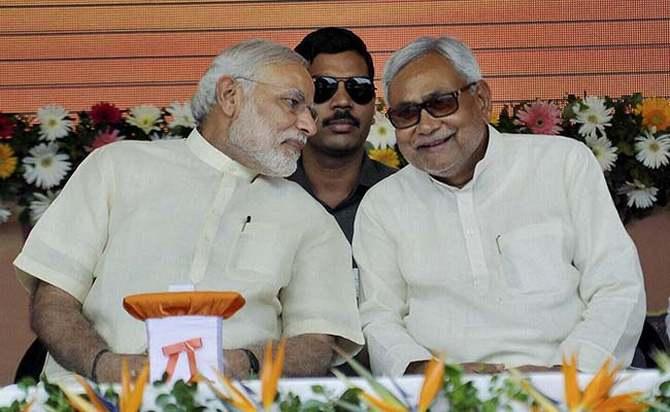 Bihar's Deputy Chief Minister and Finance Minister Sushil Modi speaks to Satyavrat Mishra.
It is alleged that the BJP (Bharatiya Janata Party) and Nitish Kumar had decided to join hands much before his resignation in July. How would you respond?
There is no truth in such allegations. When Kumar submitted his resignation to the governor, we formed a three-member committee to decide the future course of action.
After discussions, we decided to support the government.
We asked permission from the central leadership. After we got the green light from Delhi, we announced our support for Kumar.
Who knew that Kumar would resign?
What would have happened had Lalu Prasad asked his son to resign?
There is no truth in the allegations of Kumar's resignation being a pre-planned event.
You had said in interviews with various publications that the BJP would never have an alliance with Kumar. What changed?
I have never said that. All I said was 'We don't know what's going to happen'.
It is true that the best years of Nitishji's political life were with the BJP.
Everyone who has ever been with the BJP always find his or her way back to us.
I, however, always thought Laluji would go to great lengths to protect the Grand Alliance governance, given the political future of his now ex-minister sons.
Therefore, I used to say that if there isn't any threat to the government, then where is the question of our role.
Till the last day, we believed that Laluji would ask his son to resign to save the government and political power.
However, he made it a matter of prestige and Kumar also refused to budge.
Kumar remained adamant that Tejashwi Yadav must come clean on the allegations.
Kumar showed true grit in doing so. Only a few leaders in the country can take a stand on corruption today.
The BJP and Kumar share a rocky past. How can the party trust him?
Situations can change.
Nitishji has always been a flag-bearer of anti-Congress politics.
He never liked the Congress work culture.
People have seen the glorious days of National Democratic Alliance-1 and therefore they wanted us back together.
Mark my words: This alliance will sweep both the 2019 Lok Sabha election and the 2020 Bihar assembly polls if we don't make silly mistakes.
It reflects the wishes and aspirations of the majority of Bihar's voters.
The Congress is already discredited and on the verge of extinction in Bihar.
Apart from Prasad's core support base, no other social group is ready to accept him because of his bad track record in governance.
There has been a rise in right-wing political statements and incidents in Bihar. Does this mean Hindutva factions would be more assertive from now onwards?
Hindu or Muslim can never be a topic in governance.
Our agenda has always been development and it will remain so.
We have been working for the public in Bihar and will continue to do so.
Our motto will be 'Sabka Saath, Sabka Vikas' and we will work for each and every person in Bihar without any discrimination.
Our government will leave no one behind.
The BJP was most critical of the new prohibition law in Bihar and even called it a 'Talibani law'. Will you change the law now?
We have always supported prohibition.
The law might be a bit harsh, but till date there has been no complaint about its misuse.
A law or policy can be reviewed, but people are happy with the stringent ban on liquor.
Even our own leaders and workers have supported the liquor ban.
Therefore, despite being in the Opposition, we couldn't muster the courage to speak against it.
Prohibition has also shown various positive social and economic impacts.
No government can now dare to repeal prohibition from the state.
However, if we find the law is being misused, then being a sensitive government we will certainly review it.
The state coffers took a hit last year because of prohibition. How would you manage it this year?
We can't get back the Rs 5,000 crore (Rs 50 billion) that we lost because of the liquor ban.
However, GST (the goods and services tax) is expected to be a big boost for our finances.
Being a consumer state, we are expected to gain the most from this new tax regime.
Moreover, we expect more funds transfer from the Centre and we will now focus on better monitoring.
We will focus on a higher growth rate, which will ensure higher fund allocations from the central government.
During the Bihar assembly election in 2015, the prime minister had announced a special package worth Rs 1.25 lakh crore for the state.
However, as per the state government's data, only Rs 23,500 crore has been utilised till March 31, 2017. Will the situation improve now?
There was confusion over whether the Bihar government would get the money.
The truth is that more than 80 per cent of the funds will be given directly to the implementing agencies.
For example, the Centre has promised Rs 53,000 crore for the roads sector in the state, but the money would be given directly to the National Highways Authority of India.
On the other hand, many projects listed in the special package such as AIIMS, central university are pending because of problems in land acquisition.
We have now decided to give land to all these projects on a priority basis, so that we can utilise every single penny of the package.
What would be the agenda of the new government?
This time we will focus on second generation reforms.
Our priority will be to settle land disputes in Bihar, which I believe is the root cause of almost all crime in the state.
For this, we had decided to conduct surveys, digitise land records, formalise the mutation process, etc, with a focus on bringing land disputes down to a minimum.
This government has been formed on the issue of corruption.
Therefore, we will never compromise on that issue.
We will promote the use of information technology in the daily functioning of the government.
All payments would now be routed only through the electronic mode and the use of cash and cheques would be discouraged.
We have decided to complete Aadhaar seeding by the end of this calendar year and payments in social security schemes would be sent only through the bank accounts.
In infrastructure, we have decided to connect every house with electricity by the end of the next year.
By the end of 2019, we will achieve the target of 100 per cent farm electrification; every farmer will be given an electricity connection for the purpose of agriculture.
To boost agricultural production, we will ensure proper implementation of the third Agriculture Road Map.
We will also focus on the health sector, which was ruined by the misrule of Tej Pratap Yadav.
Road construction will also be on our radar.
IMAGE: Prime Minister Narendra D Modi with Bihar Chief Minister Nitish Kumar. Photograph: PTI Photo