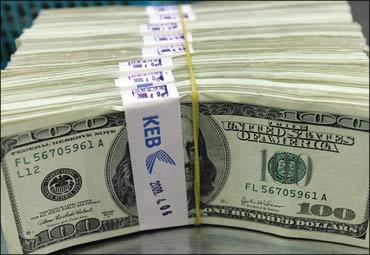 'The approach of the UPA and NDA to black money appears to be fairly similar. The NDA has been in office for five months and they've disclosed only three names. It means that the Special Investigation Team is not doing any serious investigation, so far.'
'It appears that no action has been taken against HSBC Bank. When a similar thing happened in the US, the US arrested those bank officials and forced them to reveal all the accounts held in their banks. Why hasn't the Indian government done that?'
'It creates a very firm impression that people are being protected because many of the people who hold these accounts are powerful people'
Advocate Prashant Bhushan, who is one of the petitioners in the black money case, makes a plea for the revelation of all the names of account-holders that the government has submitted to the Supreme Court, in an interview with Sheela Bhatt/Rediff.com.
There is no one like Prashant Bhushan (pictured below) in India's highest court today. He relentlessly holds briefs for the poor, displaced and deprived classes and victims of various projects and, above all, he fights against corruption in the system.
The legal activist, who has seen defeats and successes in court, will soon file a petition before the Supreme Court to disclose the names of all account-holders who allegedly hold illegal bank accounts in Swiss banks and other tax havens.
He spoke exclusively to Sheela Bhatt/Rediff.com on what is now called the HSBC list and expressed pessimism on getting back millions of rupees of black money stashed abroad by Indians.
The first of a two-part interview.
Is the National Democratic Alliance's stand on black money similar to the United Progressive Alliance's stand which you had witnessed over the years?
It appears to be fairly similar. Firstly because, even after having been in office for five months, they've disclosed only three names which are allegedly illegal. It means that the Special Investigation Team is not doing any serious investigation in this matter, so far.
Secondly, asking for the non-disclosure of names on the basis of double taxation agreements, the government is not only repeating what the UPA said, which was rejected by the Supreme Court because it was not justifiable at all. These names were not given by the German government or the French government on the basis of the double taxation avoidance agreement. These names were revealed by whistle-blowers.
If the Indian government asks the German/French government to reveal the names of Indian citizens who have accounts in those countries and they reveal the names under the DTAA, yes those names will be subjected to confidentiality clauses under the agreement. But these names were revealed by some whistle-blowers from Liechtenstein as well as Geneva's HSBC Bank which had found their way to the German and French governments and they offered these names to various countries including India.
Therefore, there is no question of confidentiality of these names under the DTAA. And this very argument had been rejected by the Supreme Court in their July 2011 judgment. In any case, if the Supreme Court orders disclosure of all names and the government discloses it pursuant to the SC order, that will not be construed as a violation of the DTAA.
Now some people like (former solicitor-general) Harish Salve and (journalist) Karan Thapar and some others are arguing that even disclosure of names to the SIT by the government amounts to a violation of the DTAA. That's a completely absurd proposition. The SIT is an investigative body appointed by the Supreme Court to investigate cases of Indian account-holders holding illicit accounts abroad. Where is the violation of the DTAA?
Under the DTAA, all countries are certainly permitted to give information to their law enforcement agencies, who have a legitimate role to play in inquiring into this and taking action.
Justice M B Shah, chief of the SIT probing the black money cases, has also said that he will not reveal the names, that he will not disclose the names, because of this 'limitation'.
I've not seen what Justice Shah has s
aid, but we will certainly go and talk to him. See, one can take a view. It is possible to take a view that all names of account-holders need not be revealed. That only those names where prima facie illegalities exist should be revealed. You see, more than enough time has elapsed for the government to have determined prima facie illegalities.
There are reports that 100 people were granted amnesty. What does amnesty mean? It means they admitted that their accounts were illegal and then they paid some tax or penalty or whatever. If their accounts are illegal then there should be no confidentiality about their names. Their names should certainly be revealed. Whether the government granted amnesty or not, if their accounts are illegal then under the DTAA also they can be revealed. They must be revealed.
This whole thing of resistance to disclosure of names is founded on the right to privacy. It is said that people have a right to privacy about their bank accounts. That means the Right to Information does not extend to such private information. Prima facie that may be a legitimate rule, but even under RTI the right to privacy is overridden by public interest. If the public interest involved in disclosure of private or personal information outweighs the interest of privacy, then it can be disclosed.
What is the situation in which these names need to be disclosed? What is the situation in the country today? It is common knowledge that a large number of Indian citizens, including a number of officials and politicians and businessman, have secreted abroad a lot of illegal, illegitimate money whether it is crime money, whether it is corruption money or whether it is tax-evaded money, and sometimes they've been laundered and brought back through hawala channels or through various channels back into India and invested in such anonymous instruments like participatory notes, or as investments in India from companies which are registered in tax havens.
So when this is such a big problem because of which the SC ordered the constitution of an SIT and ordered disclosure of these names, then obviously the public interest involved in it overrides these minor considerations of right to privacy. Suppose people have legitimate accounts and that information is disclosed to the people, these people can always point out that their accounts are legitimate. The only supposed harm that will come to them would be that people will come to know that they are having so much money in some accounts abroad.
What is the great right to privacy in this? The public interest is quite huge in people coming to know this information so that the crooks can be caught. Today there is a growing feeling that successive governments are protecting these people. Because by now, in three and a half years, certainly all these account-holders should've been investigated; if they are legitimate account-holders they are supposed to disclose to the Reserve Bank of India before they deposited so much money abroad.
Those who've not disclosed their accounts are prima facie illegal accounts so therefore those names should've been disclosed by now. But unfortunately, the previous government especially, and even the present government does not seem to be carrying out any credible investigation so as to reveal all the names.
But the previous government also said that it is very difficult to investigate these things because in some cases only names are there, in some cases only account numbers are there and in most cases, I think people have simply denied that they held the accounts. They want us to believe that it's a case of mistaken identity. How can you establish crime without the complete cooperation of the particular bank, which I think is not forthcoming?
I am not sure exactly as to what has happened, but you see there are several people whose names are there in the HSBC list and who had substantial amounts in their accounts as well.
Apparently they've been given some amnesty. Now why have those names not been revealed? There were three people whose statements were recorded by the IT department. These statements we had circulated in a press conference two years ago.
They had admitted to these accounts held abroad. They had also disclosed how HSBC officials helped them to open these accounts and helped them take out this money through hawala channels etc. But even these names have not been disclosed.
And it appears that no action has been taken against HSBC Bank. When a similar thing happened in the US, they arrested those bank officials and forced them to reveal all the accounts held in their banks. Why hasn't the Indian government done that?
All this creates a very firm impression that people are being protected because many of these people, who hold these accounts, are powerful people. They are people who've been donating money to these political parties. They are people who have various other kinds of influence over these political parties who've been running these governments, the UPA and now the NDA government. Therefore they've been protected.
On the other side there is also the allegation against people like you or Ram Jethmalani and other activists that you are not interested in the broader picture but you are more interested in exposing the names to score political points. Is revealing names more important than seeing to that the entire process to bring back black money gets completed?
We are not going to find any money in these accounts because this information came three years ago. Obviously the money is gone. There is no question of being able to retrieve money from these accounts. All that can be done is to prosecute these people and through prosecution maybe you can penalise them to the extent of these accounts etc.
So unless people know these names, public pressure will not be created on the government to act against these people. For example, if officially it had been revealed that so-and-so had X amount of money, public pressure would've been created on the government to prosecute them for this violation but unfortunately the information is not being given out and some kind of amnesty has apparently been given.
What evidence did you have when you revealed a few names two years back?
At that time (Aam Aadmi Party chief) Arvind Kejriwal had been given this information by some whistle-blower of about 10-12 of the account-holders. Kejriwal also got sworn signed statements of three of these people which we had released that time. These are only a few of the more than 600 names in the HSBC list but it shows that there are several very influential and powerful people on that list who had substantial moneys in their accounts and many of whom had even admitted to having these accounts and said that these accounts are illegal etc, and yet those persons are being protected.
Part 2: 'This govt is beholden to the capitalists who hold accounts abroad'
ALSO READ: