'If you are weak economically, you automatically lag behind in other aspects of life.'
'We say those who are economically and socially backward should be given reservations.'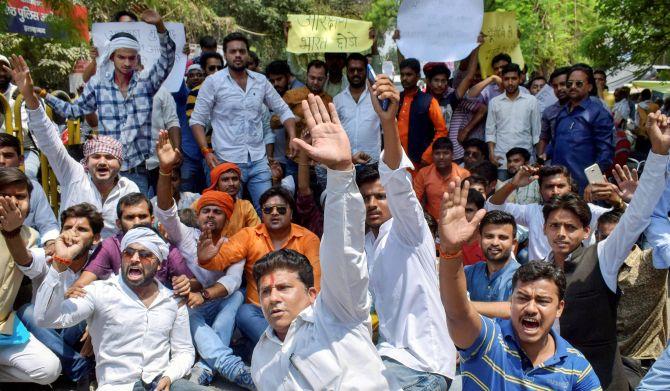 At a time when Dalit organisations accuse the Narendra D Modi government of being 'anti-Dalit' and have staged nation-wide protests on several issues, Bihar's Industry Minister Jai Kumar Singh has sought 'justice' in the form of reservations for poor upper castes.
Singh, a Janata Dal-United leader -- an ally of the Bharatiya Janata Party -- believes that economic backwardness corresponds to social backwardness and, consequently, socio-economic status of poor among the upper castes is not very different from that of the Dalits.
"We should not see it as reservations to the upper castes, but as social justice to the economically backward," Singh tells Rediff.com's Utkarsh Mishra in a telephone interview.
Is your demand for reservations for poor upper castes your personal demand or a proposal from the government?
It is both.
You see, our government under Chief Minister Nitish Kumar had constituted a Sawarna Pichhada Aayog -- a commission to study how the economically backward among the upper castes can be given reservations -- in 2011. It is conducting surveys across the state.
Just like the Mandal Commission was constituted, on the basis of whose report reservations were given to other backward castes, we want to provide reservations for poor upper caste people on the basis of our commission's report.
On similar lines, we want the central government to constitute a commission to study reservations needs of upper caste people, who are socially and economically backward, on an all India level.
The report of Bihar's Sawarna commission is awaited...
Yes, the survey is still going on. It is not a small task to be completed in a matter of days. The work is on. The commission comprises of upper caste people.
Shouldn't you have waited for the commission's report to raise this demand? You would have had a model ready for you in such a case, which you could have sought to implement at the national level.
That's what we are doing. Please note that we are (only) demanding constitution of a commission to study how upper caste poor can be given reservations on the lines of the commission we've constituted in Bihar.
What Bihar has done, the Centre can also do.
The commission should study how reservation can be provided to socially and economically backward upper caste people to bring them into the mainstream.
This is our demand.
What's the BJP's reaction to your demand?
It's not about the BJP or any other party. I've made this demand on behalf of poor upper caste people.
It's not about party politics. All parties should think about that section of society, that's the only goal.
Do you have any socio-economic data on the basis of which you can say that poor upper caste people need reservation?
We are conducting the survey for that purpose only.
Once it is completed, we will have all the data.
Do you really think that the same economic condition of upper caste poor and Dalits correspond to the same social status?
If you are weak economically, then you automatically lag behind in other aspects of life.
Can a poor man ensure good education for his children?
Can he provide them with good cloths or other facilities?
Those who have no money, no property, can they flow with the mainstream? This is quite practical.
Today a poor person can't even compete with the middle class. How can their social status be the same?
People say we want reservations for upper castes. No, we don't use that language.
We say that those who are economically and socially backward should be given reservations. And it should be figured out how.
It should also be considered that the 50 per cent limit on reservation put by the Supreme Court is not violated.
The government has the power to bring an ordinance and increase that limit. Parliament can amend it.
It has been done in the past. If the government wants, it can bring a bill or an ordinance to amend it.
If there is political will, it can be done, whichever government is in power. We are not making this demand from a person or a party.
We are not demanding this from Prime Minister Narendra D Modi as a person. It is a demand from the central government.
As you want reservation given to poor upper castes, do you also support a similar demand of keeping the 'creamy layer' of backward castes out of the reservation ambit?
That is a completely different demand, which is not in our agenda.
There may be people who would be fighting that battle, but we are not saying anything about it.
Our concern is the welfare of poor upper caste people who need support.