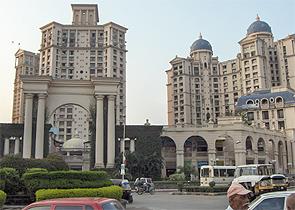 'For 20 years, successive governments have failed to provide housing for the poor. Here they were to get 400 sq ft flats for Rs 54,000 in Powai, Mumbai. It wasn't free, it was a condition and that has not been fulfilled,' Prakash Ambedkar, who was arrested by the Maharashtra government for getting thousands of people to submit forms for these apartments, tells Neeta Kolhatkar.
Last week, Bharip Bahujan Mahasangh President Prakash Ambedkar embarrassed the Maharashtra government by distributing photocopies of cheap housing forms in state Chief Minister Prithviraj Chavan's name under the 'Powai area development scheme'.
It resulted in thousands of people flocking the state secretariat to submit their application forms for 400 square feet flats in north-east Mumbai's Hiranandani Gardens area in Powai.
According to the 1986 scheme, 230 acres of land was leased to builder Niranjan Hiranandani to build low and middle income homes. The project eventually amalgamated the low and middle income housing to develop the area into a plush suburb.
Fifteen per cent of the apartments were to be handed back to the state government for the sake of public housing. The cost of each 400 sq ft apartment was to amount to Rs 54,000.
Today, hundreds of thousands of people have been deprived due to the unfulfilled promise. The dispute is in the Bombay high court, while the government is yet to take action against Hiranandani.
Prakash Ambedkar, Dr Babasaheb Ambedkar's grandson, was arrested and released on bail immediately for the distribution of forms that resulted in large crowds thronging the secretariat. In an interview to Neeta Kolhatkar, he promised to make 'housing for poor' a mandatory policy.
Why did you photocopy formats falsely using the chief minister's name and address?
I did it deliberately. Having said that, what wrong have I done?
What are we saying now? There is a subtle change, there has been a breach of understanding. Am I not supposed to raise this issue?
For 20 years, successive governments have failed to provide housing for the poor. Here, they were to get 400 sq ft flats for Rs 54,000 in Powai. It wasn't free, it was a condition and that has not been fulfilled.
I don't deny I provoked the government and the chief minister. The fact is, I've forced the political system to think about giving low cost housing to the poor.
How did you think of this innovative idea, and why now? Is it to keep your name in the reckoning before the election?
See, we have tried it before. Since many years I've used different means to keep the issue alive and remind the governments.
In the last week of January, we organised a rally at Vikhroli, Park Side (north-east Mumbai). Here we distributed forms among the people.
This is the first time we used this idea. Even we didn't expect this kind of response. (Points to this office), do you see the piles of application forms? I didn't expect this.
It shows how many poor in Mumbai don't have a rightful house and even today they are hopeful. Now when we distributed a few hundred forms at the rally, we didn't think they would photocopy it and give it to others.
I'm not a forgotten entity, so whatever little political clout I still have, I will surely use it.
Of course, it is election time and there is no better time than this to remind the government of their unfulfilled promise.
Did you expect the government to react in this manner? Deployment of the police, arresting you. The CM wants to file a case against you.
All I asked the people to do was fill and submit the forms and that is precisely what they did -- in the most disciplined manner.
Where is the question of breach of law and order?
What have we done to be booked under any section, or that the police should arrest me?
They should arrest the builder for failing to keep his promise. I will ensure that the issue of housing for poor people becomes an agenda for all political parties.
It should become a part of government policy, we will force it. This is just the first step.
All that the CM had to do was accept it, which they did on the first day and later they stopped.
As if that wasn't enough, they indulged in a mild lathi-charge and pushed the disciplined people. It shows the vulnerability of the government and I am only capitalising on it.
The CM made a mistake of taking responsibility for the mistakes made by previous chief ministers. This has given him a bad name.
You have used the people, they feel used. Why did you make a mockery of a common person?
We asked the people to submit the applications and that is what they did. There is nothing false about it or the fact that there is a commitment for houses for the poor.
I have done nothing wrong and I haven't used the poor people. There is no cost to this submission of forms, so nobody has incurred any loss.
The fact is the people too are a party to this, they are aware of this scheme and we reminded people about the Powai area development scheme and about the condition of building houses for the poor.
People are angry with the government for taking them for a ride and for not even accepting their forms. This is no mockery.
I will force the government to make a policy on housing for the poor.
Image: The Hiranandani Gardens area in Powai, north-east Mumbai. Photograph: Courtesy, Wikicommons.