'Every criticism of the government does not necessarily mean you want to overturn or destabilise the government.'

The word sedition has been contorted, distorted, stretched and moulded to fit a number of cases in the recent past -- 47 cases of sedition were filed in 2014 itself.
Senior advocate Kamini Jaiswal speaks to Nikita Puri on what the term means and its implications on freedom of speech in India.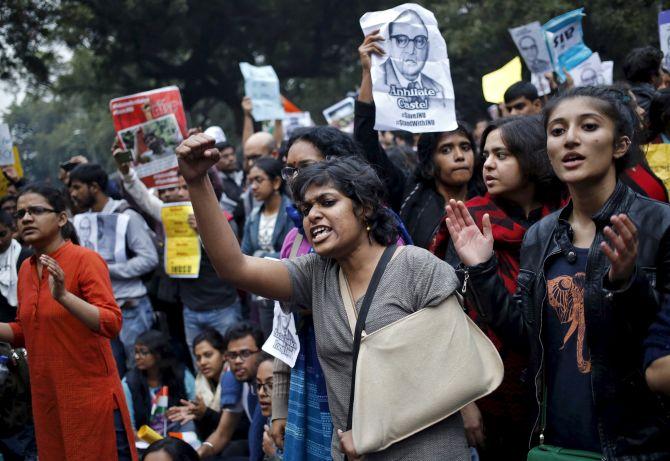 Demonstrators shout slogans as they hold placards during a protest demanding the release of Kanhaiya Kumar, a Jawaharlal Nehru University student union leader accused of sedition. Photograph: Anindito Mukherjee/Reuters
The sedition law, most recently used to arrest Jawaharlal Nehru University student Kanhaiya Kumar, has colonial origins. What was the need for this law?
The law came about during the freedom movement when there was a lot of agitation against the British-led government which was ruling the country. It was basically used against freedom fighters like Bal Gangadhar Tilak, Mahatma Gandhi, Bhagat Singh and others -- all of them were tried under the sedition law because they were trying to overthrow the government.
What exactly is sedition and can the term be misinterpreted to suit those in power?

Section 124A or sedition has been spelt out by the Supreme Court in Balwant Singh's case (Balwant Singh and Another vs State Of Punjab, 1995). Supposing I give a speech, and I tell people that this government is illegitimate, it won't amount to sedition; something has to happen as a result of that. People have the right to criticise the government if they are not happy with the functioning of the government. Every criticism of the government does not necessarily mean you want to overturn or destabilise the government.

Sedition is a very serious matter. 'I don't like you' can't amount to sedition, neither can 'I don't like the prime minister's face' or 'I don't like the prime minister's policies.'
One moment the police commissioner has concrete and clinching proof of sedition, which turns out to be a morphed video, then he flits between opposing bail and not opposing bail -- power shouldn't be in the hands of such people.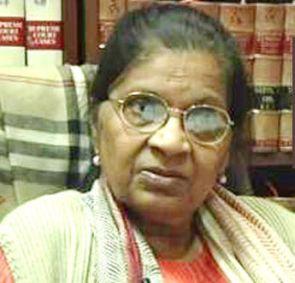 Senior advocate Kamini Jaiswal
The United Kingdom repealed its sedition law in 2009, the United States has struck down parts of it over time. Besides India, the countries that hold on to sedition include Saudi Arabia, Malaysia, Iran, Uzbekistan, Sudan, Senegal and Turkey. Is this law relevant in today's times?

They follow the West, unless it comes to retrograde laws. Then, they want to go with countries like Saudi Arabia and Uzbekistan. We should be looking up and not looking down. You want people to come and make in India, but you don't follow the good examples to do away with such retrograde laws? Every cartoonist who criticises the government should be guilty of sedition (in its current example); you, me, all of us should be guilty of sedition because we criticise the government's policies and actions. It's not relevant.

How can we differentiate between sedition and free speech?

Just speaking up is not sedition. There has to be something following that, and that something does not mean somebody beating up somebody else. It has to be something more serious than that. It means actual violence with the intention of trying to overthrow the government.

I have read in great detail what Kanhaiya Kumar said. I have seen the video, and I have read the English transcripts. My take on this is that we have to divert our attention and some action has to be taken against people who have circulated these morphed video because what they have done is sedition. Because what they have done has clearly resulted in violence.
We should highlight the fact these TV channels, which have completely gone wild showing a morphed video, they are the ones who have incited people. A serious note has to be taken about this and whoever is responsible for this kind of a mob frenzy, this kind of violence, they are guilty of sedition.
As sedition law moves along in Indian history, what should be the next step? Do you think this law should be done away with?

I am of the firm opinion that the sedition law has to be done away with. If we say something against the government, we are anti-national. If you criticise something, you are anti-national. There is no free speech, today we are in a state worse than Emergency, an undeclared 'emergency'. We must do away with sedition now; this is one colonial law which must go. It's obnoxious and appalling that they use this law all the time.

Going forward, public opinion has to be generated irrespective of what 'nationalists' say, irrespective of what hoodlums in our society, like certain lawyers, have to say. Every newspaper has at least one article on this every day and this has to be kept on. That's the only way to go forward, to have debates on the issue and to make representations to the government. You can't take the law into your own hands.