'You are with each other 24x7, so how can you ignore someone crying next to you?'
'How can you not share a piece of chicken with someone who is sitting next to you and watching you eat it?'
'Of course, you will share.'
'And you become friends with the kind of people you never thought you'd even know.'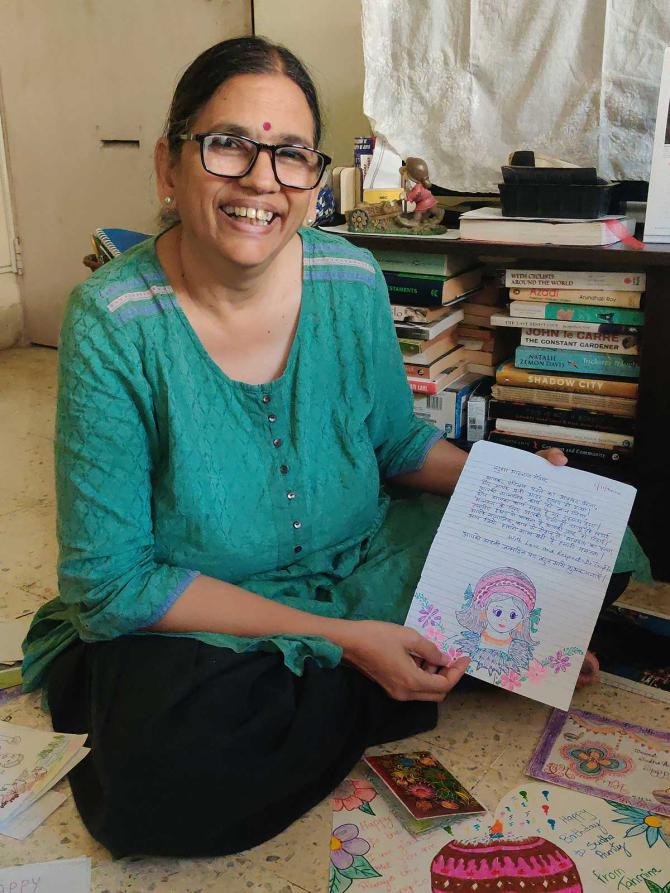 When you look at the picture above, at the smile that illuminates Sudha Bharadwaj's face, you cannot help but marvel at her quiet strength.
For this is a woman -- an accused in the *Bhima KoregaOn case -- who has been released on conditional bail just a few weeks ago after spending three years in prison.
Conditional bail means that this Chhattisgarh-based lawyer, activist and trade union leader will -- for now -- have to rebuild her life in Mumbai.
Sudha -- who was born in Boston and lived in the United States and United Kingdom as a child -- has lived and worked in Chhattisgarh for over three decades.
At Pune's Yerwada jail, where she was first held, she was kept in the phansi yard (death row) with her co-accused, Professor Shoma Sen (a co-accused in the same case, she used to head the English department at Nagpur University and is a women's rights activist) and two convicts who had been sentenced to death.
In Mumbai's Byculla jail, where she was then moved to, she faced the frightening spectre of COVID.
In a conversation with Rediff.com Senior Contributor Neeta Kolhatkar, Sudha Bharadwaj explains how she kept her spirits up.
The second of an exclusive four-part interview:
You were incarcerated in Pune's Yerwada jail and Mumbai's Byculla jail. Both are very different kinds of prisons. How did you keep yourself mentally and physically fit?
In Yerwada, Professor Shoma Sen was in the cell next to me. She was my life support. I don't think either of us could have survived without the other, even though we were kept in separate cells.
We could at least eat together.
We subscribed to one newspaper each and would exchange them. This way, we both read The Indian Express and The Hindu cover-to-cover, including the sudokus.
We laughed at the witty columns.
Yerwada is a very old, single-storeyed jail built in 1926.
The cells in the phansi row are structured like a cage, which allowed us to look through the bars.
We could watch children playing.
During the mango season, we would see women throwing stones to steal mangoes and make achaar (pickle).
I would walk inside my cell because we were let outside only for half an hour every day.
Professor Sen and I would take that opportunity to walk in the sun. We would sing songs from The Sound of Music, The Beatles, Simon And Garfunkel and songs of the women's movement... mostly old songs.
Later, in Byculla jail, I would make sure I exercised for at least half-an-hour.
We would also eagerly look forward to going to court, where we could meet our relatives and friends even if it was with great difficulty.
We would be shepherded ever-so-zealously by a guard and, many times, we would not be allowed to eat anything brought by them.
Why, they would even prevent me and Professor Sen from giving our daughters a hug.
Many times, the union people (Sudha Bharadwaj is a trade union leader in Chhattisgarh) who had come from Chhattisgarh to meet me were not allowed to do so by the IO (investigating officer) because they were poor.
Once, I complained to the court about this behaviour. Just because these people are poor, don't have a classist attitude and harass them. They acknowledged it -- though not in writing -- and it stopped.
We would be eager for our mulaqats (meetings).
In Byculla, due to COVID, there were no court dates or mulaqats.
After some time, we were allowed phone calls which was a great relief, particularly for me, since my daughter lives far away (Sudha's daughter Maaysha studies in Chhattisgarh) and could visit only once in three months. So the phone calls were very important.
Sometimes, we were allowed video calls.
My greatest strength in Byculla were the women inside our barracks, my prison inmates.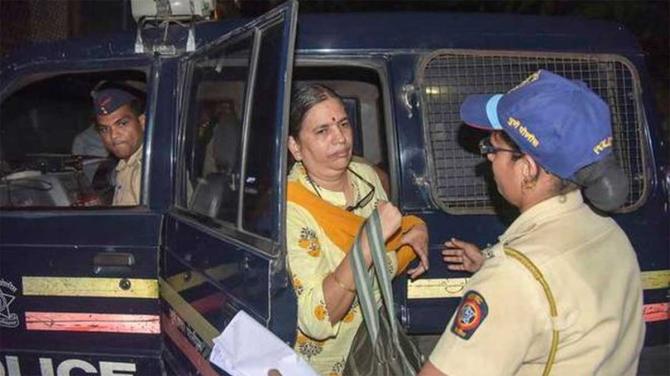 How do the women inmates cope with their lives in jail? Could you talk about your experience as well?
People have such amazing ways of coping with difficult situations.
A lot of them rely on prayer -- someone reads the namaaz, others do puja and some sing Hallelujah.
Many of the women are creative in their own ways. It's amazing to see the kind of birthday cards they make for each other, the birthday cakes they make from the contents available in the canteen.
Each one has a small group of people with whom they eat and share things.
There are a lot of fights in the barracks because you are sharing everything in a small space. There are queues for bathrooms, toilets, the canteen, for food, for the phone, the OPD (medical service)... basically for everything.
This leads to a lot of bickering and fights.
At the same time, many great friendships are formed here because there is no privacy. Hence, there is no invasion of privacy. There is no wall between you and the other person. There is no time for the initial formalities that are part of normal life.
You are with each other 24x7 so how can you ignore someone crying next to you? How can you not share a piece of chicken with someone who is sitting next to you and watching you eat it? Of course, you will share.
And you become friends with the kind of people you never thought you'd even know.
There was a young lady who called me Ammi; she was like my adopted daughter.
She was slightly mentally slow and lived with her husband on the Bandra (north west Mumbai) skywalk.
They were attacked by some people who threw stones at them. Her husband bled to death. She was implicated in his murder.
She was convinced her husband was alive. Initially, she was paranoid and would provoke others, get provoked, become angry and would get beaten.
I began trying to protect her and she became a friend.
This is not the kind of friendship I would normally strike; I would not have even met someone like this.
There were so many others, like the Bangladeshi women, like those speaking different languages.
Through my lawyer, I would apprise them about the dates of their cases and what was going on though, theoretically, one is not allowed to render any help.
This was when COVID began and inmates were not receiving information regarding their cases. I requested my lawyer to speak to their lawyers online and let me know.
I was once reprimanded by the supervisor who was on the rounds in Byculla. I was warned that I would be reported to the court where my case was being heard; apparently, I was doing something wrong. I was uniting the prisoners and helping them get bail orders.
I was taken aback. I thought I was doing something good.
After that, I encouraged them to write to my lawyer directly for help.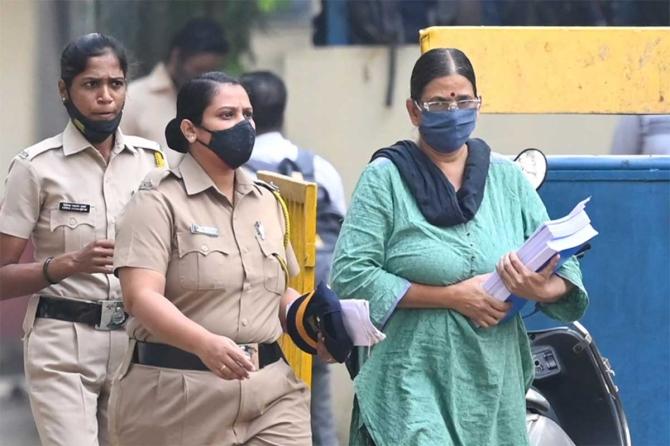 Did you pick up any new language or skills?
In Yerwada, the women constables spoke only in Marathi so I had to learn the language.
I couldn't get its nuances, but I got the general drift. Later, I even began reading books in Marathi.
Initially, as we struggled to get books from outside, our only recourse was the library. And, in a typically patriarchal system, the mahila (women's) jail is always subordinate to the main jail. So the main jail has the library and, from there, only 25 books are brought to the women's jail (laughs).
I read whatever English books were available and then ended up reading a lot of very interesting Marathi books including Shyamchi Aai, Dr Ambedkar and, of course, Veer Savarkar's Mahji Janmathep of which there are many, many copies.
I even read Anne Frank's The Diary Of A Young Girl in Marathi.
The Byculla jail is more cosmopolitan since everybody speaks Hindi.
If I learnt a new language in Yerwada, I learnt more about legal issues in Byculla, especially about legal aid for standard criminal undertrials.
As a lawyer, my practice till now has revolved around labour law, land acquisition law, environment law and human rights law.
Providing legal aid to undertrials is a Constitutional mandate. We should not rely on ad hoc, kaam chalau methods; effective legal aid is essential.
This is a very important and serious issue and I will try to file a public interest litigation to draw attention to this lacuna and ensure it is filled.
This is something I learnt. I also learnt to take care of myself.
*A celebration in January 2018 to mark the 200th anniversary of the Battle for Bhima Koregaon turned violent, resulting in one death and five injured.
Feature Presentation: Ashish Narsale/Rediff.com