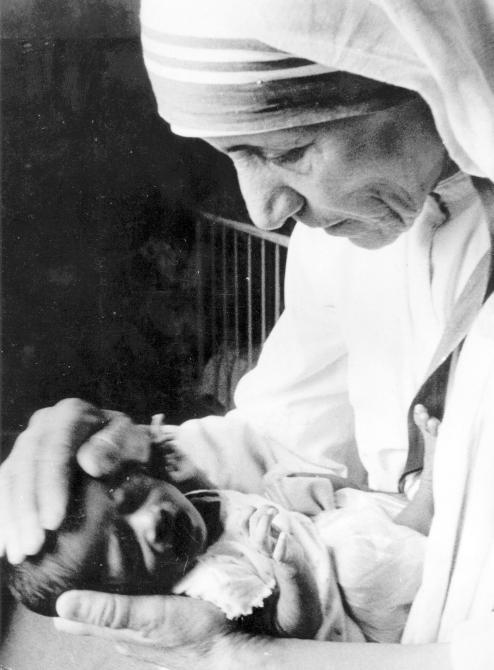 'They must withdraw the word "miracle" from the sainthood of Mother Teresa.
'You cannot belittle her good work by using the word miracle.'
The Maharashtra Andhashraddha Nirmoolan Samiti (Maharashtra Blind Faith Eradication Committee), once headed by slain rationalist Dr Narendra Dabholkar, has protested Pope Francis's decision to confer sainthood on Mother Teresa.
Mother Teresa will attain sainthood in September for curing two cancer patients, Marcilio Haddad Andrino and Monica Besra, with her healing touch, which the Vatican deems 'miracles.'. Both Andrino and Besra state they were cured of cancer after they placed Mother Teresa's photograph on their tumours.
These 'miracles' occurred after Mother Teresa died on September 5, 1997. Besra was cured in September 1998 and Andrino was cured in 2008.
Milind Deshmukh, chief secretary, MANS, spoke to Syed Firdaus Ashraf/Rediff.com about why he is against the word 'miracle' being used for Mother Teresa while anointing her a saint.
Why you are saying anointing Mother Teresa as a saint is unscientific and irrational?
We do not believe there can ever be a miracle in this world. Miracles have never happened in the past, they cannot happen in the present and won't happen in the future.
For example, say, if you know a man has cancer and he got cured suddenly, is it because of a miracle?
One must find out whether the claim is authentic or not. It is possible that cancer was never detected in the first place and therefore the patient got cured.
But Mother Teresa cured two patients of cancer.
These two cases do not prove anything. How will you prove it? First prove it.
Doctors must have checked the patients and then certified it.
I am saying miracles never happen in the world. Our organisation has given an open challenge that it will give Rs 21 lakh (Rs 2 million) to any person who can show us a miracle.
Did you meet Besra? Why don't you believe her?
Science says any person claiming anything must prove it. If you are saying someone touches you and your cancer is cured or by prayers cancer can be cured, then it has to happen to everyone.
Today the Bermuda Triangle mystery has been solved. Till the time it was not known, people used to say it was a miracle (that planes used to disappear over the Bermuda Triangle). How many years did it take to solve this miracle? So there has to be research on any claims.
Don't you think people can be cured by faith?
Some things get solved with the willpower of man. It is the inner strength of a human being.
Suppose I have to climb a mountain, then I can be motivated only if I have the capacity to do it. But if you tell me a man who has never climbed a mountain in his life has climbed Mount Everest, I won't believe that. So these are not miracles.
Whatever happens can be explained by science. We don't know how the tumours have been cured.
You have written to the Pope against the sainthood for Mother Teresa. What is it all about?
We wrote that they must withdraw the word 'miracle' from the sainthood of Mother Teresa. We have no objection if they call her a saint because she has done good work on leprosy. You cannot belittle her good work (by using the word miracle).
In Maharashtra we have Sant Tukaram about whom people believe that he was taken away by an aeroplane 350 years ago. Lakhs of people believe this story, but nothing has been proved.
Some 20 years ago, statues of Lord Ganesh were seen to drink milk in Mumbai.
Yes, it happened in 1994. We have disproved that theory. There was surface tension and capillary action and this was the scientific reason (for Lord Ganesh idols drinking milk).
We can do that. You come to our place and we will show you that even today.
Why did the news of a miracle spread that particular day?
It was spread by people. In those days there were no mobile phones. People called each other from landline phones and spread this news.
Do you think if Mother Teresa becomes a saint by using the word 'miracle', people will become more superstitious?
People start believing more in superstition when such incidents take place. You are not giving Mother Teresa sainthood because of her great work among the poor, but because of these two miracles. We have a problem with that.
According to the Vatican, you have to perform a miracle to achieve sainthood.
That is why we have said remove that clause.
The Bible tells us Jesus Christ performed miracles.
These words are highlighted to belittle his good work. If you follow whatever Jesus Christ said, then there will be no war in this world.
He said, 'Love Thy Neighbour.' But wars have happened in the name of religion and many people went to war to prove that their religion is superior to other religions.
You say in the case of Besra you are not sure if she had a tumour and therefore her claim cannot be verified.
That is what I am saying. If someone makes such claims, how do you prove it? To prove something, you need thousands of examples.
I am giving you another example. Suppose a 'godman' gives you a ring and says wear it and you will get a job. And tomorrow if you get a job, then nothing is proven.
I will say let a thousand people get a job after wearing the ring, then we can consider the godman's claim.
And suppose even if thousand people get jobs, then I will say let that godman get jobs for one lakh (100,000) people and only then will I believe his claim.
In other words, it has to be proved that whoever wears that ring must get a job. Only then can that claim can be right. It has to be proved scientifically.
So why do people believe in miracles?
Earlier, who could have thought mankind could reach the moon? Even today there are many people who do not believe that mankind has reached the moon, but they have reached some other place. What do you say to such people?
Did the Vaticanreply to your letter?
No. Now I am planning to send an e-mail to Pope Francis. We want scientists to join us and write about this issue to the Vatican.
We want people to give up their blind beliefs and develop a scientific attitude. We use inventions of science daily, but never follow a scientific attitude.
Today we can talk on our smartphones and this has not happened overnight. People have worked hard on inventions for years. Till the time we do not know how things work, we believed in miracles.
For hundreds of years no one believed there would be something called a mobile phone. Even television and radio were considered miracles when they first came on the scene.
I am only saying that whatever is happening is because of science.
Don't you think when all else fails, then faith is the only option left?
That is wrong. Take a situation: Suppose a boy is bitten by a non-poisonous snake and some person says pray to God and the boy gets cured.
Does the boy get cured because of prayers? The real reason the boy got cured because the snake was non-poisonous.
Now take this situation: Suppose the same boy is bitten by a poisonous snake the next time. You go to the same person and he will say pray and the boy will die. Why? Because the boy never went to hospital after he was bitten by a poisonous snake.
Photograph: Mark Edwards/Keystone Features/Getty Images