'When you start delving deeper into these disappearances, you have to face the question: Was it a policy at the State level?'
'It surely couldn't have been random officers acting on their own.'
'Was it planned? What does it mean if the State allows its police to become lawless and act with impunity?'
'Perhaps the NHRC, for the 21 years that it has been seized of the matter, avoided these questions.'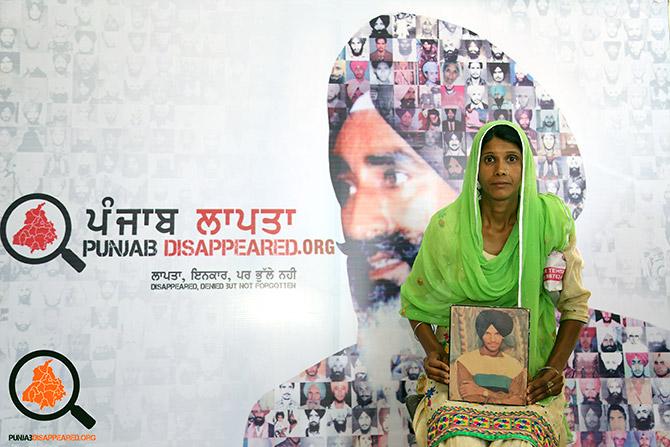 IMAGE: A family member with a photograph of a person who went missing in Punjab during the troubled years. Photograph: Kind courtesy Punjab Disappeared.org
Last week, the Punjab Documentation and Advocacy Project, which has for the last seven years, been documenting cases of disappearances, fake encounters and mass cremations in the state during the Khalistan movement of the 1980s and early 1990s, released its findings in Chandigarh.
The report, Identifying the Unidentified, presents 8,257 cases from all 22 districts of Punjab.
The Punjab Documentation and Advocacy Project plans to present its findings to the Supreme Court and ask for a commission to examine and act on them.
There is already a case pending in the Supreme Court on mass cremations in Punjab during the same period.
Satnam Singh Bains -- a lawyer at the Punjab Documentation and Advocacy Project, below, left -- tells Jyoti Punwani why his organisation is once again approaching the Supreme Court.
This matter of disappearances in Punjab has already been handled by the Supreme Court, the National Human Rights Commission and the Central Bureau of Investigation. Why you are again approaching the Supreme Court?
A lot of work has already been done by human rights activist Jaswant Singh Khalra as well as other human rights groups on the matter of disappearances. (Khalra first unearthed mass cremations in three districts of Amritsar; he himself 'disappeared' in 1995. In 2007, the Punjab high court upheld the conviction of five policemen for his abduction and murder.)
Though the Supreme Court gave the NHRC a wide mandate to investigate all disappearances, and over 4,000 claims were filed before it which provide credible evidence of what happened, the NHRC restricted itself to only three crematoria in Amritsar.
It said going beyond that would make the case 'too expansive'!
That's why we decided, seven years ago, that we must record as much as we can and attempt to re-dress one of the largest miscarriages of justice in Independent India.
During 18 years of hearings, not once did the NHRC hear testimonies or depositions from any of the families or their lawyers. It relied entirely on reports sent to it by the Punjab police.
All it recommended was compensation to some of the affected families. It did not go into why their family members were illegally cremated by the police or the circumstances in which they died.
Even in the 194 cases where the police admitted that those killed had been in their custody, the NHRC didn't recommend prosecution.
It accepted the police version that these 'militants' had fired on them and had been killed in retaliatory firing or had 'escaped'.
Even in the 2% of cases in which the CBI filed chargesheets, saying that the encounters were staged, the Punjab police still maintained before the NHRC that the encounters were real and compensation should be denied.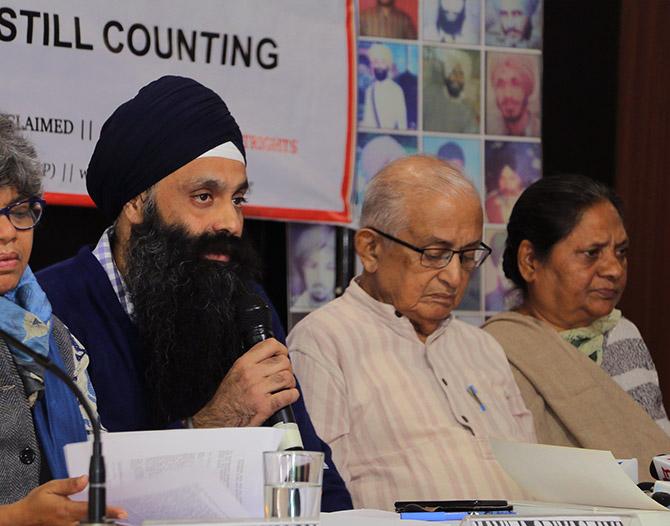 How do you explain this? The NHRC played a very active role in getting justice for Gujarat's 2002 riot victims.
When you start delving deeper into these disappearances, you have to face the question: Was it a policy at the State level?
It surely couldn't have been random officers acting on their own.
Was it planned? What does it mean if the State allows its police to become lawless and act with impunity?
Perhaps the NHRC, for the 21 years that it has been seized of the matter, avoided these questions.
In these years, the retired judges heading or working at the NHRC who dealt with the case include former Chief Justices of the Supreme Court and the high courts: Justices M N Venkatachaliah, A S Anand, V S Malimath and Y Bhaskar Rao.
In the Supreme Court's judgment in the Manipur fake encounters case (delivered in July), there has been strident criticism of the NHRC. It has been described as a 'toothless tiger'.
At last, the Supreme Court is repeating what human rights activists have been saying about the NHRC's functioning for nearly two decades.
What about the CBI?
The CBI chose just 35 cases to prosecute out of 2,037 that it had unearthed in its investigation ordered by the Supreme Court!
Its findings were given in a sealed cover to the Supreme Court, and despite many senior lawyers asking that they be made public, they remain a secret.
These cases were chargesheeted, but have been left to linger without reaching the trial stage, probably in the hope that if they die a natural death, the victims will give up.
Tell us about your seven-year investigation.
We were informed that the worst affected districts were the border districts of Gurdaspur and Ferozepur, so naturally we started there, and managed to document several hundred cases.
Batala city's municipal cremation ground (in Gurdaspur) was the scene of mass secret cremations.
Our findings in Gurdaspur reveal the same pattern as Khalra's in Amritsar. We then widened our inquiry to other districts.
The vast majority of the 8,257 cases are unreported instances.
Significant numbers were not cremated, their bodies were thrown into rivers.
How can you say that? Were there eyewitnesses who saw these bodies being thrown into rivers?
A former police officer Satwant Singh Manak, who spoke at our press conference, has said he was eyewitness to 15 fake encounters. He described how after shooting the person dead, his colleagues would slit their stomachs and throw the bodies into the river.
It has been more than 30 years since these disappearances took place. Do the victims want to pursue the cases?
Many people told us when we began this documentation work seven years ago that nobody would be prepared to talk to us, that people have forgotten.
However, 95% of the victims told us that nobody had ever approached them. They had got no closure or redress.
700 persons turned up at the hearing of the Independent People's Tribunal on disappearances held in Amritsar in April this year. They obviously need a forum.
More importantly, they need the truth and should be told the fate of their loved ones.
In most of the cases, the breadwinners disappeared. Their parents were in their 40s then, now they are in their 70s. They need even more help now than they did then.
The children of those who disappeared have grown up, but are finding it difficult to get any government help without their father's death certificate. Inheritance of agricultural land also needs proof that you are the heir.
Punjab has a package for those killed by militants. We want the same package to be extended to those killed by security forces while they were in their custody, and those killed in fake encounters.
Is there evidence still, after so many years?
There is a considerable volume of data. The tragedy is that it has never been tried and tested before the courts.
In any event, families and village elders remember even today when their men were picked up, and by which police officers. They are willing to testify.
In fact, there is a high profile case of one Chaman Lal whose dying wish was to testify before a magistrate or a judicial commission about his son's abduction.
But the Punjab police got repeated stays in his case which dragged on for 20 years. Unfortunately, he died last year.
Punjab's former police chief K P S Gill also died this year. Was he ever named by anyone for these disappearances?
Well, his name has been mentioned in the Jaswant Singh Khalra case. But the CBI took no initiative to investigate him or his role. Nor did the NHRC, though most of the disappearances happened under his tenure.
Gill was the director general of police from 1988 to 1990 and then from 1991 to 1995. Our findings show a peak in mass cremations between 1991 and 1993.
The NHRC recorded 600 fake police encounters across the country from 2004 to 2014.
According to government figures, nearly 600 fake encounter cases were registered within a period of four years, 2009 to 2013.
The figures for Punjab for two months were 236 in June 1992 and 234 in July 1992!
Has no government done anything all these years?
Neither the Akali Dal nor the Congress did anything, though the Akalis had included in their 1997 manifesto that they would establish a commission of enquiry into enforced disappearances and extra-judicial killings.
Perhaps one reason why we got such response from the affected families is because we have no political affiliations.
We simply want that they get justice and compensation.
We are not doing this to rake up old wounds.
You have asked for a judicial commission. But you know the commission's recommendations are not binding.
We want the Supreme Court to set up an independent judicial commission with enforceable powers, an understanding that its recommendations will be binding.
We don't want another commission under the Commissions of Inquiry Act, which will take years to bring out a report and then its report will be ignored.
These victims need immediate relief in the form of death certificates as well as compensation and rehabilitation.
Some of the deaths cited in the Manipur fake encounters case had taken place in the 1970s -- almost 50 years back. The Supreme Court has given some positive indication in that matter which gives us hope.
(In response to a PIL, the Supreme Court had directed a probe into fake encounters in Manipur, including those by the army, saying that the use of 'excessive and retaliatory force' was not permissible in 'disturbed areas' under the Armed Forces Special Powers Act, and that 'democracy would be in grave danger' if citizens were killed merely on suspicion that they were enemies of the State.)
We feel now is the time to seize the initiative and approach the court.
Its order in this case will help citizens in areas such as Chhattisgarh, Kashmir, the North East, where security forces are acting with impunity.
At any rate, what other option do we have?
You have found evidence of more than 8,000 illegal killings. That is a big figure. There must be a fallout of that, a lot of anger and resentment among the victims' families?
We haven't found that at all.
For one thing, since both political parties have refused to act on this issue, there is no political blame game. Otherwise, one party would have raised the issue.
The Aam Aadmi Party's Bhagwant Mann did raise it in Parliament, but the party is not in power.
As for the victims -- like poor, marginalised, people everywhere in our country who have been broken by the system -- they are at a stage where they don't have any hope.
That burning desire for revenge is just not there. But the desire for justice is.