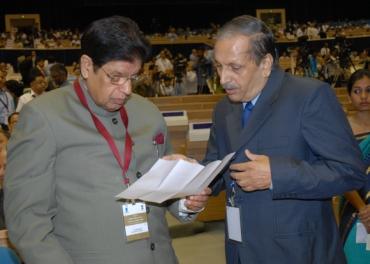 'Look at the response of the railway minister to the question why he was still in Delhi after the fire on Tamil Nadu Express. He said, I don't live in Chennai. This response was at 3 pm, and the accident happened early in the morning. There are at least four flights in the morning from Delhi and he was so callous in his response,' consumer rights activist S Pushpavanam tells Shobha Warrier
Yet another train accident and the loss of many lives. This time the cause of the accident was a fire onboard. Perhaps India has the distinction of the maximum number of train accidents in the world.
S Pushpavanam, secretary of the Tiruchirappalli-based Consumer Protection Council talks about the frequency of such accidents and the callousness of Indian Railways officials and the minister in this interview to Shobha Warrier.
According to him, the only way to save Indian Railways is to end its monopoly.
One more rail accident and this time there was a fire on a train. As a consumer activist, are you satisfied with the response of the railway minister and the authorities?
Not at all. This is the fourth fire accident in the last two years. Look at the response of the minister to the question why he was still in Delhi. He said, I don't live in Chennai. This response was at 3 pm, and the accident happened early in the morning. There are at least four flights in the morning from Delhi and he was so callous in his response.
As usual, he was trying to divert attention by suggesting that there was a loud noise, to make it out like a sabotage. Nobody on the train mentioned hearing any loud noise.
There was a time we had ministers like Lal Bahadur Sastri who resigned when there was a rail accident..
You are right. Normally, in any organisation, when a clerk or an officer does make a mistake, he is suspended immediately. Here, the minister goes scot-free whatever happens to the trains. So the minister must be changed immediately and the ministry taken away from the Trinamool Congress. Dinesh Trivedi put safety as the top priority but he was asked to go.
It is politics and they are playing with the lives of people.
It seems there were no fire extinguishers in the coach either…
I have always been talking about the lack of fire extinguishers in trains. It is such a simple thing and will not cost much. There should have been a bucket of water and sand in the coaches, like you have in cinema houses.
Above all, the three doors were jammed. The emergency exit did not work.
There was absolutely no care and concern for the passengers travelling in the trains.
Having done nothing to avoid an accident, what is the point in giving compensation? No amount of money will compensate the loss of lives.
The railways now says that there must have been a short circuit in the coach. Lack of maintenance has been the major reason behind all train accidents...
There is no doubt that there is negligence in the standards of maintenance. Had there been regular checking, this would have been detected.
There is an electrician, an AC mechanic and an orderly on board a train but no one is trained to fight a fire.
In every budget, we hear the minister talk about safety but this is one area that is neglected totally. If you look at the railway budget of the last five years, you see them mentioning about fire retardant coaches, non-inflammable curtains for AC coaches, etc but have they implemented anything so far?
Is lack of funds the reason for neglecting safety or is it just apathy?
Yes, there is a lack of funds. But it is not only a question of money. Even if you have money, when your attitude is that of total neglect, what can be done?
In the case of fire extinguishers, it doesn't cost a humongous amount of money.
Unless there is accountability, nothing can be achieved.
Do you feel populist politics is the reason behind safety being neglected?
Yes. They need funds to make the railways safe. If at all trains have to be run, they must be run safely.
There is a joke. We have heard of people stealing bicycles, bikes, cars and Jeeps but have you heard of anyone stealing a train? Here in Chennai, there was an incident of a man stealing a train three years ago! Till today, they have not found how he did it and not suspended anyone for that incident.
There is a total lack of accountability in the railways.
Every time after an accident, the safety commission says it will give its report in three months but nobody knows what happens after three months. The safety commission's report is never made public. It is never put up on the website.
Do you feel this is the worst period in the history of Indian Railways, with so many accidents happening at short intervals?
Yes. Leave alone trains ramming into stationary trains, there were many fire accidents too in the last three-four years. Some 1781 people have died in the last four years in various train accidents, which is a huge loss of life. The question is, why should we, the rail passengers, put up with this?
Last time when we spoke, you said civil society should take up the issue. In what way can civil society take these issues up? When we complain about dirty toilets, absence of water in the taps, AC not working or the presence of cockroaches in the coaches to the TTE, he acts helpless.
People must put pressure on the railways to make things work and also for transparency and accountability. Every public utility service provides a mobile number or a toll free number where you can lodge a complaint. Why can't the railways do it? It should be like, if there are cockroaches in the train you should be able to call someone immediately. That kind of a system must be there.
It is true that those who work in the railways think that it is for them and not for the people. This consciousness should be drilled into them.
Civil society must put pressure on the government.
In what way can people put pressure on the government?
Agitate, or use the media. That is the only way the public can put pressure. There was a parliamentary standing committee meet in Trichy but it was not publicised. If I had known, I would have given a representation. The PSC must interact with people and get their feedback.
It is very clear that the railways has not been able to manage the system.
Is it because of lack of funds or lack of accountability?
Lack of accountability. Some 58 pc of the budget goes to pay salaries of the employees. Will any organisation survive if they have to function like this? If you start a business, will you spend 58 pc of the expenditure on salaries? You won't spend more than 18-20 pc. Too many people in the railways enjoying the benefits.
Compared to 10 people working in a passenger kilometre in other countries, there are 100 people working in India. There is a huge unwanted employment in the railways. That must be corrected first and accountability and transparency must be established.
Have you ever seen the balance sheet of the railways?
What is happening in the railways is squandering public money.
This will not happen in a private organisation. Privatisation is the only answer.
Is privatisation the only solution? After all, railways is the lifeline of the Indian transport system and shouldn't the government be running it?
It is the only solution. It is the lifeline but there is no life in it. If you continue like this, the railways will become a death trap.
With privatisation, will the cost of travel not go up?
I will give two examples. I was paying Rs 11,000 for a trip to Delhi when we had only Indian Airlines. After the sky was privatised, I can go for Rs 3000-4000. There is competition and competition is good for consumers as it gives you choice, better price and quality.
Now look at the telecom sector.  It was Rs 37.50 per minute for a call from Trichy to Delhi when we had only the BSNL. Now, it is not more than Rs. 2. It is because of competition.
Sky transport is also a lifeline like the railways. So also communication. But these sectors are doing very well for consumers now.
Indian Railways cannot run the railways and it is bursting at the seams. If this fire had happened in a train run by a private player, people will not step into their trains.
What will you tell the people to do when they see something not working in a train?
They should first find out where the emergency exit is and where the chain is. As things stand, I will tell them to be alert all the time.
Look at what happened in the Tamil Nadu Express. The doors were jammed. The emergency exit was not working. It was reported that one man tried to pull the emergency chain but it didn't work.
With so many accidents happening frequently, are Indian trains the least safe trains in the world?
If you look at the number of accidents, yes, Indian trains are the least safe.
I was told that in Japan, not a single person has lost his life due to train accidents in the last 47 years! Okay, Japan is a small country, but still it is a record. Juts because we have a large network, it is not an excuse to cause accidents.
Image: S Pushpavanam with the then Minister of State for Railways E Ahamed