'We have been appealing to various governments for so many years that there should be no dams in the Himalayas, but no one listens.'
'Nature responded in its own way.'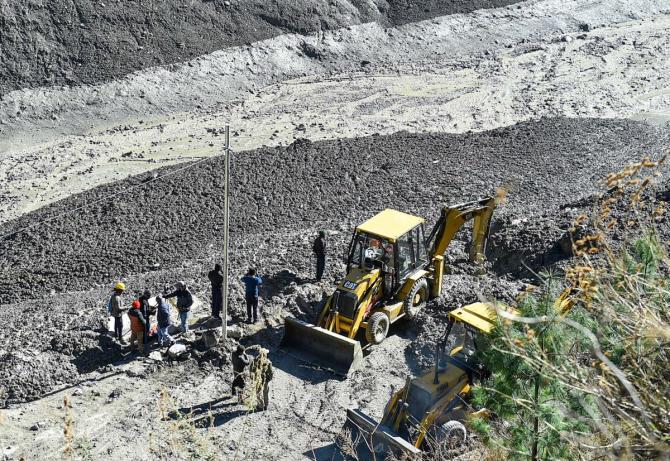 Environmentalist and water conservationist Rajendra Singh, winner of the Magsaysay Award in 2001, says the glacial break in Chamoli on Sunday, February 7, was very much on expected lines.
According to Singh, it is not surprising that the authorities have woken up to this disaster very late.
"I have been warning about this from 1992. You cannot build large dams in the Himalayas. If you do that, it will result in disaster," Singh told Rediff.com's Syed Firdaus Ashraf.
You have been advocating against flouting of environment norms in the Himalayas for construction work. Your reaction to the glacial burst in Chamoli district.
I have been saying this since 1992 that the Himalayan river flow is very fast and steep, therefore, it is not advisable to make large dams in that region.
And if you do that then surely it will lead to damage and destruction.
Professor G D Agarwal went on a fast unto death on this issue and after 111 days, he died in October 2018. He was a great scientist.
One must understand the rivers flowing in the Himalayas are ecologically fragile and one cannot construct a dam there as it is a seismic zone.
Melting of glaciers, erratic rains and cloudburst are regular features in that region. Therefore, making any structure in that region is not safe.
But one has to construct dams to generate power.
If you want to make dams, then construct them on those rivers which will not lead to a disaster.
From 1998 till now, there have been five calamities.
Before that too, in 1996, there was one calamity and it was all due to dams.
Sunday's incident in the Himalayas was not a natural disaster, but a man-made one.
We have been appealing to various governments for so many years that there should be no dams in the Himalayas, but no one listens.
Nature responded in its own way. Sadly, in today's times, governments do not listen to environmental activists.
From 2008, scientists have been saying that it is not right to make any dams in the Himalayan region.
Now if the government does not want to listen to activists and scientists, what can you do?
The glacier melted on Sunday because of sunshine as the temperature rose which resulted in the disaster. How can you call it a man-made disaster?
It is a man-made disaster because the banks broke. We had opposed construction of those banks from 2007.
We have been telling the government not to construct dams and were giving reports specifying reasons these dams will lead to disaster in future.
The Alaknanda, Mandakini and Bhagirathi rivers flow through an ecosensitive region. And whenever you construct large dams on these rivers, disaster will surely happen.
The government and politicians who rule the country must have political will not to implement such projects. But they don't do that. This leads to disasters.
They should not have made large dams. And if the government still goes on to make large dams, then it is up to you to decide whether it is a man-made disaster or a natural disaster.
I am only telling you the facts. When the government takes wrong steps, then society at large suffers.
All the money of our country went in drains to make these dams that got washed away yesterday.
The race for growth has led to ignoring of safety norms.
But power projects are important, people want electricity.
Who is stopping them from building power projects? But why on these rivers which will lead to disaster?
I am not even saying do not make large dams, but do not make on these river streams.
In 2013, disaster struck the Mandakini river and this year it hit the Alaknanda.
Bhagirathi was saved because three dam projects were scrapped after being half constructed.
And they went on making more large dams on the Alaknanda and Mandakini.
Does the environment ministry, which grants clearances to such dams, not take these things into account? Don't they approve dams with a vision?
The vision is only for greed. They have vision only for profit, but not for safety.
The government is only thinking of the economy, not of safety. Without safety of life, there can be no economic growth.
What is the solution then?
It is very simple. When you want prosperity, you need to have a sustainable development model.
When India was indeed a vishwaguru, it used science with common sense.
We used to think of a development model which would not be disastrous for the people.
If a Himalayan river is flowing slow, you would make it faster by constructing large dams.
We ignored this. We wanted to control the flow of Himalayan rivers by making dams like Tehri and others.
Now Tapovan, Vishnugad (under construction dams that were hit by Sunday's glacial burst) -- these new dams that we are constructing is not a sustainable model.
The solution is what we did in Rajasthan. We made 11,800 small dams and not a single dam broke in the last 38 years.
They are very small dams and they stopped water which then percolated in the ground. The land absorbed them and it is now in an underground aquifer.
When you move at a pace with nature, then it is sanatan and sustainable.
But you cannot make dams in the Himalayas on the Alaknanda, Mandakini and Bhagirathi rivers as it won't be sustainable.
The slopes over there are very steep. Yesterday's (February 7) incident was a very small incident and still huge damage was done.
In future, you will see more disasters like this.
Earlier, such disasters used to take place once in 40-50 years, but now there will be more.
When you meet government officials or ministers, don't you make them understand your viewpoint?
Their logic is simple. Politicians tell me that I speak very well, but they want votes, so they would want to do something to get votes.
This is most absurd. I always tell them India was a global teacher (vishwaguru) due to its spirituality and respectability.
We used to teach the world. Why do we want to give up all that and adopt the economy of greed?
If people want dams in their areas, people want development, how can the government ignore that?
I agree, we all want development, but is this the development we want?
This kind of development begins with displacement of indigenous knowledge and wisdom.
And displacement of soil and humankind to be followed by destruction and disaster.
We have only increased floods and drought in the last 70 years because of our development.
Today, there is 10 time more drought and water scarcity in India.
This data is not mine, but of the water resource ministry.
This development model is taking us to disaster.
Our development can only happen with our culture, science and common sense.