Following the Modigate scandal, Rajasthan Congress chief Sachin Pilot has been leading the party's protests in the state against Rajasthan Chief Minister Vasundhara Raje.
He tells Kavita Chowdhury that apart from ensuring that Raje quits office, the Congress is demanding that she be booked for criminal culpability.
Edited excerpts: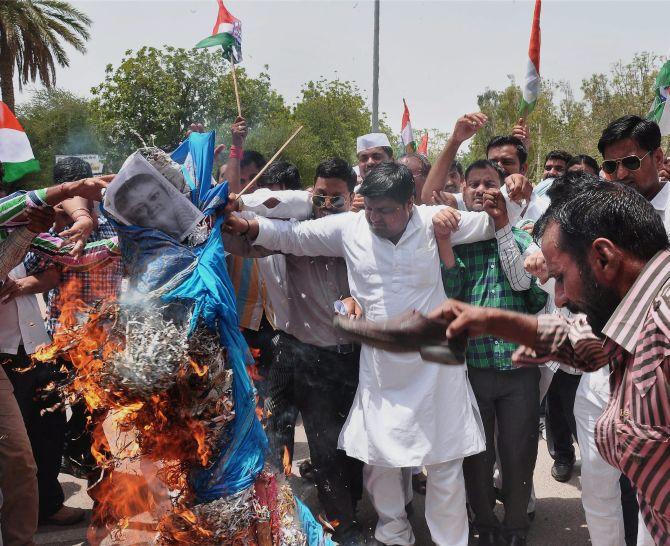 Congress workers burn an effigy of Rajasthan CM Vasundhara Raje after it was revealed that she had helped Lalit Modi acquire travel documents. Photograph: PTI
The Rajasthan Congress has been protesting against Chief Minister Vasundhara Raje in Jaipur, demanding her resignation. The Congress has already demanded that without Sushma Swaraj's resignation, it will not allow Parliament to function. Will the Rajasthan Pradesh Congress Committee's protest against Raje be an indefinite one?

It's a case of complete breach of propriety. Raje was helping and abetting a fugitive from Indian law -- Lalit Modi -- who is accused of match-fixing, violating Foreign Exchange Management Act and is being probed by the Enforcement Directorate; he is absconding for the past five-and-a-half years. This person's application was supported, that too in a secretive manner, by the then Leader of Opposition in the Rajasthan Assembly -- she has committed a complete breach of privilege.
She knew very well that she was breaking the law – that's why she asked for a secrecy clause. In his interviews, Lalit Modi has said the documents were signed in his presence. There has been no denial of these documents by Raje so far. She is guilty of violating the Prevention of Corruption Act. Lalit Modi is also accused of running a company that acquired funds through a dubious Mauritius company.
Besides, Lalit Modi was virtually running the Rajasthan Bharatiya Janata Party government on her behalf last time around (2003-2008). Their association has been very long; there has been criminal misconduct and there is now an established case of quid pro quo. The chief minister must resign. We want a thorough investigation and for that to happen she cannot continue in office. Prime Minister Narendra Modi had said, "na khaoonga, na khane doonga." But here, senior BJP leaders have been caught helping the generator of black money.
Both the external affairs minister and Rajasthan chief minister must resign. We have started our protests simultaneously from Jaipur and Jhunjhunu but we will spread it to all 33 district headquarters across the state and will continue to protest until this chief minister, who is embroiled in corruption, does not resign. I think the chief minister is legally, morally and constitutionally not in a position to continue in office.
Rajasthan Health Minister Rajendra Rathore rebutted the charges against Raje, stating that the entire BJP leadership, including the central leadership, is backing her.

Rathore is just trying to be in Raje's good books. And even his (Rathore) role is suspect. As health minister, Rathore had an MoU between the Rajasthan government and a hospital in Lisbon, where Lalit Modi's wife was treated for cancer apparently. It was given prime land in Jaipur and Rs 30 crore to set up a cancer research facility in Jaipur. Lalit Modi's wife is a trustee there. It all adds up.

While both Raje and Swaraj are in the dock, does the former's conduct make her more culpable?

As far as the chief minister is concerned, there is criminal culpability, there is an established case of quid pro quo. She has signed documents as a secret witness and is also liable to be charged with the Prevention of Corruption Act. Swaraj acted in an improper way and got Lalit Modi travel documents through an informal route -- she should also resign. The position of both is untenable.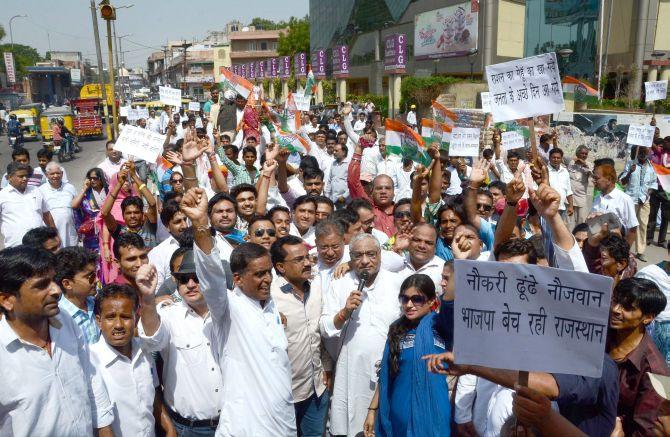 Congress workers have said that they will continue to hold protests till Raje is made to resign. Photograph: PTI
But the documents do not carry Raje's signatures.

Not once has she (Raje) or the BJP denied the documents. It's been four days and nobody has denied the existence of the documents.

The BJP has brushed aside the Congress's charges against Raje's son Dushyant Singh's company and Lalit Modi as a "dealing between private firms."

These are all excuses. When shares worth Rs 10 are bought for Rs 1 lakh, and that too of a loss-making entity, it needs to be investigated. You can't have an investigation against a chief minister while she is in office. We have asked for a Supreme Court-monitored SIT probe.

Has the Congress finally tasted blood? The Congress-led United Progressive Alliance had to give up four of its Union ministers, buckling under pressure from the Opposition. Is the Congress preparing to get its pound of flesh?

The law is the same for everybody and you can't have different standards for different people. Remember, it was Narendra Modi who said there would be "zero tolerance" for corruption. Narendra Modi's losing political capital every day he keeps silent. He came to power on the agenda of "clean governance". As for the All India Congress Committee and PCC, politically we have a common stand on this issue. We have taken to the streets demanding the resignation of these two leaders. Why is Modi silent so long? Because it is indefensible?

Would you say that apart from everything else, this episode has revealed a chink in the BJP's armour? Also, the factional feud within the BJP is now out in the open.

The BJP's mask has finally come off, they have much to answer for. Their tall claims of being a party with zero tolerance for corruption have been exposed.

In all this turmoil, the names of Congress leaders Shashi Tharoor and Rajeev Shukla have also come up. What does Congress have to say to that?

You can be friends with whoever you want, but you cannot break the law and that too as a minister under oath. Nothing substantial has come out against the Congress and there has been no instance of them breaching the law.

Many political observers have pointed to the cricket-politician nexus, which is at the core of this episode. Several Congress leaders, including Jyotiraditya Scindia, C P Joshi and Rajeev Shukla have cricketing interests in their respective states.

That is a larger issue of a bigger debate and it's a question of ethics. It is also an issue that was to be dealt by the sports bill. But right now, we are talking about breaching the law and it does not negate the cases of illegality that have been committed.

Several senior leaders have lent their support to Swaraj. In the Congress, too, it is being said that if senior leaders had their way, then the party would not have come down so heavily on Swaraj. It was Congress Vice-President Rahul Gandhi, who called for her removal as the external affairs minister.

That's not true. All members of the AICC and PCC, share the same views expressed by Congress Vice-President Rahul Gandhi -- that Narendra Modi must ask for the resignation of his Cabinet colleague. They have all unanimously and collectively demanded for the resignation of these senior BJP leaders. There is no ambiguity within the Congress on this issue.
When in Opposition, the BJP had held Parliament to ransom and demanded the resignation of UPA ministers for far lesser crimes. As for the senior leaders from other parties, they may have personal relations but when seen through the lens of moral and constitutional propriety, they would see how untenable Swaraj's position is.