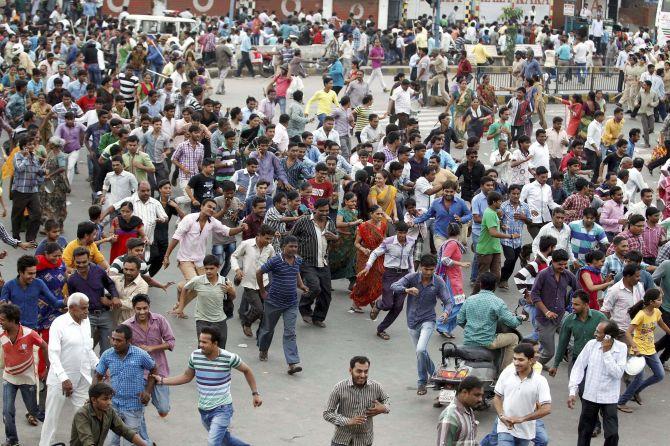 IMAGE: Patels run for cover after a police lathi-charge to disperse crowds protesting against the arrest of their leader Hardik Patel. Photograph: PTI
'When the youth population is so large, in a globalised world, they look for opportunities. Are there enough opportunities for the youth in India?'
'The idea of affirmative action has to be creating capability. All individuals have potential. Unfortunately, there is capability deprivation because of the State's inaction.'
'Nation building has been a disaster in India mainly because we lacked the work ethic compared to the US and European countries.'
Professor P Radhakrishnan, a former professor at the Madras Institute of Development Studies, is an expert on caste and reservation in India.
Professor Radhakrishnan, below, left, discusses the Patel agitation in Gujarat and its consequences for the nation with Shobha Warrier/Rediff.com
The Patels are one of the most successful communities within and outside India. From such a community, a 22 year old comes from oblivion and leads hunreds of thousands of people to agitate for reservation. What might have prompted the Patels to agitate? Is there something beyond what we see?
It is certainly not the brain of a 22 year old that is working. When you look at the demography of India with more than 35 per cent of the population below the age of 25, you cannot also brush aside his age and background.
The Patels are the most dominant caste sociologically in Gujarat and the agitation is not sudden. Discontent among the Patels has been simmering for the last two years.
They are actually not demanding reservation; in a sense, they want to abolish reservation. The Patels obviously see OBC (Other Backward Classes) reservation as a problem and not a solution to the problems of the historically backward.
Tamil Nadu and the other southern states have a long history of reservation while the northern states started reservation only from the 1970s. In 1984 and 1985, the Patidars were the first community in India to agitate against reservation.
The community that agitated against reservation 30 years ago is now asking for reservation. What happened in the last 30 years? Why do they want to be in the backward category?
They do not want to be backward; their caste is high up in the ladder. What they want is to be included in the OBC list.
Is that not Other Backward Classes?
People don't use the label backward. They only want to be in the OBC list.
Do they not become backward when they are included in the OBC list?
That is a fallacy. In Tamil Nadu, many advanced forward castes are included in the OBC list. They will never say they are backward. Traditional caste hierarchy is different from the social opportunity hierarchy.
When reservation started, each political party wanted to use it for vote bank politics. So today, people look at the whole idea of reservation with a lot of cynicism. Even among the groups included in the list, only 5 to 10 per cent have benefitted.
Most of the youngsters who participated in the Patel agitation said that despite them getting good marks, they could not get admission in government professional colleges or get a government job later. It is another matter that Hardik Patel scored only 50 per cent marks.
It is true. Even with 90 per cent marks, you cannot get admission in government professional colleges these days. I would say the entire education system has weakened. And where are the seats to accommodate all? The professional institutions have been stagnating for several decades.
But no agitation is mono-causal. There is more than one reason behind the Patel agitation.
'By and large the Patels support the BJP. If BJP people are going against the BJP, either it is very strategically planned or it is the spontaneous outburst of their frustration.'
What are the reasons do you see?
When the youth population is so large, in a globalised world, they look for opportunities, and are there enough opportunities for the youth in India?
The Patels feel economically affected and capability deprived for want of access to the society's opportunity structure under the present changed, globalised socio-economic circumstances.
Some social scientists say that unlike in the southern states, jobs in the technology sector are not there in Gujarat as the youth are not proficient in English. Do you agree?
I agree with that. On one hand, they do not get admission in government colleges even with high marks. UNESCO has exhorted all the countries in the world for universal basic education 65 years ago. We still do not have universal basic education. Half the population are illiterate and half of it drop out.
In Gujarat, graduates are just 3 per cent of those who get basic education.
While thousands and thousands of youngsters are employed in the new technology sector in southern India, it is not happening in Gujarat. The Patels, for example, are entrepreneurs in the traditional sector. They are agriculturists no doubt, but they do business and they are into all kinds of business like diamond cutting. But they do not have the latest technology even in diamond cutting.
Who do you hold responsible for keeping a highly industrialised state technologically backward?
The state has been under Narendra Modi for 15 years. I will say the BJP (Bharatiya Janata Party) is mainly responsible.
Coming back to the Patidar agitation, another reason is, the Constitution wanted advancement through caste and it expected caste to fade away gradually. It never expected this.
So reservation is a double whammy for the forward communities, which have not taken to English education in a big way.
But this community is famous for entrepreneurship..
In a country like India, bureaucracy is the permanent power structure. Even a peon in a government office wields a lot of power.
'The RSS wants to have a big say in the governance of the country. The RSS can dilute the Constitutional provisions, as it does not want the Constitution to exist as it is.'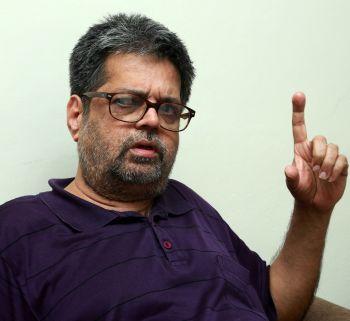 Do you feel discontent or disillusionment has been brewing and somebody exploited it and it exploded?
It is not just one man behind the agitation; there is a network.
I would say reservation is part Hardik Patel's grievance. He has said at a number of places that either scrap reservation or make everybody slaves of reservation. Reservation for all is reservation for none. Then we are back to square one. That is why I call this an outburst of agony.
But the entire community is behind him. How? Through social media. Social media has become very powerful in mobilising people, particularly youth.
There are 2, 3 theories floating around as reasons behind this sudden outburst. The most significant one is that the Hindutva outfits, mainly the RSS (Rashtriya Swayamsevak Sangh) is behind this. They always want to do away with reservation.
I also agree that caste should be done away with as it has been causing a lot of harm to society.
It is a mistaken notion that reservation is caste centric. Yes, politicians have made it that way.
You said the RSS would benefit from this agitation. In what way will they benefit?
You should look at the rise of Hindutva. Hindutva came to power through incremental politics starting from the demolition of the Babri Masjid. It is not possible to do away with caste right now. Weakening the caste system and using economic criterion as the basis is what they want.
Is doing away with caste and using economic backwardness for reservation not a good thing?
It may be, but it is not easy to do away with caste. It has been there for 3,000 years and it will take several centuries to do away with caste.
Even if India becomes secular, caste will remain in our society.
The RSS can dilute the Constitutional provisions, as it does not want the Constitution to exist as it is. It is a very regimented organisation though it says it is a social organisation.
Now the RSS says it has to coordinate the work of the government and I have a feeling that Narendra Modi is yielding. Some of his intentions are good, but he is not able to push through many of the programmes.
At the ideation level, he is thinking well, but at the ground level, he is not able to do many things.
The RSS wants to have a big say in the governance of the country.
By and large, the Patels have been supporting the BJP. If the BJP people are going against the BJP, either it is very strategically planned or it is the spontaneous outburst of their frustration.
Will Hardik Patel be able to sustain this agitation? Will a community famous for entrepreneurship leave their businesses aside and participate in rallies regularly?
His staying power in the movement may be weak. Sustaining it need not be with him at the top. The youth population will see to it that it is sustained for some time. It will not die down; it may erupt after remaining low for some time.
What kind of impact will it have on other parts of India?
It will have only marginal impact in the south where everybody is backward. M Karunanidhi said once at a meeting that there are no forward communities in Tamil Nadu.
Yes, the agitation can spread to Maharashtra, Rajasthan and the other parts of the north. But the effect of that will not be as severe as the Patidar agitation.
Has the time come to have reservation based on economic backwardness?
In a globalised world, any backwardness can be linked to economic status. I have understood that many people belonging to the SC/ST have benefitted more from globalisation than reservation.
Has merit no place in a country like India?
The question is how do you define merit? If you are talking about marks, you see four students with 100 marks applying to, for example, the Delhi University. What kind of valuation are you doing? Our education system is in shambles and that has to be rectified first.
Let us have universal basic and also higher education first. Universal higher education is necessary as globalisation depends on knowledge society. Where is the knowledge society in India?
The Knowledge Divide, which is very high in India, divides the country again.
Do you think affirmative action, what the vice-president advocated, is what is needed?
That is a very important issue. What the vice-president said is true. Nobody has defined affirmative action in the Indian context; only academicians have done that. Reservation is a pure surrogate to affirmative action.
I would say, do away with reservation and provide students with as many facilities as possible, build education institutions, have good teachers and pay them well. But our education is closely intertwined with bribe and corruption.
Affirmative action has to be necessarily in education as we were denied education till the British came. Only a very small population had access to education then.
The idea of affirmative action has to be creating capability. All individuals have potential. Unfortunately, there is capability deprivation because of the State's inaction.
Nation building has been a disaster in India mainly because we lacked the work ethic compared to the US and European countries.
Professor Radhakrishnan's photograph: Ramesh Damodaran.