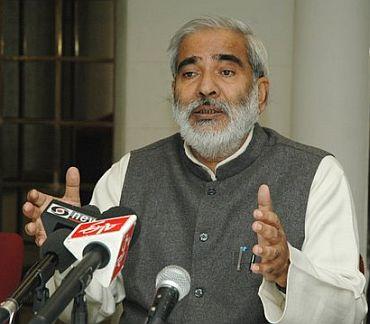 The defeated Rashtriya Janata Dal's top upper caste leader and its face of development,
Raghuvansh Prasad Singh,
is disappointed with his boss' poll strategy. But the party can turn around from this debacle, he tells
Saubhadra Chatterji.
Edited excerpts:
Did you talk to your leader, Lalu Prasad, after the results came out?
I have not spoken to him since yesterday.
Your party has been routed. What went wrong?
Almost everything. We have to analyse the mistakes and take corrective measures. But, on the face of it, it seems all steps taken by our leadership were wrong.
How do you evaluate the performance of the Congress, that dumped your party and went alone for the polls?
Did the Congress fight the 2010 Bihar assembly elections to win seats? They just put up candidates to defeat us. Otherwise, how do you justify the Congress fielding 49 Muslim candidates? The Congress helped Nitish Kumar by dividing the opposition votes. When its state unit president (Mehboob Ali Qaisar) fails to win his own seat, what prospects will the party have?
So, you want to blame mainly the Congress for your debacle?
Why the Congress? We have to introspect at the internal affairs of our party. Rabri Devi, our former Chief Minister, lost from both seats. The Deputy CM candidate of the RJD-LJP coalition also couldn't win his seat. I think projecting Lalu Prasad as the CM-candidate had negative impact. Voters might have related his candidature with those dark days of the RJD rule. He should not have projected himself as the CM.
Arre bhai
, you are the party leader. You are the owner of the whole building. Why would you say that I want to occupy a room (CM's chair)?
What about the selection of candidates?
It was another blunder. People who joined from other parties at the last moment dictated terms. Their relatives were given tickets and look at the result -- all these relatives
lost the polls. Former MP, Prabhunath Singh, joined our party from JD-U and proved to be a liability. Lalu Prasad made a gross mistake by putting up a candidate against Putul Singh, wife of the late Digvijay Singh, in the Banka Lok Sabha by-poll. We lost at least 10 to 12 seats because of this decision, as Rajput voters fumed.
But your party also couldn't match Nitish Kumar's development agenda.
There was no development agenda of Nitish Kumar. I still insist Bihar didn't vote for development; if it had, RJD would have got many more seats. We did so much work in Bihar in rural development.
Ok. According to you, what are the three big achievements of Nitish Kumar?
Nothing. He has not achieved anything in the past five years. Whatever work is done is because of central funds. In my opinion, this election has not ended caste-based politics but actually made a new consolidation of castes. The EBCs (economically backward castes) voted heavily in favour of Nitish Kumar. The forward castes also went against Lalu Prasad.
Lalu Prasad also made a mistake after the assembly by-poll last year. Nitish Kumar lost miserably but quickly rectified his line of action. We won and got carried away. There was no reason to give so many seats to Ramvilas Paswan.
What is the future of RJD?
We will rebuild our party. In politics, there are ups and downs. We lost an election, so what? We can come back from scratch.
Some political analysts believe Nitish Kumar may disassociate from the BJP in future, after securing such a huge mandate for the JD(U). Do you see this happening?
No way. Why should Nitish leave the BJP? He has been able to keep the BJP totally under his control. Sushil Modi may be the Deputy CM but Nitish has virtually brought him down to an officer's level. The BJP has not been able to run any of its agendas. Moreover, top BJP leaders have pampered Nitish Kumar a lot. Atal Bihari Vajpayee coined the slogan of Naya Bihar, Nitish Kumar. He is enjoying a very comfortable position with the BJP.