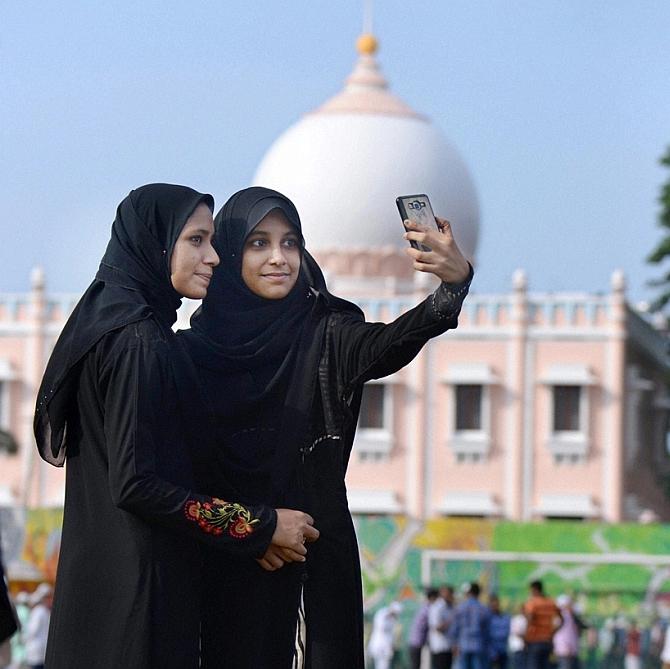 'Who is the government to decide about my religion?'
'We are governed by the Constitution of India.'
'The Constitution has given me the independence to follow my religion.'
The Narendra Modi government has asked for suggestions to implement 'One India One Law', or as is commonly known, the Uniform Civil Code.
The move towards a Uniform Civil Code, part of the Directive Principles of the Constitution, has created an understandable furore.
Historically, whenever the issue has been raised, it has led to a storm of protests, particularly from the religious minorities.
Kamal Faruqui, below, left, founder and executive member of the Muslim Personal Law Board and former chairman of the Delhi Minorities Commission, opposes the proposed legislation.
Faruqui tells Rediff.com's Syed Firdaus Ashraf why he believes India does not need a Uniform Civil Code.
How do you see the move by the Union government asking for suggestions on a Uniform Civil Code?
They are sticking to their agenda. We are not surprised. They said in their election manifesto that they will bring in a Uniform Civil Code.
Don't you think it will be good for India to have a 'One India One Law' concept?
From your viewpoint, it is very good. Let there be only one thing in the country. There should not be different kind of spices, different kind of people, different kind of flowers, animals. Everything must be one only.
But the Uniform Civil Code will affect all communities, including Hindus.
That is for Hindus to decide what action they want to take. It is not Hindus alone.
We have a large number of Adivasis to whom we have given a guarantee in the Constitution that their caste and culture will not be disturbed at all. That was the agreement which we had with them (in the Constitution). Then there are other minorities.
A large section of Hindu society practises different religious ethos in different places. So it is for the government to decide whether they are trying to create anarchy or if they are really interested in serving the people.
Do you believe there will be anarchy in India if we have a 'One India One Law' rule?
Yes. (one country one law) is not possible in India. I do not know whether Dalits and Adivasis will agree to this. Adivasis have their own custom and culture.
A man can have many wives and a woman can have many husbands. They have different ways of marriage and also different rituals for burying the dead.
We had assured them that these things would not be disturbed, so where will they go?
We have also committed to all the minorities that their religious beliefs will not be disturbed, so what is going to happen to all these things?
What is the problem in Muslims accepting a Uniform Civil Code?
When the Constitution was framed, it was agreed that unless the Uniform Civil Code has the consensus of all the people, it will never be implemented. It would not be forced. Even Dr Babasaheb Ambedkar said so.
Which Muslim body will decide on the Uniform Civil Code for Muslims? The community is so vast and divided into so many different groups in India.
Or will the Government of India decide on a Uniform Civil Code for all, including Muslims?
Who is the government to decide about my religion?
It is the religious people who will decide about their religion.
But Article 44 of the Constitution does says that the State shall endeavour to secure for citizens a Uniform Civil Code throughout the territory of India.
There are about 16 crore (160 million) Muslims and out of that say 50,000 people have a different opinion as reported by the media. But what about the rest of the Muslim population?
But the point is whether there was an idea while framing the Constitution that we need to bring in a Uniform Civil Code some day.
Yes, there were a lot of ideas which the government has not yet implemented. One of the ideas was a total ban on alcohol.
But we have a criminal law which is the same for all communities while civil law is different for different communities.
What was the rationale behind this when our Constitution was framed?
The rationale behind this was that if any crime is committed by any person, there will not be any discrimination based on his religion or caste. It will be implemented throughout the country.
As far as the religiosity of the people is concerned, it will not be disturbed. So what is the problem with it?
As far as criminal law is concerned there has been no difference of opinion, there was unanimity. That is the main difference, which I hope you appreciate.
Critics of your stand say you prefer the Shariah only in civil matters, not in criminal matters where you want the secular law to prevail, as the punishment under Shariah law can be severe.
If the government wants to bring this too, let them do so, we have no issue.
Let them discuss this, that they will chop off the hands as is done in some, not all, Muslim countries.
If the government wants to bring it uniformly, let this be discussed.
The move to ban triple talaq (divorce) is gaining momentum. Why is this happening 30 years after Rajiv Gandhi overturned the Supreme Court ruling in the Shah Bano case?
It is all thanks to the media.
But the Supreme Court is intervening in the recent Shayara Bano case.
The Supreme Court has said in so many earlier judgments that it cannot legislate on religion. Are they trying to reverse that judgment?
The judge who passed this ruling was hearing some other case involving a Hindu family. Suddenly the judge asked for a Uniform Civil Code and he treated this matter as a PIL (Public Interest Litigation.
Musilm women were nowhere in the judgment. He also asked for filing a suo motu petition.
But it was the Shayara Bano case...
The media without going into details of the whole thing is going by perceptions. It was not Shayara Bano's petition.
In fact, her petition was filed suo motu after the judge gave his ruling.
What does the Quran and the Hadith say about talaq?
Anybody who is a Muslim and believes in Islam will not go against the Quran and the Hadith. And whatever is there (talaq), it is according to the Quran and the Hadith.
I am asking specifically about talaq.
No Muslim can think of going against the Quran and the Hadith. That is the answer.
That means whatever we are saying in our petition is according to the Quran and the Hadith.
The Hindu Code Bill was passed in 1955. How come the Muslims don't have one?
Because the Hindus never had any code while Muslims had a code for 1,500 years in the Holy Quran and the revelation to Prophet Mohammed from Allah.
Muslims all over the world have a written constitution for them which they don't change and cannot think of changing.
Why do you think it is insulting to Muslims if asked to follow the Uniform Civil Code? Do you feel it goes against the country's ethos?
We are governed by the Constitution of India. The Constitution has given me the independence to follow my religion.
Hindus did not have a law of divorce at all. Rather there is Kanya Daan.
Muslims do not donate girls. Marriage is an agreement in Islam. In Islam, marriage is a contract between the would-be husband and the would-be wife. You will not find this anywhere.
You tell me, in Hinduism is there any written agreement of marriage?
But talaq puts Muslim woman in a disadvantageous position.
This is what you feel. Ask the plight of poor Hindu women who have to fight for divorce against a man who is not cooperating.
A poor Hindu girl suffers as she cannot re-marry. Ask this question to that poor Hindu lady.
And as far as a poor Muslim woman is concerned, she has an honourable exit route. A nikaahnama (marriage contract) gives all the rights which a lady must have.
Rather, it is only in the interests of the woman, and if she wants to walk out of the marriage, she can.
If a Muslim woman says 'qabool hai (accept) before marriage it is of her own will.
If she does not want to marry, she can refuse. Nobody can force her.
In a nikahnama, a woman can put down her rights by stating that the man cannot divorce her without her consent. That is purely Islamic and legal.
So why have many Muslim countries done away with triple talaq, including Pakistan?
Pakistan is our enemy, so why should we talk about them? Who are they?
We have thousands of years of civilisation, so why you are talking about Pakistan? They are just a born country. I hate to refer to them or Bangladesh.
I love my country and my Constitution. We are a very rich nation and we are proud to be Indian Muslims.
Image published only for representational purposes. Photograph: PTI Photo