'Civilians are disrupting army operations.'
'When they go to capture terrorists, stones, petrol bombs are thrown.'
'Which country in the world deals with this situation with the gloves that we deal with?'
IMAGE: Soldiers during a major anti-terror operation in Shopian, south Kashmir, May 4, 2017.
Photograph: Umar Ganie for Rediff.com
Was it right to strap a civilian to an army jeep in Kashmir?
What did the army chief mean when said civilians should 'fear' the army?
What is the fallout of high-pitched television debates on the army?
Lieutenant General K T Parnaik was the Northern Army commander, the highest ranking army officer responsible for defending the Line of Control and security of Jammu and Kashmir for three years.
The retired general tells Rediff.com's Archana Masih how soldiers sit on a razor's edge to guard the LoC, the damage media noise brings to the army and the dilemma soldiers face in Kashmir.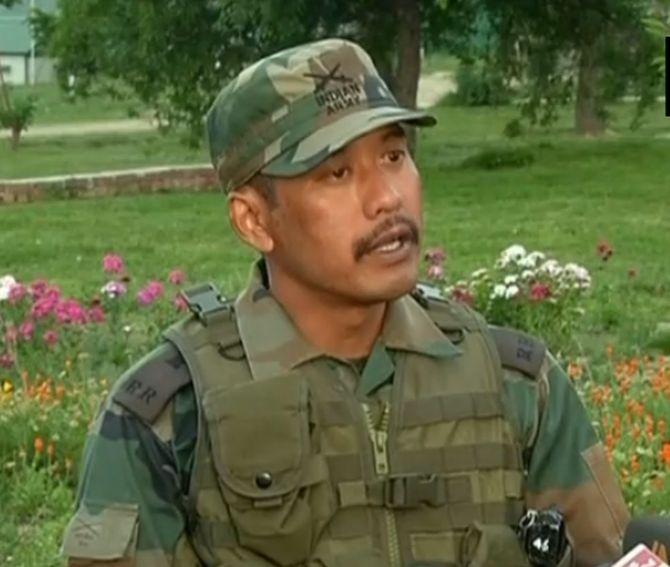 IMAGE: Major Leetul Gogoi, the officer who ordered a man to be strapped to an army jeep so that his troops could make it safely past a group of hostile stone pelters
How would you have dealt with the situation had Major Leetul Gogoi strapped a Kashmiri to the bonnet of his jeep when you were army commander?
Even if I was not an army commander, I want to tell you as a military professional, how I judge and assess the situation.
The first thing I would understand is that these are not normal methods of conducting operations, we don't risk the lives of civilians to fight our battles.
But in a given situation which is time sensitive, where the lives of your own men are at stake, when there is a violent mob ready to lynch anybody -- if I was in his place I would find it very hard to figure out how I was going to deal with it.
I could have either called my superiors to say that I need reinforcements.
I could have appealed to those people on a mike and said 'Please let me get my guys out', I could have left the place and called the police to handle it -- I think the method he thought of -- though unconventional and not desirable -- was an effective one.
Effective because it saved lives, effective because it prevented a carnage.
It is not a tactic that the army is going to use every time.
Under different conditions if anybody did anything like this, he would be court martialled -- I have no doubt about it.
But sometimes difficult situations demand difficult and innovative actions.
If I felt this I would have said that there and then itself.
At the spur of the moment I would have asked my corps or divisional commander to make that statement that this was done with good intentions to save lives.
I would not have made it into a huge issue of eugolising this chap.
He goes back to doing his duty and that is good enough.
Some observers believe Major Gogoi should not have been given the army chief's commendation before the court of inquiry had concluded.
Commendation card is given to officers, jawans who have continuously performed tasks dutifully and with dedication throughout the year.
It is not given for one specific incident. Because this incident had happened before it was given to him, it was highlighted as if he was given for this incident.
If I had to judge if this officer deserved to be awarded, I would have given him a higher award -- and I would have said I am giving it for saving lives.
Why should I hide that?
The court of inquiry is an internal organisational issue. The defence services is the only institution that conducts inquiries quickly and takes action.
These CoI are not public unless they are conducted under the order of the Supreme Court, high court.
Pathribal happened in my time and we did it openly.
The moment you call all kinds of people (on television debates on Major Gogoi's actions) including retired guys like me and make us speak in the heat of the moment we get emotional and say all kinds of things.
What does it convey to the country and the people at large?
I think we are misleading them. We don't have to become so emotional.
It is one incident, it has to be seen in the circumstances under which it happened.
No more. No less.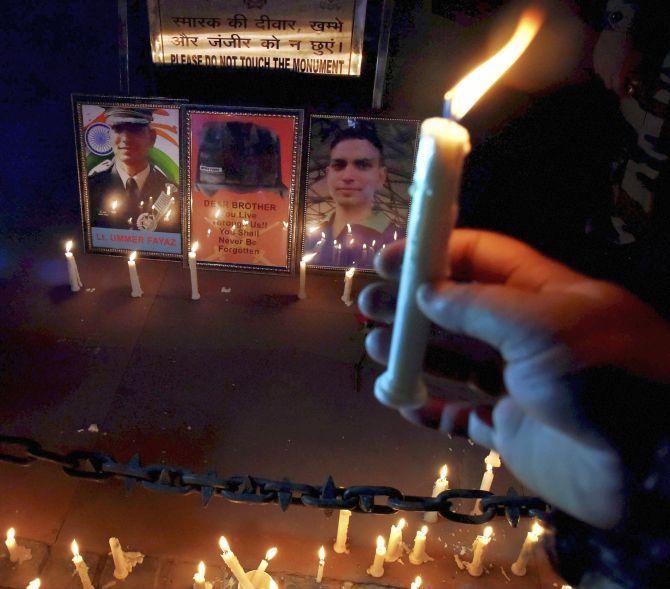 IMAGE: A candlelight vigil at India Gate for Lieutenant Umar Fayyaz who was murdered in his native Kashmir by terrorists in May.
Photograph: Atul Yadav/PTI Photo
You believe it has got more attention than deserved?
My message to my men would be plain and simple: You are professionals, you will behave and conduct yourself professionally.
I wouldn't be saying that the next time it happens you do the same. That will be wrong and I wouldn't want that message to go to anybody.
In a sub-conventional war, when there are no rules of engagement, where your own people are wanting your blood, we are fighting.
Which country in the world deals with this situation with the gloves that we deal with?
We never use helicopters, tanks, mechanised forces, artillery bombardment.
The neighbour who makes such a loud noise, see what he is doing in NWFP (Pakistan's North West Frontier Province), FATA (Federally Administered Tribal Area), KPK (Khyber Pakhthunkhwa).
Their military court can catch a civilian and hang him.
They have no moral right to even talk of what we do.
What hurts is when your own people from your own country make an issue out of it.
On this issue, there have been voices from both sides criticising and defending the army.
For me it was a stray, exceptional incident. '
We are not saying all our troops will act like this, but you can't hang a soldier for saving lives.
I am also not saying parading a man like that is the right thing, absolutely not.
It is inhuman. I recognise it.
We have our internal mechanism to ensure that such acts don't happen.
Otherwise, a force which is battling so closely with the population for years --- how many such incidents can you recount?
Compare this with what is happening around the world -- China, Pakistan, some African countries.
With the pressure under which soldiers serve in the Kashmir valley, could there be more incidents like this? There is also media scrutiny.
There is pressure on men and officers because they are operating in difficult circumstances.
They are worried if they make a mistake your own organisation will hang you and if you let things go you may get bodily harmed yourself.
There is the dilemma of that thin line that you cannot cross.
That thin line is a permanent dilemma with soldiers.
You have to appreciate that in that dilemma and chaos there are officers who stand and lead their men. They are taking responsibilities.
There are men who are taking initiative to show that they follow instructions, but what the media pressure, this debate, is doing is that from the commanding officer to the last man -- who is at the cutting edge -- hears it on TV/radio.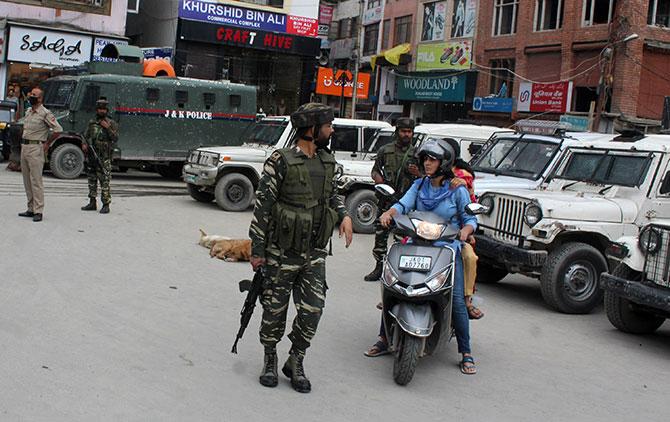 IMAGE: A soldier questions girls during a search operation following information about the presence of terrorists in Srinagar's Lal Chowk.
Photograph: Umar Ganie for Rediff.com
What is the fallout?
One fallout of that is that the jawan has realised that the media is a powerful tool.
They start speaking to the media and incidents have happened. That is demoralising.
We have methods of addressing these grievances and believe me, 99% grievances are addressed, but there are bad eggs everywhere.
Tolerance levels for bad hats is low in the armed forces. He has to be disciplined and there are cases of them going to the media.
There could be some truth to it, but is that the method of seeking justice?
That is wrong. That is the adverse fallout of the pressure you are talking about.
I don't see adverse pressure making them do what Major Gogoi did.
They will find other methods to save themselves and protect others. I've mentioned innovative ideas that have come up by junior officers.
The pressure is whether they should cross that thin line or not.
If this pressure is allowed to afflict the higher leadership, then there is a cause of worry.
But in most cases the pressure remains in certain levels, others come and remove it.
And you are confident that the Indian Army has the professionalism and discipline to withstand that pressure.
It is the ethos of the armed forces and will be very difficult for anybody to try and break it.
It is very well entrenched and encapsulated.
Our army has been under civilian control since Independence.
It will continue to withstand the pressures that come from local situations in which the army is put in the last minute, but the sense of pride, belonging and nationalism they carry in their hearts and minds is to be seen to believed.
I say that with great conviction, you might find stray incidents, but it cannot shake you.
For the last 70 years, particularly the last 30 years, the way we have tackled terrorism, insurgency, proxy war, we have succeeded.
If we don't contribute, there will be a big problem.
If the country fails, we will fail or vice versa.
Has the army been failing in perception management since Burhan Wani's killing?
There is a momentum to this whole thing.
If there is a break in the momentum, you need to catch up and catch up fast.
If you don't, events will overtake you.
There are far too many events happening today that are overtaking the army because there is no one else to address them.
When (former Jammu and Kashmir chief minister Mufti Mohammad Sayeed) passed away, Mehbooba Mufti did not get elected for months.
These are the interludes they are waiting for.
Ultimately it becomes the governor's responsibility, but here governor's rule was also not proclaimed.
In this situation, you allow your initiative to go away.
The same thing happens with the army.
If you make senior commanders feel apologetic publicly, it is not a good thing to happen to the military.
The moment something happens, the human rights people, pseudo seculars start commenting on TV chats shows -- how much confusion it creates.
If this could be done with informed people, probably the people who hear them will also benefit.
But the rhetoric and noise is so loud that it distorts everything else.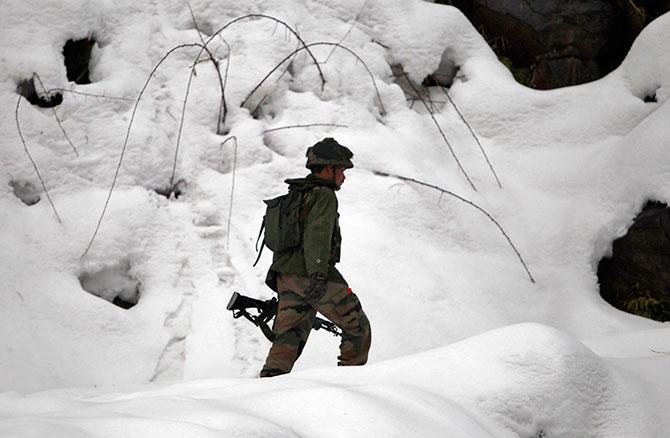 IMAGE: A soldier near the Line of Control in Charunda village, 129 km from Srinagar. Photograph: Danish Ismail/Reuters
When incidents of beheading of our soldiers take place, national emotion runs high.
Beheading incidents will happen from time to time because look at the borders -- the fence cannot be put exactly on the Line of Control, because the LoC sometimes goes inside a nullah or jungle.
A fence which is not directly under your observation and domination is of no use.
When the fence was made, it was made with a view that a forward line of troops would dominate the fence, so in many areas there is a huge gap between the fence and the actual LoC.
If you don't move from your main positions and go beyond the fence, you are almost ceding that area -- after sometime they will dig a trench, make some construction and say 'hamara hai'.
To guard every inch of that land is a very difficult task.
Any construction that you do ahead of your permanent line is under observation from both sides.
If Pakistan starts constructing a bunker close to the LoC we fire, so do they.
How do we dominate the area across the fence up to the LoC without constructing any defences or protection -- that's the challenge.
And Pakistan is on the lookout for gaps in the LoC where they can send terrorists through.
They send their terrorists, they lay an ambush with their SSGs (Special Services Groups), kill and indulge in these acts (beheadings).
These incidents erupt into anger, frustration, hatred, kill them, cut them -- the army cannot be allowed to drown in this cacophony. They have to get a space to deal with this.
A good army commander, at whatever level, will bide his time.
He knows where to strike and he will get even.
But that 'getting even' is also momentary because after a few days something else will happen.
That is what has been happening at the LoC recently.
The first thing is to prevent infiltration to the best you can.
If you discover a point where infiltration took place, retribution should go against the Pakistani troops opposite that area. Not civilians.
The message is that is you allow people to come to our area through your area, we will knock them off, but we will also knock you.
It is an indication that we know you are supporting and aiding these terrorists.
If you are able to inflict 3-4-5 casualties on the Pakistani troops it is a great deterrence.
Their morale can shoot down to their boots as quickly as it can shoot up.
There are many places in J&K where we can dominate areas across and so can they.
A good plan can deny them some spaces permanently.
We have done it in the past -- like not allowing their vehicles to move when they have to stock up for the winter.
We would literally command that their vehicles could move from 6 am to 6 pm -- but after that, movement must stop.
There are ways and means to send messages.
IMAGE: People watch as the army and police conduct search operations following information about the presence of terrorists in Srinagar's Lal Chowk. Photograph: Umar Ganie for Rediff.com
What do you think of the army chief's statement that civilians should be afraid of the army?
The person you referred to served with me. I know him very well.
As a chief he is an institution. There is great respect and regard for the institution.
The purport of what he said and meant has been distorted. I don't think it's the literal meaning that people should be afraid of us, otherwise we will shoot them. That was not his purport at all.
Secondly, he is an army chief. In difficult times when events overtake you, the people at the ground level who are deeply into combat, their vision is shrouded by what is going on in front of them.
Sometimes they have to look back to see if they are getting the necessary support or not.
It is a pattern many chiefs have used, many haven't depending on their personalities.
They make a statement which is more for their own people, which is to say that we support you, do your job.
It also sends a message to the people -- arsonsists, those using human shields among terrorists and targeting people.
It is to caution them not to take us for granted. I would interpret his message in that manner.
It was a bold statement to make by an army chief. I don't think chiefs in the recent past have said something like that.
I would say he was bold enough to say it. I see no malice in his statement.
It is not an instigatory statement as it was made out to be.
Nothing has happened on the ground that suggests that the army has suddenly started shooting people.
Nothing has happened in the environment to show if you throw stones, we will fire guns.
It is a mannerism in which the army chief has conveyed the strength of the army which backs the people doing this difficult job.
He is a professional soldier and knows what he says.
Historically, you have had commanders who called a spade a spade, even speak down and could achieve what they wanted.
There were other chiefs who were discreet, who did not say things lest they were misinterpreted politically or socially -- so it is a command style. I don't think there is a need for debate to dissect what he said.
I would have been worried if after the statement, there were more statements from junior commanders -- divisional commanders, corps commanders.
What he said is not a doctrine, but a sense of what he was conveying.
Civilians are disrupting army operations.
When they go to capture terrorists, stones, petrol bombs are thrown.
Our teaching is to deal with them with velvet gloves -- iron fist with velvet gloves -- but if the velvet glove comes off, the iron fist will show.
What he (General Bipin Rawat, the army chief) is saying is don't meddle with us because that glove can come off anytime.
He has said it, see for yourself what happens if after 6 months if what he said was not what you thought he meant, you will undretsand that.
The army is not a shallow organisation. It is a deep mature organisation.
Lot of things which are said convey things. If we articulate our views we can still hold our positions.