'We're going to see a defence relationship that really takes off -- now that India is a major defence partner of the US, the sky is the limit for arms sales.'
'The economic partnership will lag behind the security relationship, but the meeting and joint statement give cause to believe that it will progress more robustly than many of us would have expected.'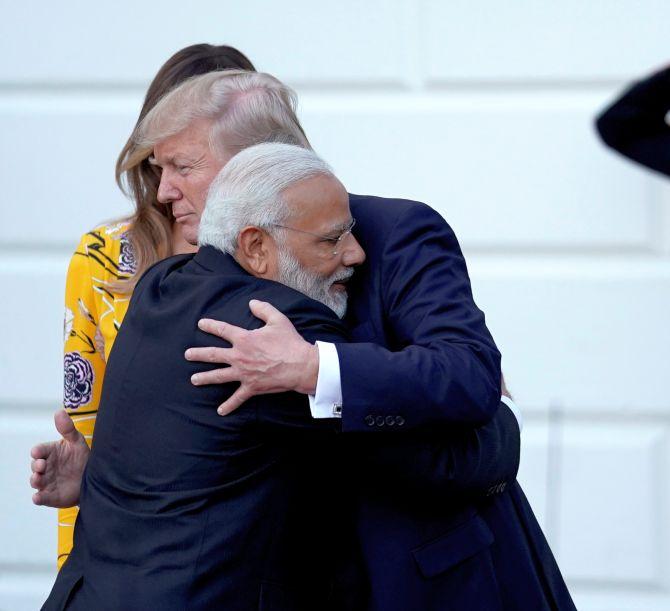 IMAGE: 'The body language of both men was largely positive,' says Michael Kugelman.
'And in the end, we even had not one, but two bear hugs.'
'What more can you ask for?'
Michael Kugelman -- Deputy Director and Senior Associate for the South Asia program at the Wilson Center, the Washington, DC think-tank -- is an articulate and respected observer on India, Pakistan and the rest of South Asia.
Readers may recall Michael's interview to Rediff.com after Prime Minister Narendra Modi's surprise visit to Lahore on December 25, 2015 and his columns before and after the September 28, 2016 surgical strikes against terrorist launch pads in Pakistan occupied Kashmir.
Michael Kugelman, left, below, discusses the Modi-Donal Trump summit in Washington, DC with Rediff.com's Nikhil Lakshman.
On a scale of 1 to 10, how would you rate the Modi-Trump Summit? And why?
I find 1 to 10 scales a bit arbitrary, but in this case it's easy to assign the summit a 10 simply because the prime objective was resoundingly achieved and the expectations were easily met.
That said, the objective was modest and the expectations low.
The goal was for the two men to meet each other and have a good conversation about where they see the relationship going.
The joint statement, which was far-reaching and detailed, clearly indicates that Modi and Trump had a very comprehensive discussion.
The expectation was that there would be a pleasant, crisis-free meeting.
Given the unpredictability of Trump, one can never rule out the possibility of surprises.
And yet the whole thing seemed to go off without a hitch.
They spoke about many things and pledged to work together in a lot of a different areas.
The body language of both men was largely positive.
And in the end, we even had not one, but two bear hugs.
What more can you ask for?
What are the positives that emerged from the meeting?
For me, the major positive was how expansive the joint statement was.
There's been much talk about the hits the relationship has taken in recent months, thanks to the H1-B visa issue, the attacks on Indian Americans, and Trump's anti-trade position.
One might have expected that the scope for cooperation would be narrowed a bit. And yet the joint statement was broad and far-reaching.
It even dedicated a large amount of text to the economic realm, which may not be the Achilles' heal of the relationship that many might think it would be.
Another positive was Modi's invitation to Trump to visit India, and what appeared to be an acceptance of that invitation from Trump.
This is a way to maintain the momentum of Modi's visit.
Trump is a distracted president with so many things going on, and there's reason to fear that within a few days he'll have forgotten this meeting with Modi even happened.
If the Indian and American governments work to take the India visit offer forward and set a date for it, then you have a nice marker to put down in the future that will ensure that India continues to get top billing from the White House.
Would you say Prime Minister Modi struck a rapport with the famously unpredictable President Trump? Why do you say that? What surprised you about the meeting?
From the start, and admittedly from afar, I was struck by the camraderie established by the two men.
When Trump greeted Modi, there were many smiles and even a joke or two.
Trump seemed to have genuine admiration for Modi when he noted how well the country's economy has been performing.
I don't see why these two leaders shouldn't strike up a very deep and positive rapport.
In fact, I'd contend that they have more grounds for establishing a so-called bromance than did Obama and Modi.
Those were two very different men with very different political views.
By contrast, Modi and Trump may have very different backgrounds -- one comes from poverty, the other embodies wealth and privilege -- but they are very similar in terms of their politics and how they view the media.
They also like to cast themselves as outsiders fighting against the status quo, and as decisive, can-do reformers who relish the art of the deal.
All this is to say that there's very good reason to believe that Modi and Trump will cultivate a strong and warm personal relationship.
Was this just a get to know you better encounter? Were there any tangible achievements for India after the meeting? And for the US?
Yes, this meeting was a get-to-know-you affair, not a let's-make-a-deal kind of encounter.
There were no tangible achievements on policy levels.
I'd argue that the biggest deliverables were actually pre-deliverables -- Washington's decision, announced just a few hours before the meeting, to designate Syed Salahuddin as a terrorist, as well as a deal, reported several days ago, for the US to provide surveillance drones to India.
These are not seminal, milestone achievements by any means, but they did give Trump and Modi something substantive to highlight in the joint statement.
Has the India-US relationship moved forward in any appreciable way after the uncertainty that set in after Donald Trump's inauguration and his critical statements about India, especially about jobs, H1-B visas and the Paris Agreement on climate change?
I think the US-India relationship has been treading water over the first few months of the Trump administration.
My sense is there's been ample uncertainty in New Delhi about what Trump makes of India and the overall relationship.
That's why this meeting was so important -- it was an opportunity for Modi to get a sense from Trump as to what direction he wants to head in.
The joint statement has sketched out a number of areas of cooperation to focus on in the coming months, including several -- including, surprisingly, clean energy -- that myself and other analysts had assumed were no-go areas.
Both leaders are hardliners on Islamic terrorism. Do you see the Trump administration getting tough with Pakistan, especially on Rawalpindi's support for terrorism directed against India?
Or is Pakistan too valuable an ally for the US in what it is trying to achieve in Afghanistan?
Do you think the US will involve India on whatever it is trying to do in Kabul?
There's been a lot of mixed messaging from the Trump administration on Pakistan, though then again there's been a lot of mixed messaging from the Trump administration on many foreign policy issues.
If there's one president that would be likely to take a harder line on Pakistan, it would be Trump.
He is a stridently tough-on-terror guy who clearly has no patience for a wishy-washy policy toward terrorism that involves going after some groups, but not others.
All this said, there's no clear evidence that the White House will be putting down the carrots and picking up the sticks.
There's a comprehensive policy review going on right now, and it is considering tougher policies -- from an expansion of drone strikes to aid reductions -- but it is also considering more conciliatory policies that involve using diplomacy to convince Pakistan to crack down on terror groups.
Of course, the conciliatory policy hasn't worked up to this point, but it's still been put out there.
My own view is that because this is an 'America First' president, Trump will want to focus on the terror groups that pose the greatest threat to Americans.
And in Pakistan, this would be the Haqqani network and Afghan Taliban -- which target US troops in Afghanistan -- and not Lashkar-e-Tayiba or Jaish-e-Mohammed, which do not, or at the least they do so less often.
To be sure, the joint statement said plenty about US-India cooperation on combating the likes of LeT, but at the end of the day, I see the Trump administration focusing more closely on the Afghanistan-focused terrorists than on the India-oriented ones.
I have been struck by how much the Trump administration has been talking about India's role in Afghanistan, and I imagine that its South Asia policy will propose deeper US-India cooperation in Afghanistan -- on economic and diplomatic levels, to be sure, not security levels.
Is there an understanding in the administration about India's concerns about cross-border terrorism?
Do you think Trump could have offered to mediate in the India-Pakistan dispute?
Or will the US intervene in a less obtrusive way, cooling down tensions before it got of hand?
There's clearly an understanding about India's cross-border terror concerns in the White House, but an understanding won't necessarily translate to a decision to take action.
I also think that for all of Trump's talk about offering to mediate the India-Pakistan dispute, and for all his willingness to take on such incredibly delicate tasks -- witness his short-lived effort to have his son-in-law Jared Kushner mediate the Israel-Palestine dispute.
I think it's unfathomable that Trump or anyone in his administration would launch a formal mediation.
For one thing, the depth of friendship between the US and India suggests this is unlikely.
I imagine that if New Delhi prevails on Washington to stay out of the dispute, then Washington will oblige.
What we'll likely see is what we've always seen -- the US will stay out of the dispute, while quietly encouraging both sides to work out their problems, and, when a crisis erupts, it will then take on a more active and vocal role and try to lower tensions.
This is a strategy that's actually worked well in the past, from the Kargil crisis to the Mumbai attacks and many incidents in between.
Beneath the overarching statement on crushing Islamic terrorism, do you believe India and the US have reached any fresh agreements on ways to combat terrorism?
No, I don't.
Given that there's little immediate prospect of operational cooperation between the US and India on counterterrorism -- for example, India isn't about to formally join the anti-ISIS coalition anytime soon -- the main focus will need to be on intelligence collection and information sharing and other non-operational collaborations.
This can entail sharing information about the movement of terrorists in South Asia or also working together to cut off terrorist financing for India-focused terror groups in Pakistan.
The elephant in the room did not surface in the Modi-Trump joint statement.
Is the Trump administration less concerned about China than the Obama administration was?
Do India and the the current US administration share concerns about China? (I believe this is the first time North Korea made its appearance during an India-US summit, with President Trump lauding New Delhi's sanctions against Pyongyang.)
I was struck by how absent China was from the joint statement.
I'm sure it came up in the private conversation, but apparently not on a level substantive enough to warrant mention in the joint statement.
I do think that China is an area where the US and India are not as like-minded as they had been prior to Trump taking office.
Trump's position toward China has evolved from one of outright hostility to cautious conciliation -- at least for now.
In effect, while Modi's position toward China has hardened, Trump's has softened.
All this said, I do think that China is something on which both sides will continue to cooperate, and for two reasons.
First, I don't know how much longer Trump's pro-China position will remain -- he may well get impatient with China and conclude that it is not serving effectively as a mediator in the North Korea crisis.
Second, at the end of the day, both the US and India continue to view China's increasing activities and provocations in the Indo-Pacific region as a threat to their national interests.
India is intensifying its presence in the region, and the US -- despite threats from the Trump administration to revisit America's relationship with Asian military allies -- remains deeply engaged in the region.
Both countries worry about China and the best way to address this worry is to work together.
Of course, what form that cooperation takes remains to be seen.
Do you think Narendra Modi and Donald Trump can do business the way Modi and Barack Obama did?
In what directions do you see the India-US relationship traverse after the June 26 summit?
Well, I think we've already gotten an answer to the question of whether they can do business.
For all the talk of America First and Make in India making for an inherent tension, we've just heard about a deal that would involve Tata working with Lockheed Martin to co-produce F-16s in India.
Score that as a victory for Make in India and a defeat for all those who thought that Trump's America would preclude any type of deal that involves American firms going abroad.
I think that this relationship has enough goodwill to find ways around apparent constraints and to make things happen in a big way.
I do think the two countries have a lot of work to do in terms of defining the parameters of the economic relationship, but there's still a lot of potential.
I think that moving forward beyond June 26, the key markers to look for are above all how actively the White House will be following up on the meeting.
Will there be senior-level visits to India?
Will the US government say a lot about India? These are key things to watch out for.
My sense is that we're going to see a defence relationship that really takes off -- now that India is a major defence partner of the US, the sky is the limit for arms sales.
The economic partnership will lag behind the security relationship, but the meeting and joint statement give cause to believe that it will progress more robustly than many of us would have expected.