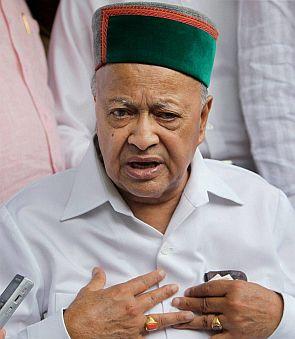 Even as Kiran Kumar Reddy has quit the Congress and resigned as chief minister of Andhra Pradesh, protesting against the division of the state, veteran Congress leader and Himachal Pradesh Chief Minister Virbhadra Singh says he, too, will quit the party if its central leadership removes him from the post of chief minister, after the elections.

In an interview with Sahil Makkar, he says the Congress faces anti-incumbency across the country, adding this time, the party might win fewer seats than in the last general elections.

Edited excerpts:
How big is the Narendra Modi factor in Himachal Pradesh?
As of now, there is nothing. His recent visit to the state made no impact. The media has reported 80,000-85,000 people turned up for his rally. But, to be very frank, the number was a mere 30,000. I was holding a similar rally at another venue and the response was no less.
Are you suggesting Modi is not a threat to the Congress in Himachal Pradesh?
Modi is a threat to the entire country and Himachal is no exception. It would be wrong to say there is a Modi wave in Himachal Pradesh.
You have been facing a series of corruption allegations since the Assembly elections two years ago.
The people of Himachal Pradesh will never believe in accusations that Virbhadra Singh is corrupt. They have known me for five decades. I have done nothing wrong for which I should be afraid; my conscience is clear. I have filed a criminal defamation case against those who have levelled charges against me - Bharatiya Janata Party (BJP) leader Arun Jaitley and former state chief minister Prem Kumar Dhumal, along with his two sons.
Why are the former chief minister and his sons after you?
I have been in power for long. They think if Virbhadra is removed from the state, they will have an easy walkover. He wants to destroy me because he thinks I am the biggest hurdle in his way.
In Himachal Pradesh, the Congress is a divided house. There is dissent voiced against you from within.
It has always been there; it is nothing new. There are dissenting voices within the party. Ambitious people are trying to divide the party but none of them has the ability to win elections on his/her own. I can't always be there to win elections for the Congress. I have had my innings and am not keen to continue after my term is over. I will not fight the next Assembly elections.
Aren't you happy with things in the party?
I have been a party loyalist for decades and my rightful place is in the Rajya Sabha. But to the Rajya Sabha, they are sending those who have never won even a municipality election! I am not only talking about Himachal Pradesh; it is an all-India trend. These should be people who are tried and tested and have had their innings and fought their battles. Eminent people and those from academic backgrounds should be sent to the House, too.
There is a rumour that the central Congress leadership might ask you to step down after the general elections.
It must be the wishful thinking of some people. I am not a toilet paper that can be used and thrown in a dustbin. If that happens, I will quit the party as well.
Will anti-incumbency and corruption spoil the Congress' dreams?
When people stay in power for long, anti-incumbency is natural. But it is not as much as projected in the media. We will be in a good position, whether we form a government or not. I can take into account the anti-incumbency factor but I reject opinion polls because these are manipulated.
Will the Congress get more seats than last time?
I think it will be less than the last time. Anti-incumbency can't be ignored.
Do you think Rahul Gandhi has the ability to lead the party?
He is an able man; he is intelligent. He has a fighting spirit. Everyone learns by experience.
What are the Aam Aadmi Party's prospects in Himachal Pradesh?
The fight is only between the BJP and the Congress.
What have you achieved in the past year?
We have given employment allowances to the youth and monthly allowances to people aged more than 80. The handicapped, too, have been given money. Initially, our time was spent taking measures to correct the irregularities of the previous government. We have been hit hard by the recommendation of the 13th Finance Commission, which came during the BJP government. There was a net loss of Rs 10,500 crore.