The economy could return to 8% growth by the end of 2017-2018, Arvind Panagariya, vice-chairman NITI Aayog, tells Business Standard's Indivjal Dhasmana and Sanjeeb Mukherjee.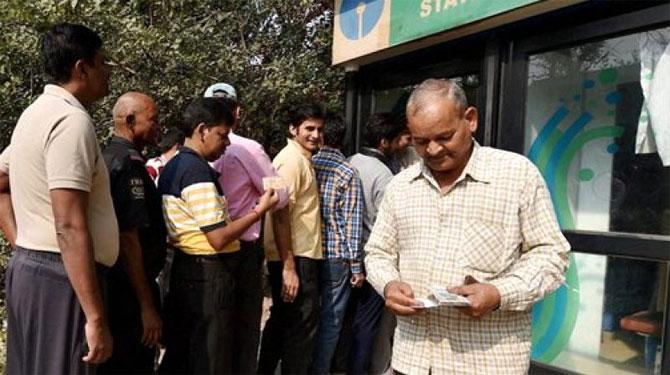 Economic growth in the third quarter of the current financial year (2016-2017) -- and the fourth quarter, to a lesser extent -- would be impacted by demonetisation, according to National Institution for Transforming India (NITI) Aayog Vice-Chairman Arvind Panagariya.
In a conversation with Indivjal Dhasmana and Sanjeeb Mukherjee, he said the economy could return to 8% growth by the end of 2017-2018.
What do you think could be the impact of demonetisation on gross domestic product (GDP) growth in the third and fourth quarters of the current financial year, given that the economy hasn't done particularly well even in the second quarter?
Overall, in the third quarter (Q3) of 2016-2017, there would be a decline in the growth rate; also in the fourth quarter (Q4M). But the decline in Q4 would be less than in Q3. It is difficult to quantify the extent of decline in the absence of relevant data.
In 2017-2018, the economy would return to the original growth trajectory and would hopefully reap some benefits of demonetisation such as greater financial intermediation and formalisation of transactions.
During this period, there would be some clarity as to what kind of revenue the government is going to get because of demonetisation.
That will also allow us to make an assessment as to what capacity the government will acquire to make transfers to the poor and invest in infrastructure.
What about your earlier projections that the GDP growth in the fourth quarter of 2016-2017 would be close to 8%?
This is now unlikely.
We must now look to the end of 2017-2018 for this growth rate to materialise.
Former chief economic advisor Kaushik Basu, in an article in The New York Times, has criticised demonetisation, saying that damages are more than the benefits.
He also tweeted later that both Amartya Sen and your teacher Jagdish Bhagwati would support his assessment. Do you agree?
I saw the article and the tweet.
I am surprised that Professor Basu sent out the tweet without actually checking with Professor Bhagwati.
I did exactly that, and Professor Bhagwati categorically denied agreeing with the arguments of Professor Basu in the article.
I know Professor Sen has derided the reform, calling it despotic.
But it is hard for me to understand why someone who extols Indian democracy would call an action taken strictly within the boundaries of the Constitution despotic.
Also, a despotic act must lead people to feel oppressed. But people have whole-heartedly supported the prime minister.
No one showed up in response to the Bharat bandh called by almost the entire Opposition.
Leaving that apart, what is your general take on Basu's assessment?
Professor Basu said many things critical of demonetisation, but provided no evidence or convincing arguments to back up those assertions.
Take one dimension: Ethical and moral fabric of the nation.
If we take concrete steps to stamp out corruption, regardless of the impact on GDP growth, we would have made a huge progress in strengthening the ethical and moral fabric of society.
Frankly, I wish Professor Basu had given some good advice to the government on combating corruption when he was the chief economic advisor.
Would you go with former prime minister Manmohan Singh's assessment that demonetisation would shave off 2% of GDP?
He said that too was an understatement. Not knowing how this estimate was derived, there is no easy basis for its endorsement.
There is a general agreement that there would be an impact, but precise estimates have not been grounded in a proper model.
Only Ambit Capital had clarified its model, which relied on the Quantitative Theory of Money.
But even making the heroic assumption that the velocity of money would not change in response to such a major action by the government, it can translate the change in money supply only into a change in nominal GDP, not real GDP.
It is now widely accepted that of the over Rs 15 lakh crore value of demonetised notes only Rs 1 lakh crore to Rs 1.5 lakh crore would NOT come back.
If that is the case, what is the rationale for this whole exercise?
The expectation of black money not being returned to banks was valid prior to the latest amendment to the Income Tax Act.
But the amendment allows an individual to disclose black money with a 50% tax and a 25% contribution to the prime minister's fund for the welfare of the poor (Pradhan Mantri Garib Kalyan Yojana).
This is a better option than not disclosing the black money and losing it all.
Therefore, you should now expect all Rs 500 and Rs 1,000 notes to come back into the system.
Of course, as this money comes in, the government will get revenue.
Separately, let me mention that while everyone is calling the November 8 announcement 'demonetisation,' strictly speaking, it is not.
If not demonetisation, then what is this?
According to the November 8 notification of the Department of Economic Affairs, Rs 500 and Rs 1,000 currency notes have ceased to be legal tender.
What that means is that if I want to buy something from you and pay in Rs 500 or Rs 1,000 notes, you are not obliged to accept the payment.
But the November 8 notification does not end the liability of the Reserve Bank of India.
The central bank must still accept these notes.
The liability of the RBI will only end if the government brings in a legislation to demonetise these notes.
If the economy does not grow by much, will it not neutralise the tax revenues expected from demonetisation?
There will be some impact on tax proceeds because of the temporary fall in the growth rate, but it is quite unlikely that it would be large enough to offset the revenue collected on the deposits that would come into the banking system.
If you see manufacturing PMI for November, it shows no sign of a decline in the growth rate.
Impact on agriculture is also minimal, according to calculations done by my colleague Professor Ramesh Chand.
Only services PMI shows a decline in the growth rate, but that too in for November.
Also, remember that October and the first week of November, which were counted in the third quarter, had a normal run.
In the first income disclosure scheme (IDS-1), the government had said there won't be any more black money windows, but then came IDS-2.
Isn't it a sort of cheating of those who came forward in IDS-1?
It is not unusual for governments to change laws in response to changing circumstances.
In the present case, the Centre was faced with a very unusual situation.
I feel it is better to cut one's losses and make a mid-course correction, if new evidence warrants it, rather than stick to what one said before.
The Centre took this decision when the wedding season was on and when rabi sowing had just picked up pace.
Doesn't it show that the Centre was not well prepared?
When such an important step, requiring utmost secrecy, is taken, there is never a perfect time for it.
If you wait for a perfect time and the word gets out, the damage is much greater.
Besides, if this had been done in January, you would have said it was too cold for the people to stand in queues.
In May or June, you would have said it was too hot.
For how many months will this pain continue?
Signs of improvement are already visible.
I will give you an example -- micro-lender Bharat Financial Inclusion, formerly known as SKS Microfinance, in a presentation to the BSE, said its loan repayments by self-help groups had shown a complete recovery after an initial adverse impact.
While their payments fell to 10% of what was due on November 11, they peaked at 159% on November 18 and stabilised at 102% by November 25.
Going forward, how will the withdrawal of old Rs 500 and Rs 1,000 currency notes help the economy, apart from weeding out black money?
Many transactions from informal economy will come into the formal economy.
Our cash-to-GDP ratio was 12% to 13% before. Some portion of it was not coming into circulation because it was under somebody's mattresses.
Probably, we don't need as much cash for transactions. Now, we can make significant cuts in cash-to-GDP ratio.
Besides, digital transactions will rise. The government is clearly taking advantage of the current situation and pushing very hard for digitisation.
The NITI Aayog, too, has been working very hard on this project. That will improve the efficiency of the system because transaction costs will come down.
Lots of savings were not going through the financial system.
Less than half of personal savings go through financial intermediation but are invested in physical assets.
The more these savings go through the financial system, the more productive the investments would be.
Does it also set the stage for double-digit growth down the line, say the next couple of years?
This step is only one of many ingredients in the double-digit growth recipe.
We need to continue with other reforms, which we are doing.
We are pushing digitisation at a time when debit cards were hacked recently...
Cyber security would also be beefed up. That is an essential part of bringing people into the digital net.
Unless people feel secure, we cannot persuade them to switch to digital transactions.
Do you see a re-distribution of wealth happening?
It is bound to happen one way or the other.
One fourth of the declared black money would go to the Pradhan Mantri Garib Kalyan Yojana.
50% of the black money would go to the treasury. These will result in increased social expenditure.
Photograph: PTI Photo