'The BJP had ruled earlier too, but nothing of this sort happened then... I don't say the government is behind the attacks, but they don't do anything to stop the attacks.'
'The prime minister has to tell the perpetrators that it is not in the interest of the government that such incidents happen.'
'When somebody says all Indians are Hindus, responsible people should ask him to stop and assure the country that this is not the opinion of the government. But it is not happening and it is quite unfortunate,' Cardinal Baselios Cleemis tells Shobha Warrier/Rediff.com in an exclusive interview.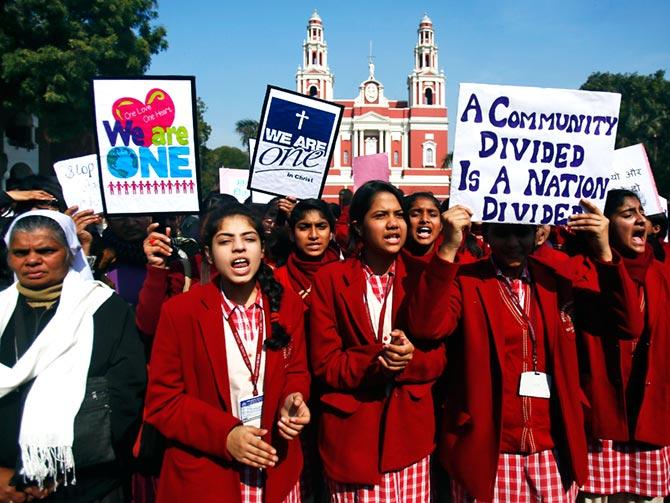 Image: Protesters demonstrate against church attacks in New Delhi. Photograph: Anindito Mukherjee/Reuters
Cardinal Baselios Cleemis, President of the Catholic Bishops Conference of India, traveled to Ranaghat to meet the 72-year-old nun who was raped, a crime that horrified India.
The cardinal also met staff at the Convent of Jesus and Mary High School.
In this exclusive interview at the Archbishop's House in Thiruvananthapuram, the Cardinal shares his apprehensions with Shobha Warrier/Rediff.com
You are just back from meeting the nun at Ranaghat. Was she in a state of shock?
She appeared quite calm and serene, but physically she needs some more time to come back to her normal routine.
I was surprised to learn from her conversation that she was completely free from shock. She told me she had forgiven those people, but she said it should not happen to any other woman in this country or anywhere else in the world.
Do you see a communal colour to what happened to her? Is our society becoming so violent and sick that 3-year-old babies and 72-year-old women are being raped?
Something unethical has crept into our society. Incidents like these are happening in many parts of our country.
But seeing a series of similar incidents, one is forced to think that this is not just a theft...
You mean the attacks on churches?
Yes. Because of the number of incidents that has happened in the recent past, I am forced to believe that this is not an ordinary rape case or an ordinary theft.
You feel these attacks are specifically targeted at the community?
Exactly. I am not here to talk about or judge who had done it or what was the motive behind the attack.
In this case, they have taken Rs 2.5 lakhs (Rs 250,000)from the safe, which the sisters had collected as examination fee from the students.
They also ate all the food that was in the fridge. Then, they did this shameful act.
The sisters told me that when one guy wanted to take out the ring and silver chain from the sister, another stopped him saying, 'Woh bhagawan ka hai (it belongs to God).'
So they had full knowledge of what they were doing; yet they did the condemnable act.
We do not know whether they did it on somebody else's instructions or on their own will.
The Christian community in India and people in general wonder whether this was the continuation of events that have happened in the last few months, or was it an isolated case? But it did not end with this incident; two more churches were attacked after this.
Do you feel that since the BJP came to power, churches and other minority institutions are being attacked more?
The BJP had ruled earlier too, under (Atal Bihari) Vajpayee as the prime minister, but nothing of this sort had happened then. We had a peaceful time.
But this time, more aggressive minded people have managed to twist the orientation.
I don't say the government is behind the attacks, but they don't do anything to stop the attacks. That is why we are anxious.
Julio Ribeiro, the retired police officer, said the other day that he felt alienated as a Christian in India. Do you feel that way now?
I don't feel alienated, because this is the only country I have; this is my own country.
If I feel alienated here, where will I go?
I respect Mr Ribeiro's sentiments. He is a patriot. He was the face of the bold Indian! He must have been pained by some situations.
I am an Indian Christian and I am happy and proud of who I am.
Incidents like these do not take away our identification with our country in any way. But there is anxiety in our minds.
Is it not the government's responsibility to protect its people?
For convenience sake, you may call them Christians, Hindus, Muslims and Parsis, but all of them are Indians. Based on religion, faith and attitude, can anyone say that we don't need them? The government has to clear this aspect.
During his election campaign, Narendra Modi had said he did not differentiate based on religion, and only development mattered to him...
How do we know and judge a person? From his action. That is why we say, walk the talk.
Do you feel after he became prime minister, fringe groups are acting contrary to what Modi had said, that he remains silent and is not reining them in?
I don't want to say that all these are happening ever since he became prime minister. I would rather say, ever since this ministry was sworn in, a lot of unwanted things are happening.
The prime minister has to tell the perpetrators that it is not in the interest of the government that such incidents happen.
The President has already warned the administration about this and said it was necessary to respect religious freedom. He has shared his anxiety.
If this continues, we are forced to say that what we have is a helpless government.
Did you have any discussion with the prime minister to convey your anxiety?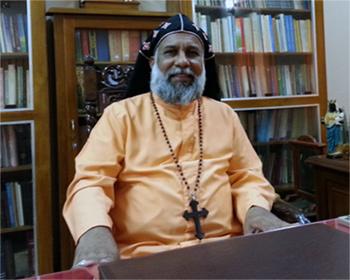 I had an official meeting with him, which some political parties and Christian communities did not like.
I met him as he is our prime minister, and also because I represent the Catholic community in India.
Image: Cardinal Baselios Cleemis, President, Catholic Bishops Conference of India. Photograph: Shobha Warrier/Rediff.com
When I expressed our apprehensions about so many issues, he was quite positive in his response.
But things have not improved and the anxiety is growing more than ever.
Do you feel had the prime minister given a stern message, this would not have happened?
Yes.
Do you think his silence is the reason why such attacks are repeatedly happening?
Not his silence; inaction. He should have been pro-active to maintain calm in this country.
Christians form 2.3% of the population in this country. If we are not protected, what is the point in saying this is our Republic.
Every single citizen should feel that the country protects him.
Do you feel disturbed?
I feel disturbed not only because of the incidents, but also because of the continuous silence of the people concerned. And also because of the speeches of some responsible people, creating confusion as well.
For example, when somebody says all Indians are Hindus, responsible people should ask him to stop and assure the country that this is not the opinion of the government. But it is not happening and it is quite unfortunate.
You said the government should protect not only cows, but human beings too...
That was when the discussion on the ban of beef was happening. I don't side with the pro or anti group.
My question is, are human beings not more important than the subject of these discussions?
As per Christian theology and belief, the human being is the crown of creation. Hindu theology says myself and the paramatman are the same; Aham Brahmasmi...
Do you look at the banning of beef as the infringement of an individual's right to eat what he wants?
I look at this from a different perspective. Should this be the priority of India? Should we be spending our time and energy on such an issue when on another side, you are talking about India becoming a superpower in 2020 or 2030?
We should identify the priorities of the country. Let your priority be to lead India as a developed nation. I do not know how these kinds of discussions will help India achieve what it wants.
What are we aiming at? Are we aiming at a Hindu India?
I know the majority of Hindus are secular and they don't agree with such arguments. That is the strength of this country and these people have to be respected for making this country what it is.
India remains a secular country not only because of the Constitution, but also because of the mindset of the people.
Some people were of the opinion that ghar wapsi was the reason why the Ranaghat incident happened. Do you think so? How do you look at ghar wapsi?
It questions the freedom of an individual. Do I have the freedom to choose?
If I have the freedom to choose something new, I also have the freedom to go back or even choose something else. It is not confined to religion alone.
Are the political parties ready for a ghar wapsi in politics? Can we say all of them should go back to the first political party of this country? Then they will say it is not possible.
Why? Not only in religion, personal freedom is applicable in every matter.
Those people who practice ghar wapsi in the religious sense, should accept a ghar wapsi in politics too.
Do you feel ghar wapsi will disturb the peace of the nation?
What is the purpose of ghar wapsi? The Constitution gives the freedom to choose any religion, practise it and propagate.
If I want to be a Hindu, I can. If I want to be a Christian, I can. If I want to be an atheist, I can.
Why should some group solemnise the whole thing in front of the media? It sends out the wrong message.
Christians have the service of baptism, initiating someone to the Christian faith. How would you react if the Christian community does baptism like ghar wapsi? I would say, all this is wrong.
What do you think the government should have done when ghar wapsi happened at many places?
The government should say stop, if any statement or incident disturbing and embarrassing people happens. Not only the physical destruction of a temple or a church or a mosque, but spoken words can also cause destruction.
These are under the purview of the government and it is their duty to see that all citizens are safe.
The home minister, when quested about ghar wapsi, said there shouldn't be any conversion at all in the first place.
What does the Constitution say? It provides freedom to the individual to choose Hinduism or Christianity or Islam as his faith. How can a responsible person like the home minister talk like this?
You cannot say that you do not have the freedom to choose your religion.
My simple question is: Will all of India's social and ethnic problems be over if you stop conversion?
We need to address the issues that concern the wellbeing of the nation.
The issue of conversion is a little exaggerated, I will say. When we have the police, the legal system and the government machinery to ensure justice and punish the miscreants, why do you worry about this?
My question is: How was such a Constitution written and accepted when the majority of Indians are Hindus? It only reflected the mindset of the people.
India is a country where citizens have the freedom to choose any religion, any political party...
Can we make a rule, for example, that after 2016, there will only be 3 political parties in this country and nobody has the right to change their political party?
India is a democratic and secular country. We respect all religions and among the Hindus itself, there are many movements. Nobody should forget the cultural ethos of this country.
The Constitution is the book of the nation, the guideline of the nation and it has to be respected.
I think this will take a back seat when the most important issue takes the front seat, that is, to uplift the millions of poor who are deprived of many things and bring development to the entire nation.
It is said that conversion generally happens at the time of pain, despair and poverty. Is it true?
Let Indians speak. I read in the papers that a German couple came to Varkala to have a Hindu wedding. Would you say it was because of poverty or pain that they embraced Hinduism?
The yogacharyas from India have many followers in the West. Is it because of poverty or pain that they follow these gurus?
When someone embraces Christianity or Islam, you cannot say that it is only because of poverty. Every individual is free to choose what she wants to practise.
It is a personal choice and he has the personal freedom to do so. But the act of choosing should not disturb the serenity of community life.
Recently, Mother Teresa was dragged into a controversy by a comment that she was more interested in converting poor people than serving them.
I think India's poor know her better than anybody else. How she lived, for whom she lived and for what purpose she came to Calcutta are well known to everyone.
Indira Gandhi, the iron lady of India, always stood with her head bowed in front of the Mother, and that reflects the kind of respect she had for the Mother.
Jyoti Basu used to call her, My Mother. Why did the country honour her with the Bharat Ratna? Because of her selfless service. Nobody should forget all this.
She only converted thousands and thousands of people to God's love and not to Christianity.
Some observers are of the opinion that the attacks on churches were an agenda by the ISI to disturb communal harmony and thus defame India...
If that is so, what is the role of the Government of India?
Is it not the duty of the government to protect all its citizens?
If somebody is doing that, should the government not be taking adequate measures to stop this? If somebody has identified the reason, the government should be more alert and responsible.
What are you most disturbed about?
Not only the attacks on churches and persons at regular intervals, irresponsible comments coming one after another from responsible, learned, people and the constant silence of the responsible people.
What will be your message to the prime minister?
India has space for everyone, from the religious minded to those who do not believe in any religion. Don't bring in anything that is against the Constitution and culture of this country. That will spoil the equilibrium and serenity of our community life.
If something untoward happens, it is the duty of the responsible people to see that it doesn't get repeated.
People who can disturb the country are powerful, but more powerful are those in control of the country.
Remember your promise to the nation that there will be a moratorium on communal violence. It is high time to prove the promise.
Walk the talk; that is the demand.