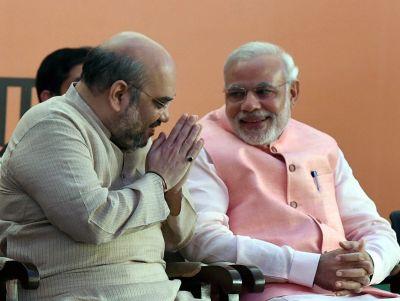 'I believe that in the BJP nobody can make anybody anything... I believe the media should analyse this after the end of my tenure!'
'My work will remain incomplete till I take the BJP to the the four big states of West Bengal, Bihar, Uttar Pradesh and Tamil Nadu.'
BJP President Amit Shah speaks to Sheela Bhatt/Rediff.com in an exclusive interview at his Ahmedabad home about what drives him, his mentor Prime Minister Narendra Modi, and what his plans for the BJP are.
Within the Bharatiya Janata Party the position of Prime Minister Narendra Modi is akin to the sun in the sky; not only does he shine brighter than the rest, he is also the centre around which the BJP revolves.
Modi's public persona is so strong that it helps even unknown faces get elected. In the Lok Sabha election this summer and in the recent assembly elections in Maharashtra and Haryana, inexperienced leaders who would otherwise struggle to win a municipal election were elected, in Modi's name.
In many constituencies it was Modi who won, not the BJP, because of the image he enjoys with the people.
In such a scenario where Modi is emerging as the only leader to matter within a formidable political force like the BJP, Amit Shah's standing as Modi's loyal deputy, like a plant drawing attention in the shadow of a huge banyan tree, is no mean achievement.
At 50 -- he turned 50 on October 22 -- how is Amitbhai carving his own exclusive place in a Modi-filled firmament is a story we will come to know only over a period of time.
Shah, a legislator from Naranpura in Ahmedabad, doesn't have the time to read newspapers or watch television debates; he keeps tight tabs on the party's spending; he attaches no special value to editorials in newspapers of repute, but he constantly collects information. He prefers to talk to reporters in the depths of India than the editors of English television channels.
Shah also never forgets old friends. He is a political leader who remains unruffled by the criminal charge against him. He behaves no differently -- be it inside Parliament, in Sabarmati prison, or in his posh home in Ahmedabad.
The man who exploits the public perception of his mentor Modi to the fullest to churn out votes is impressively successful. These days he is conscious of his image as well, but that doesn't deter him from doing what he wants to do.
Shah is focused fully on creating electoral history out of Brand Modi. His thirst for electoral success for his party is insatiable. No idea, no ideology, no ideal drives him as much as the passion to take the BJP to every nook and corner of India.
So far he has implemented Modi's political agenda with stunning success. Agree or disagree, hate him or admire him, you have to take Shah seriously.
In an exclusive and detailed interview to Sheela Bhatt/Rediff.com, Shah discusses ideas and ideologies, Modi's policies, and the status of Indian political parties.
Once upon a time you pasted posters on the walls of Ahmedabad for your party. Now you are its national president. On your first Diwali as BJP president, how do you look at the changes in your life?
Times haven't changed as much as you say. I have reached here at the end of travelling in my political yatra of some 32 years. There is no doubt that in the mind of every BJP worker there is no bigger post than this.
I have reached here only, and only because of the blessings of Ishwar (God). At least I see a lot of Ishwar Kripa (God's grace) behind my rise.
Among the public, and even in your own party, there is surprise at your meteoric rise.
Those who have seen me working and those who have actually worked with me may not be surprised too much. But one thing helped me. It is natural that because the BJP formed the government, an entire generation of leadership shifted into government. Probably because of it, I got the chance a little early in life.
You have led an eventful life. Did you, at any point in life, ever think, 'One day I will become the president of the BJP'?
Never. I never thought about it.
Has an astrologer ever told you so?
Never. After the UP Lok Sabha election results, till the media people started talking about it and made it an issue, I never took it seriously. When people started saying Amit Shah can even become party president. Particularly, when I didn't join the government and the media started writing about it, I felt that it (to become party president) is a possibility, maybe.
Occupying the powerful chair of party president, do you find the Sohrabuddin murder case and other events associated with you in the past obstacles in performing your duty?
Not at all. It was a political conspiracy against me, and I think the entire country believes so too. Otherwise I can't move around in the country as I do.
Wherever I go, the people respond positively to me, they give me respect.
I have got popularity. BJP workers have given me unmatched love. They admire me so much that I feel humbled.
Lakhs of people can't go wrong in analysing those events associated with my life. They know it was definitely a conspiracy in which I was at the receiving end. I had no options then.
Do you have any regret about the events involving you when you were minister of state for home in Gujarat? Do you feel you could have done things differently?
Not at all. I have never done anything which I feel guilty about or wish I had not done it.
Do you mean to say you are not taking into account that Gujarat background?
Except for a couple of journalists like you, nobody is talking about it.
Let us talk about your party. The BJP was a robust Opposition party for 10 years and now you are the ruling party. It is mostly described by the English media as a 'right wing Hindu nationalist party.' Is it the right way to describe your party?
I don't want to comment on the media's analysis. Since its inception the BJP has made public its views and follows its ideological path. As the Jana Sangh from 1950 to 1977 and then from 1980 to 2014 as the BJP, we have been accepted as a political force. And now we have ushered in an era of respect from the people of India.
I strongly believe that our ideology has been accepted by the people now.
Do you then accept that you are a 'right-wing Hindu nationalist party'?
We believe in the Panch Nishtha, five basic principles. (They are nationalism and national unity; democracy; equality-based society; positive secularism; and value-based politics.) We have announced this, we continue on this basis. Maybe you are unaware of it. I will hand over our literature after the interview.
How do you find the job of party president?
The party has too many challenges. There are regions of India where the party has yet to reach out. There are many jobs left undone.
From the political point of view my work will remain incomplete till I take the BJP to the the four big states of West Bengal, Bihar, Uttar Pradesh and Tamil Nadu.
In my tenure I want to put in the best of my efforts to make my work complete.
But what is your vision for your party beyond electoral politics as party president, beyond losing or winning elections?
I am not talking about winning or losing. These are such huge states where our organisation has not reached everywhere. This time we are launching a membership drive to strengthen our organisation in these states.
Our membership drive is not related to elections. It will not be limited to the BJP's organisation. It will be a Jan Andolan (people's movement). In these four states we will create a committed cadre through this drive.
What kind of changes do you want to bring in the party's ideas and ideology?
I believe the basic ideology of the BJP (cultural nationalism) is eternal. It will survive time.
Among all kinds of targets that you have, what is your main focus?
From an organisation point of view, I want the BJP to be the bright national political party in all the states of India and having an impact on social life.
It was said that you were Prime Minister Modi's nominee and it was only because of him that you could become BJP president.
Have you become party president because of Modi or because of the RSS (Rashtriya Swayamsevak Sangh)? Or, have you become party president on merit?
It is very difficult to say anything at this point of time on this issue. I believe that in the BJP nobody can make anybody anything. I have nothing to say if you are doing any interpretation. I believe the media should analyse this after the end of my tenure!
We see a possibility of increasing political arrogance on the part of the Modi-Shah duo.
First of all, your entire sentence is incorrect. Narendra Modi is too big a leader of the country. I am merely the chief of the political organisation. So don't use the term 'Modi-Shah duo.'
Second, I don't believe that we have got arrogant after the election results. Yes, but we don't have fears within us, which you may be terming as arrogance.
You mean you don't have a fear of the media?
Yes. We have nothing to fear from the media, so you may be projecting that as our arrogance.
After winning the election at the Centre we saw the political arrogance with which you moved forward and won in Maharashtra. The entire process by which you ended your decades-long relationship with the Shiv Sena suggests that.
No, that was not a case of our political arrogance. Politics always moves on the ground of reality. What was the real situation? We simply said one thing. Ticket distribution should be done on the basis of each party's actual strength on the ground, the real situation.
If our proposal had been accepted, the alliance would not have broken. We proposed a formula of 127 seats for the BJP, 147 for the Shiv Sena and the rest 14 for our allies. We got 123 seats.
We have proved conclusively that our formula was based on actual strength.
Nobody should live away from reality. The reality is that the BJP's ground situation has improved so its seat share should increase. In the past we settled for less number of seats. Why? Is it because the Shiv Sena was arrogant at that time? Of course not.
At that time the Shiv Sena had more acceptance among the people so they got more seats. Today, the BJP's acceptance all over Maharashtra has increased, the Shiv Sena's acceptance has decreased if compared to us, so our share in seats should increase.
It was a political and cunning calculation. You had a guarantee of support from the Nationalist Congress Party. The pre-election secret understanding with the NCP gave you great confidence to move ahead alone in Maharashtra.
Let us accept this for the sake of argument. If the Shiv Sena would have accepted our formula of 127/147/14, what then? We had made our formula public. It was such a small issue.
We waited for 72 hours after proposing our 127/147/14 formula. We needed to fix our own candidates. We had to fulfil the Election Commission's formalities. We hardly had any time.
PART 2 of the Exclusive AMIT SHAH Interview!: 'There is no politics of Hindu-Mussalman'
Image: BJP President Amit Shah with Prime Minister Narendra Modi at the Diwali Mangal Milan at the party headquarters in New Delhi on Saturday, October 25, 2014. Photograph: Shirish Shete/PTI Photo.
Some features on Amit Shah that you must read!