'I had great plans for Krishna Nagar and for the whole of Delhi. They remain shelved. Whose loss it is, time alone will tell.'
'AAP's campaign against me was unethical and false, using guerrilla and ambush techniques.'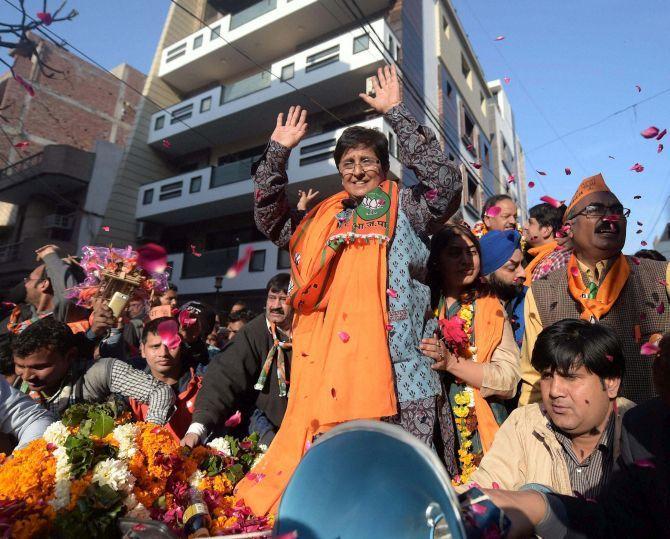 Image: On the last day of campaigning, BJP's chief ministerial candidate Kiran Bedi interacts with supporters during a rally. Photograph: PTI photo
Bharatiya Janata Party leader Kiran Bedi, who is critical of her election campaigning experience, tells rediff.com contributor Upasna Pandey that elections have to go beyond made-for-television events.

What is your state of mind right now and how do you view the loss in Krishna Nagar and the BJP's across Delhi?

I had great plans for Krishna Nagar and for the whole of Delhi. They remain shelved. Whose loss it is, time alone will tell.

BJP lost about 13 per cent votes since the Lok Sabha elections. What went wrong?

I'd like to wait for the analysis report from my party.

Please share with us your learnings from your first election campaigning in Delhi?

There are several. Most of all it's not a level-playing field. Many processes are in blatant violation of laws, rules and regulations -- for instance the road shows. They are exceedingly disruptive of normal life of the people of the city. They are all rule-breaking and also harassing for the aged, weak, and the larger community. These must be disallowed.

Other less intrusive ways must be found to communicate. TV debates -- not mud-slinging or shouting matches -- should be conducted by neutral anchors appointed by the Election Commission and broadcast widely by Doordarshan and not any one private channel looking to encash on TRPs or a specific agenda.

The rules of debate should be clear and transparent. These can be a series, on various subjects. Let people watch and vote. There are many more...but let's consider these first.

You have been reported to have said that you want to continue working for the people of Delhi. What are your priorities going forward?

I have been serving my city for the last 45 years, reaching out to the poorest in Jhuggi Jhopri clusters, 70 villages in Haryana and prisoners' children. I will continue that and more.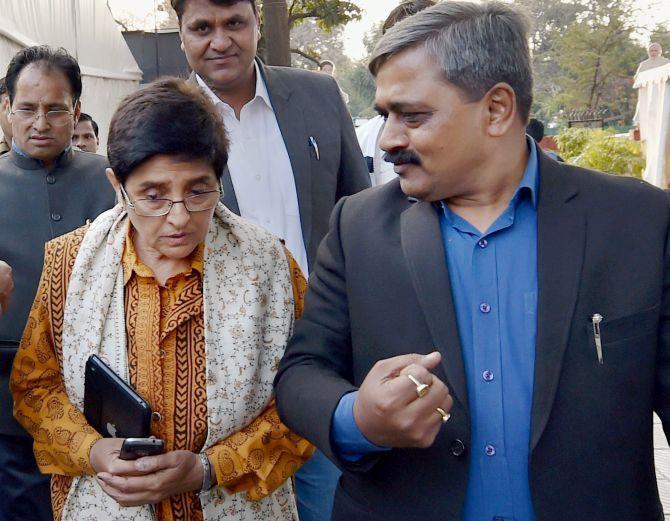 Image: Delhi BJP President Satish Upadhyay with Delhi BJP CM candidate Kiran Bedi ahead of a review meeting in New Delhi . Photograph: Kamal Singh/PTI
Any comments on the kind of campaign run by the BJP against Arvind Kejriwal and the campaign run by AAP against you?

My party's campaign was an open one calling for answers to some hard questions -- all of which were on topics raised by AAP in the first place.

AAP's campaign against me was unethical and false, using guerrilla and ambush techniques.

Rumours such as I would hurt the poor, harass auto drivers or street vendors, or bring in prohibition, 'photo-shoping' my social media channels with falsehoods as if they were written by me. Guerrilla methods are fine, falsehoods and ambush are not.

There are reports that say infighting and opposition to you from within the BJP was responsible for your defeat in Krishna Nagar. Please share your comments

Await the analysis of my party.

Any advice for the upcoming AAP government or Kejriwal?

Do last the full five years and please fulfil the tall promises made, and big dreams sold. Hope you don't 'rob Peter to pay Paul'. Because as Margaret Thatcher once said, 'in giving out freebies you don't want to eventually run out of other people's money'.

Your message to the voters of Delhi

Stay alert. I'm sure they'll be constantly evaluating the delivery of the 70-promises. And for the 35 per cent who did not vote -- it may be worth considering making voting compulsory.