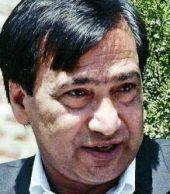 Communist Party of India-Marxist's top leader in Jammu and Kashmir Mohammed Yusuf Tarigami tells rediff.com's Krishnakumar Padmanabhan about Bharatiya Janata Party's plans to hoist the national flag at Srinagar's Lal Chowk on Republic Day, and how 'it will disturb the region's fragile peace.'
Tarigami is also Jammu and Kashmir's only Communist lawmaker.
How is the situation currently in Srinagar?
The situation in the whole state is very sensitive. All of us agree that Kashmir has been a sensitive issue. And people's sensitivities are involved.
The flag hoisting issue comes at a time when the peace process is stranded. The BJP is doing this just to get political mileage. Otherwise why should they do it? Why should they target Srinagar? They should have behaved in a responsible manner. This not in the national interest. In fact, they are bypassing every interest in their quest to gain petty political mileage.
How do the common people see the move to hoist the national flag?
There is a lot of alienation in the Valley. There was need for a united effort to send a right message to the people of Kashmir that wrongs have been committed and that they would be redressed.
But what the BJP is doing is create unrest. They did it in Jammu earlier. The real concern has to be how to restore peace. What the BJP is doing now can only disturb peace.
The local people are disturbed.
But even now good sense must prevail. They must look at the larger interest and call it off.
There is a section that is asking what is so wrong about hoisting the national flag in Srinagar?
Who is saying anything is wrong in hoisting the tricolour in Srinagar? In Jammu, the Governor will hoist the flag in a function. In Srinagar senior ministers will be there when the flag is hoisted. There will be a flag hoisting ceremony in every district headquarters in the state. So if the BJP wants to participate, they could have participated in any of these official functions.
But why can't the BJP have the right to hoist the flag at Lal Chowk?
Are they doing it elsewhere? Why are they just targeting Srinagar?
I have a question. What is Republic Day? It is to reinforce the message that we are a secular democracy. But by targeting Srinagar are you not antagonising the minority? Why instead can't you send a message that you show willingness to co-operate and accommodate their aspirations?
But what is the problem with the BJP hoisting the flag?
There is an official function. Is there anything wrong in them participating in that? Why are they making it a national issue? They are not hoisting the flag in Jammu, not in Nagpur, which is the Rashtriya Swayamsevak Sangha headquarters.
So what do you think are the BJP's real motives?
It is mere partisan political interest. It is more with electoral gain in mind than any great national interest.
Nitin Gadkari, the BJP president, says stopping it will send out the wrong signal to anti-national elements.
What is anti-national?
It is not a question of preventing someone from doing something good. It is a question of preventing someone doing a damaging thing. I don't think there is anything 'anti-national' in it. In fact we should all join hands and come together to bolster the peace process instead of indulging in such petty activities.
If the (Jammu and Kashmir chief minister) Omar Abdullah administration handles this situation well, will it gain some of the credibility it lost during the 2010 summer agitation in the Valley?
They must patiently deal with situation. They must deal with care but also patience. It is not a question of the Omar Abdullah government scoring brownie points. It is a question of national interest.
Image: Mohammed Yusuf Tarigami