'Thanks to Mamata's shameless way of wooing Muslims, Hindus in large numbers have started aligning with us,' says Bengal's BJP boss Dilip Ghosh.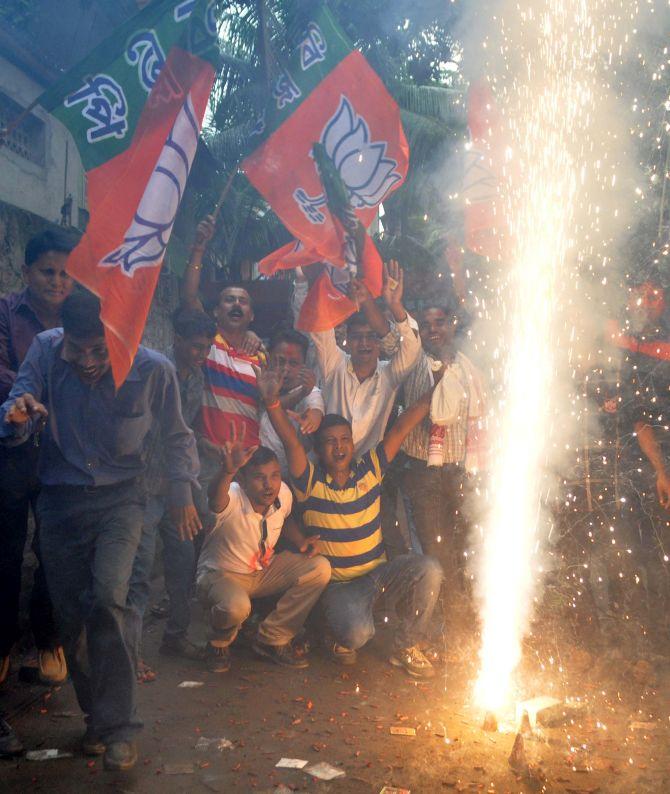 IMAGE: Bharatiya Janata Party workers celebrate the results. Photograph: Rediff.com
West Bengal's Bharatiya Janata Party President Dilip Ghosh won the Kharagpur Sadar seat, defeating his rival, Congress veteran Gyan Singh Sohan Pal.
Though Ghosh expected his party to win around eight seats in the assembly election, he is happy to see the BJP retain its 10% vote share in the state.

"A few years ago, we did not even have a toehold in Bengal. Now it feels great to see that people have started supporting us," Ghosh tells Indrani Roy/Rediff.com.

What led to the rise of votes in the BJP's favour in Bengal?

We have worked hard for the past few years. We have followed a well laid out methodology and have done meticulous planning.

Our leaders at the Centre have helped us immensely in this regard.

I had expected to get a few more seats this time (the BJP won three seats). I am sure we will get better results in the future.

Did the (Narendra) Modi magic work?

It always does. Look what happened in Assam. People across the nation adore Prime Minister Modi's stand on Hinduvta and other issues.

Why else do you think people in Assam and Bengal are turning towards the BJP?

Ours is a party that is bereft of the gloom of corruption.
There was such a hue and cry over corruption before the election. How come it became a non-issue?
I think people at large have learnt to take corruption in their stride. Hence, sting operations that exposed Trinamool Congress leaders taking bribes had no impact on the election results.

I also think Mamata (Banerjee)'s pre-poll war cry: 'I am fighting alone in all the 294 seats' worked wonders for her party.

Till date, no one could nail her in any corruption issue whatsoever.

Hence, her personal image remains untarnished.

Your party colleague Rahul Sinha losing the Jorasanko seat was a big jolt for your party.

Of course! Television channels at length showed him leading. But then suddenly, the trends reversed. It was a shock!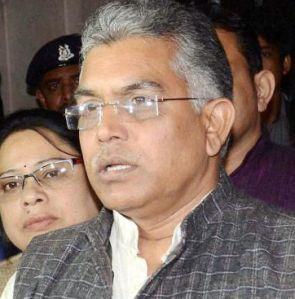 IMAGE: West Bengal BJP President Dilip Ghosh.
What could be the possible reason?

I think the anti-alliance vote went in favour of the Trinamool Congress this time.
People who rejected the Congress-Left tie-up voted for Mamata Banerjee's party. And that changed the map of the final results.

How successful has been the Hinduvta card in Bengal?

It is one of our most important cards in Bengal. Thanks to Banerjee's shameless way of wooing Muslims, Hindus in large numbers have started aligning with us.

This is indeed great news!

What is the cause for the Left's rout?

I think the Left Front messed up on two accounts: Its alliance with the Congress was misunderstood by the people and also its way of dealing with the JNU (Jawaharlal Nehru University) and Jadavpur University incidents was messy.

The way the Left stood by JNU students union president Kanhaiya Kumar and his likes earned them an anti-national tag. That, I feel, did not go down well with the people of Bengal.

Your recent comments about the girl students of Jadavpur University irked many. Do you stand by what you said?

Yes, absolutely. I stand by every word that I uttered. Many people, including some women, whom I met afterwards, said I voiced their opinions. One of the women speaking to me had said 'my daughter, who stays close to Jadavpur University, also says the same. Girl students of JNU and JU are but birds of a feather.'
What is your party's plan now?

My one-point agenda is to consolidate the party in Bengal. We want to reach to the masses, listen to them and bring them in and work for them.
We hope to do really well in the Lok Sabha elections.

The Congress and the Left often alleged that the BJP and the TMC had a tacit pre-election understanding in Bengal.

This is utter nonsense.

There could be some understanding in the Rajya Sabha or the Lok Sabha, but not here.
We had befriended the TMC once in the past and that pulled us back by at least 10 years. We don't want to repeat that terrible mistake.