After being caught in the perfect storm and conquering near death at sea four years ago, Abhilash Tomy has made seafaring history by coming second in the world's most difficult ocean race.
As he sailed to the finish line to welcoming cheers, holding the Indian flag, his remarkable story tells us the amazing things human beings can do.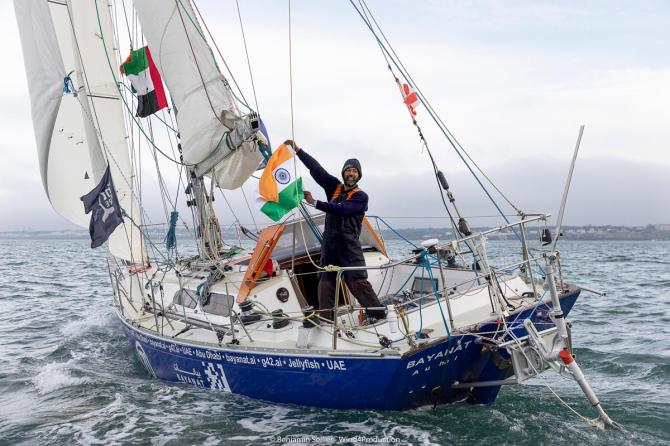 In the eight months [236 days] that Commander Abhilash Tomy (retd) was sailing around the globe in the world's most difficult and dangerous ocean race -- non-stop, alone in a boat without GPS and modern navigation tools -- he spoke to his family only thrice.
At the Hobart gate in Tasmania, Australia; Lanzarote in the Atlantic Ocean and Cape Town gate, South Africa.
Each call around 20 minutes.
"I saw my son's first day in school through a video call arranged by the sponsors at Cape Town gate. I can never forget that moment, and the rare occasions I got to speak with my wife through passing ships," says Commander Abhilash Tomy (retd), Kirti Chakra, who finished second in the Golden Globe Race on April 29 and made history as the first Asian to achieve the feat.
"I tried to gauge his mental and physical wellbeing in those three calls," says wife Urmimala who has not had a full night's sleep in these months.
"I was worried about his water supply, food and health, while he was worried about the kids and family.
"I was checking the race app every four hours to know the update. Now that he is back on land -- safe -- we are sleeping better and can have normal conversations that are not centered around the weather," she says over the phone from Goa as she prepares the home for Commander Tomy's return to India today, May 18, 2023.
The last time he took part in the race four years ago, Abhilash Tomy was caught in a severe storm that destroyed his boat and left him nearly paralysed. He was rescued in a multi-nation effort and underwent surgery in Delhi more than two weeks after the accident. Titanium rods were inserted into his spine and five vertebrae fused into one.
The sailor and retired naval aviator learnt to walk, fly and sail again. Last September, he returned to complete the race -- and has finished gloriously.
"He believes in picking up the broken pieces and moving ahead," says Urmimala Abhilash who was scared many times and prayed a lot more during this voyage.
"Till the time he crossed that spot where the accident happened in 2018, he was stressed. Cape Horn is an area notorious for bad weather and he suffered two knock-downs facing 7 meter high waves and 70 Knott winds -- we constantly worried in those days, but once he crossed the Horn, we were at ease," she said.
As he sailed to the finish line to welcoming cheers, holding the Tiranga, Abhilash Tomy's remarkable story tells us the great things human beings can do -- and the limitless possibilities that stretch out like the vast oceans before us.
This is the second time the sailor has solo-circumnavigated the globe. The first one took 151 days and his boat was equipped with modern navigational technology as he sailed for the Indian Navy's Sagar Parikrama in 2013.
Back on land, Abhilash Tomy is now on his way home and looking forward to a meal of fish curry and rice.
Shortly before leaving for India from France, the decorated officer and sailor par excellence shared moments of his great journey with Rediff.com's Archana Masih.
How have you spent your days after completing the race in France? What are some of the activities/tasks that have kept you busy?
I got busy with interviews for a couple of days and then I came down with Covid, which in a way extended my isolation.
I have been eating, catching up on sleep and a lot of messages from friends and well-wishers. And of course talking to my family and friends.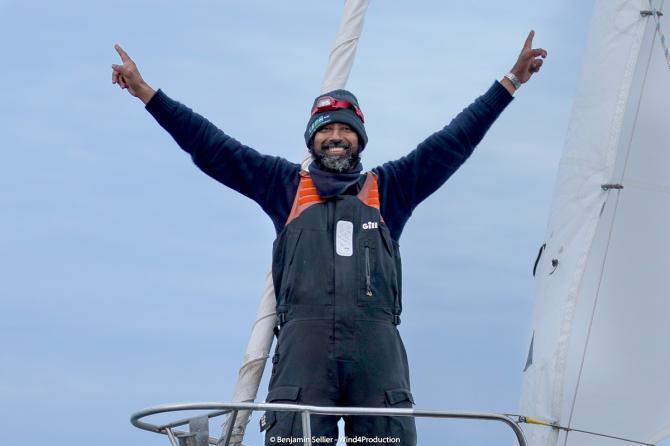 How is your health after a long 8-month circumnavigation around the globe? How is your back, the injury in your ribs that you sustained on this journey?
I think I have lost about 20 kilos in the journey. So I have spent some time buying new clothes.
The back injury was muscular and that was ok by the time I finished the race. The ribs healed in two weeks.
Who all were there to welcome you at the completion of your journey? What were some of the reactions that you received?
We had sponsors (Bayanat and G42), members of the Indian embassy (deputy ambassador and defence attache), the mayor of Les Sables d'Olonne, friends, my brother with his wife, a lot of acquaintances in Les Sables d'Olonne and, of course, the race management to receive me.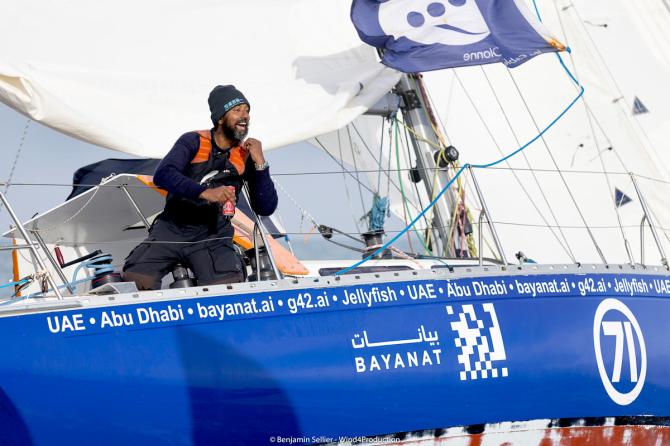 What are some of the personal things you carried with you on the boat?
Only my clothes, and one sextant, a head torch, a few religious icons and the Indian flag.
When will you return to India? What will your welcome/arrival in India be like?
I should be back on 18th. And I would prefer a quiet entry!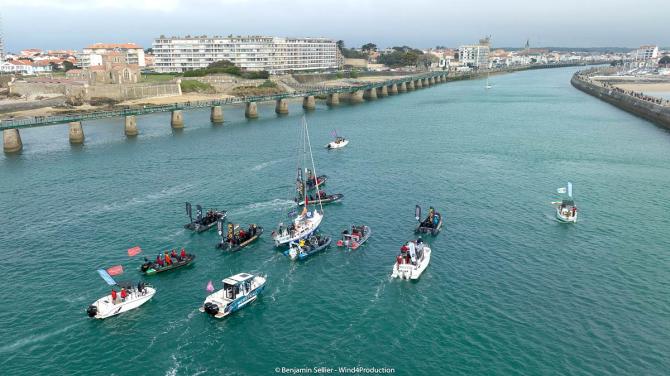 In what ways was this race different from the last one? What were some difficult moments; and what were the moments of ecstasy/exhilaration?
This was quite a tough one and it tested me in many ways. There were high points. For example, I saw my son in school through a video call arranged by the sponsors at Cape Town gate and I can never forget that moment, and the rare occasions I got to speak with my wife through passing ships.
The high point, of course, was the finish.
The Golden Globe Race race begins and finishes in Les-Sables-d' Olonne, France.Participants use 1968 vintage boats and 1968 era technology to circumnavigate the world solo and non-stop.
Commander Tomy navigated the route using a sextant on paper charts, without electronic instruments or autopilot and determined the weather himself.
He made calculations looking at the sun, moon, stars and handwrote the logs.
As per the rules of the race, participants cannot enter any port or receive any help from any passing boat. If a participant borrows even a toothbrush, bottle of water or sheet of paper, s/he will be disqualified.
Sailors are tracked round the clock by satellite, but cannot inquire about each other's positions. In case of an emergency, a sealed safety box that they carry with them containing a GPS and satellite phone is used to communicate with the race organisers.
Abhilash Tomy encountered such an emergency in the race in 2018.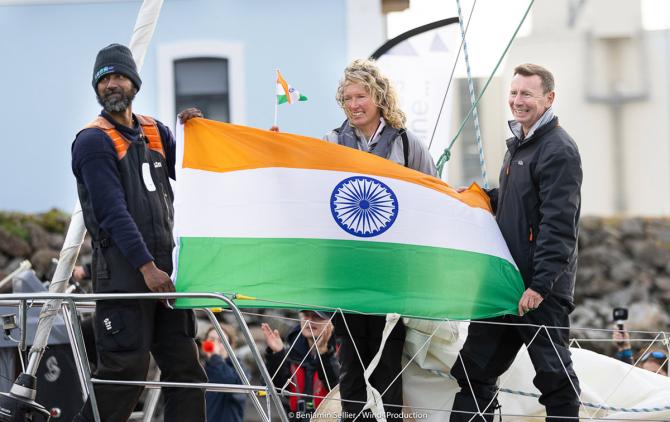 What becomes of your boat, the Bayanat now? You were the last entrant in the race and had just about two months to prepare the boat -- what challenge did that pose and how did you overcome it?
Bayanat will now go to a museum in Abu Dhabi where it will serve to inspire more people to take up sailing, or pursue their dreams and passions.
I was quite short on time preparing the boat. The entire boat labour market was busy preparing boats post Covid so almost the entire refit was done by Dick Koopmans (technical manager) and me.
Besides I could take the boat only for a short test sail. I would have preferred a much longer one.
Sailors spend a minimum of three years preparing their boats for a race such as this, but Commander Abhilash did it in two months.
The boat incurred a lot of wear and tear during the journey and he had to carry out a lot of repairs and improvisation like using the toilet door to fix a broken self-steering equipment.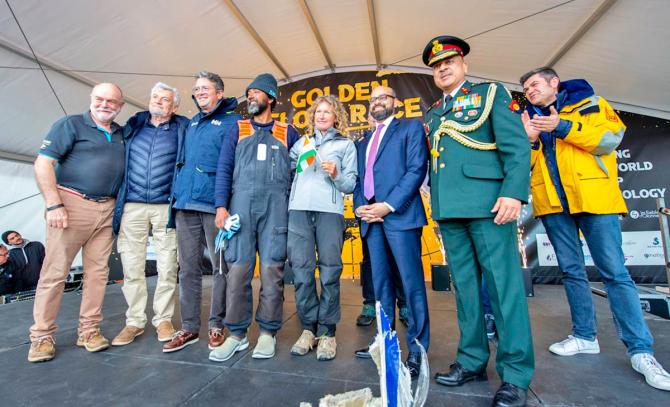 How much money did you have to spend of your own to participate in this GGR?
I did have a fantastic sponsor who covered all costs, but a collision before the start saw me spend 50,000 euros approximately from my own pocket.
What were some of the observations that you made on this journey about the changing landscape around you -- especially the effects of climate change etc?
The climate is definitely changing. We had more intense high and low pressure systems in the South Pacific. I saw flying fish at 40 south (never seen them so far south). Sargasso weed south of the Equator and covering almost the entire North Atlantic.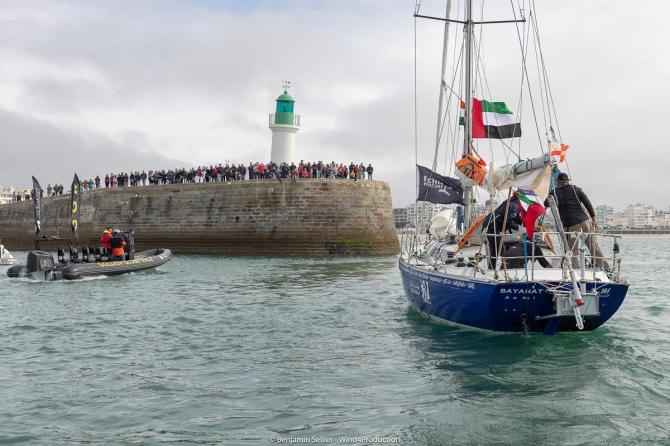 What are the next goals you have set for yourself?
In the immediate future I am looking forward to spending time with my family. Perhaps there are more adventures in store after that!
Do you like the sea more than land? How has sailing and your relationship with the sea made you the person you are?
I see a deep connection between the sea and the human soul. I see the sea as a teacher and being alone at sea has been an intensely spiritual experience.
I believe being away from the world gives one a better understanding of it.
Of course, one must come to land once in a while!
Commander Tomy's wife remembers seeing a video of her husband controlling his sail boat in bad weather. The boat had toppled to one side as the wind and sea raged around him.
"I asked, what do you do in moments like these?" says Urmimala Abhilash... "He replied, 'There are certain things beyond your control, you surrender to the moment and figure out what to do after the storm has passed'.
"He believes in picking up the broken pieces and moving on."
"Looking back, I don't remember any of those hard times after his accident at sea, they seem like a blur. The effort was not to dwell on those difficult moments, but always find a way to move ahead," says the commander's wife.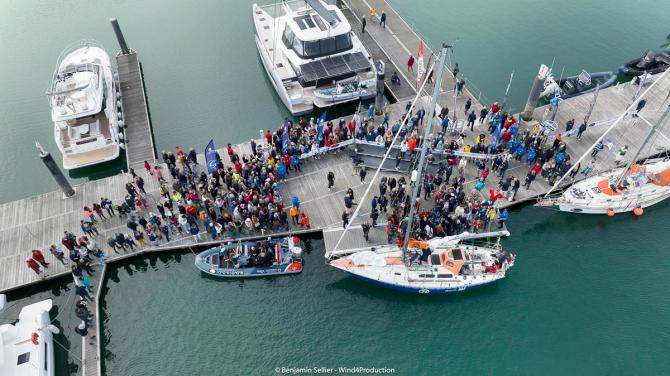 What will be some of the immediate things you will be busy with once you arrive? What is the kind of food you are waiting to have?
I am eagerly looking forward to meeting my wife and kids, and parents after that and having some nice home cooked food. And fish curry rice at Goa!
Watch: Abhilash Tomy arrives at Les Sables d'Olonne.
Feature Presentation: Aslam Hunani/Rediff.com