'Being authoritative is one thing, but being authoritarian is quite another -- the current prime minister is clearly one.'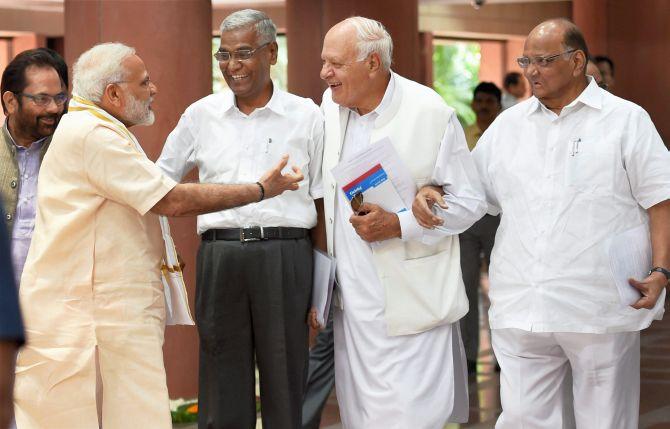 If Prime Minister Narendra Damodardas Modi had an advisor to tell him frankly about the dangerous ramifications of demonetisation, would the country have spared the pains it went through during the process?
Maybe not. But it is more important for a prime minister to have advisors who can "tell the truth", and are not just "yes-men", believes former Union minister Jairam Ramesh.
That's the lesson he wants administrators to learn from his new book, Intertwined Lives: P N Haksar and Indira Gandhi.
The book is a biography of Parmeshwar Narayan Haksar, Mrs Gandhi's principal secretary from 1967 to 1973 who was considered 'India's most powerful civil servant' during those years.
"​The prime minister ultimately decides. But the adviser has to have the courage of his or her convictions and not be bothered about whether the advice will be taken or not," Ramesh tells Rediff.com's Utkarsh Mishra.
A prime minister, Ramesh stresses, "must get different points of view".
Your book on P N Haksar comes at a time when it is being said that only two people in the government wield all the power.
Let alone being consulted, top babus sometimes know nothing about an impending decision until it is taken.
Did you have this in mind while writing the book?
​Absolutely not. That is a perverse interpretation of a work of recent political history, a work meant to be a work of scholarship, not polemics. ​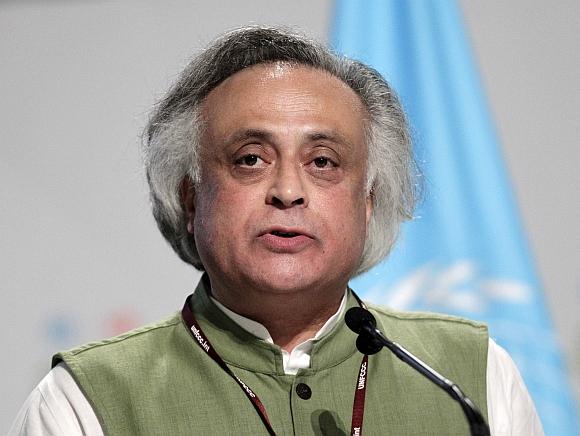 You said every PM must have an advisor like Haksar to 'tell the truth', but when an authoritative leader is in power, does it help much?
Like you gave the example of the note ban, it was reported that even Union ministers like Nitin Gadkari were not in favour of it, but the decision was taken, without taking the RBI on board.
​The prime minister ultimately decides. But the adviser has to have the courage of his or her convictions and not be bothered about whether the advice will be taken or not.
Indira Gandhi went by Haksar's advice on most occasions, but there were instances when they differed and her views prevailed.
Being authoritative is one thing -- Nehru was that -- but being authoritarian is quite another -- the current prime minister is clearly one.
Could a P N Haksar survive or attain similar heights in today's administration?
​It all depends on the boss.
Haksar was really a creation of Indira Gandhi. She brought him in and gave him full freedom and authority for almost five-and-a-half years.
Without her backing, trust and confidence, he would not have been able to make his contributions -- just as Indira Gandhi would not have reached the zenith of her glory without his assistance. ​
One fact which makes the present times completely different from any other time in the past is how any official or bureaucrat taking a position contrary to the government, or the PM to be precise, is declared 'anti-national' or 'supported by the Opposition'.
Won't senior officials choose not to speak their mind in such a situation to avoid controversy?
​That is why the prime minister must encourage debate, discussion and even dissent.
The prime minister must get different points of view.
Even though Haksar was intensely ideological, he encouraged a diversity of opinion to be expressed.
I have written in the book how he encouraged Indira Gandhi to meet with Nani Palkhivala and get ideas from him on tax reforms and other matters.
Haksar got P N Dhar as his understudy and to finally take over from him in 1973, but the two had different economic and political philosophies.
What changes did Haksar bring to Indira Gandhi's political instincts? And how did it change when he left?
Why did the PM, who always sought Haksar's company and advice on important matters, decide one day that, as you write, 'she could do without him'?
The rift between Haksar and Sanjay Gandhi over the latter's Maruti car project caused the drift between Haksar and Indira Gandhi.
Haksar was opposed to the Maruti project on ideological and personal grounds.
He felt India should be investing more in public transport and should expand scooter production. He also believed and told Indira Gandhi that it was not right for the prime minister's son staying in the prime minister's house and carry on the Maruti business.
Over time this caused Indira Gandhi and Haksar to move apart.
After her spectacular electoral mandate of March 1971 and the defeat of Pakistan in the war in December 1971 she must have felt that she had emerged on her own.
Haksar too believed that one phase of the prime ministership was over and he did not see a role for himself in the next phase.
He exited gracefully on his own in mid-January 1973.
As someone who has written earlier on Mrs Gandhi, how do you react when our incumbent PM is compared to her?
​There is simply no comparison. Indira Gandhi grew up in an environment nurtured by Tagore, Gandhi and of course Nehru.
By calling for elections in mid-January 1977, she proved that she was Nehru's daughter.​
She had wide-ranging interests and concerns and was not obsessed with power. She sought out people whose views did not converge with hers.
The full story of her relationship with (Atal Bihari) Vajpayee, for instance, has not been written.
She was fiercely secular even while being proud of and steeped in India's Hindu heritage.
Her commitment to ecological balance was uncompromising.
Barring the Emergency period which was a colossal error of judgement and decision even assuming that there were factors leading up to it, her commitment to democratic values was total and she proved it in January 1977 by calling for elections and accepting her defeat gracefully.
She made a Haksar possible -- our incumbent PM would never do so.
You write that if Haksar had attended the Cabinet meeting in which Mrs Gandhi informed the ministers about the decision to impose the Emergency, he would have 'opposed it but not resigned'.
Why do you feel so? Didn't he make up his mind to quit over relatively smaller issues?
​He distinguished the personal from the professional and his loyalty to Indira Gandhi was total.
The fact that he was a protege of Nehru had much to do with this and also the fact that she had plucked him out of diplomatic obscurity and given him the pride of place in her inner-most orbit.
They had known each other for over 30 years and he was also a buddy of her husband.
He was deputy chairman of the Planning Commission during the Emergency and my sense is that he felt that by being within the system he could still influence Indira Gandhi in a constructive manner -- which he did as I show in the book.
Rajiv Gandhi was one PM who listened to advice, but he got all perilous ones. If Haksar had continued with him, would things have been different?
​Rajiv Gandhi sent Haksar as his special envoy to China and Haksar's May 1987 talks with the Chinese prime minister and officials ​paved the way for Mr Gandhi's historic visit to China in December 1988.
He met Haksar every now and then, but clearly Haksar's time had passed.
He said what he had to and the prime minister listened to him carefully.
In a way, the beginning of Congress President Rahul Gandhi's political career was very similar to Mrs Gandhi's 'gungiya gudiya (dumb doll' phase.
After the Gujarat election campaign, we are seeing a lot of change in him.
Who plays a Haksar for him? You are considered one of his mentors. Do you still play the role?
​Absolutely not.
Mr Rahul Gandhi has certainly evolved and transformed himself.
I think perhaps the Gujarat elections was the turning point and also the fact that now the buck stops with him.
He is in the hot seat himself and that has definitely brought new vigour, aggression and drive into his public persona.
I am one of many who meet him off and on and he certainly encourages us to speak our minds and express ourselves freely.
And I can testify to the fact that he is an admirer of Haksar and is well aware of Haksar's role during Indira Gandhi's tenure.