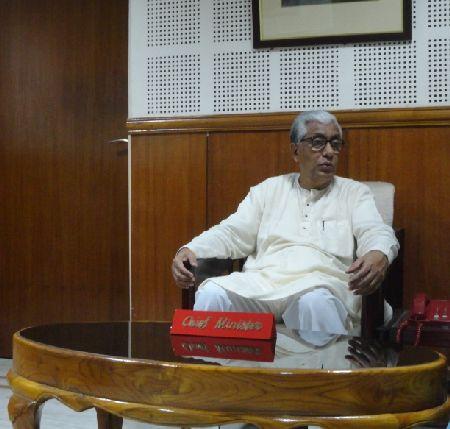 'The present government's greatest weakness is its intolerance. Tolerance is the key tenet of democracy. How can any government stop someone from speaking one's mind?'
He is perhaps India's only chief minister who doesn't own a home, a car or a hefty bank balance.
He lives on the Rs 10,000 that his party -- the Communist Party of India-Marxist -- gives him and donates his salary as chief minister to the party fund.
Meet Manik Sarkar, Tripura's longest-serving chief minister (he has been in the post since 1998), who feels simple living should be every Communist leader's 'religion.'
The chief minister's wife Panchali Bhattacharya, a former central government employee, is often seen going to the market in Agartala by cycle-rickshaw to buy fish and vegetables.
Manik Sarkar spoke to Indrani Roy/Rediff.com at the Tripura secretariat in Agartala on how he keeps the Left flag aloft in Tripura, the tribal-non tribal equations in his state, the Modi government and the future of Communists in India.
You are one of India's most successful chief ministers. In Bengal, people often talk about the 'magic of Manik Sarkar.' What has helped you and your party to be in power for so long?
We have a vibrant relationship with the people. We keep our words, stand by our promises.
Our party doesn't hoodwink the people. We go with the people, listen to them.
Democracy is of utmost importance to us. We see to it that it is never compromised.
We make an all out effort to maintain peace and look after the prosperity of the people. We are aware of the fact that people need to be empowered to be happy and secure.
There is no magic as such. We trust the people and they trust us in return.
What went wrong with your comrades in Bengal? Why did they lose the people's trust?
Nothing went wrong. I am often asked why the Left Front failed in Bengal.
It would be improper to say that they failed. Let us not forget that they were in power for more than three decades.
But then there was this poriborton (change) which saw the Trinamool Congress coming to power in 2011 with a huge mandate...
Now people are again talking about poribortoner poriborton (another change).
West Bengal assembly elections are round the corner. Let us see what happens.
Do you think the Left Front will fare well in the West Bengal assembly election?
Communists are eternal optimists. Pessimism doesn't fit into our scheme of things.
Is the Trinamool running the government well in West Bengal?
I think the Left Front leaders of West Bengal are in a better position to comment on this.
As the chief minister of a neighbouring state, it would be improper for me to comment as that might lead to unnecessary controversy.
Hence, when journalists ask me these questions, I religiously avoid them (smiles).
Do you think the so-called pre-poll alliance between the Left Front and the Congress will materialise in West Bengal?
I don't want to talk about an alliance which is yet to take place. Let us wait for our central committee's decision.
Your government is said to have won people's hearts by establishing a strong bond of camaraderie between the tribals and non-tribals. How did you achieve this?
For years, the Left Front in Tripura has been working towards prosperity of the state by striking chords of unity and friendship, sympathy and respect between the tribals and non-tribals.
We have been working among the tribals for years as we knew Tripura can never prosper if the interests of the tribals aren't protected.
In Tripura, we have been able to convince the people that tribals cannot survive without the help and cooperation of the Bengalis and vice versa.
In fact, soon after the Left came to power in Tripura, several intransigent forces in the state realised that the Left's strength lay in the unity of the tribal and the non-tribals and the latter needed to be curbed to make a dent.
It is out of this feeling that enemies of our state conspired time and again to fan the ugly fire of extremism.
You drew the nation's attention when you rolled back the controversial AFSPA (Armed Forces Special Powers Act) in May 2015 after 18 years. Why did you do that?
AFSPA was introduced in Tripura in February 1997 after a spate of killings and kidnappings by the National Liberation Front of Tripura.
The then chief minister Dasarath Deb had felt it was necessary to take the help of AFSPA to counter extremism as the police stations of the state did not have adequate power.
After becoming chief minister in 1998, I focused on strengthening the existing police forces and concentrated on developing the tribal areas.
Our government worked extensively among the tribals to prevent the divisive forces from taking them under their fold on the excuse that the Tripura government was indifferent to their cause.
You tried to win the trust of the tribals so that no one could play the card of government negligence to misguide them.
Yes.
Tripura has the unique institution of the Tribal Areas Autonomous District Council vested with powers intended to ensure a large degree of self-government to tribals.
We have an existing Land Act in the state according to which no land in tribal areas can be sold to non-tribals.
During the Congress regime, however, tribal land was often illegally sold to non-tribals.
But after coming to power, we stopped that practice and also helped the tribals recover their lost land in many cases.
We also ensured reservation for the Scheduled Tribes in education and jobs.
When we introduced equal promotion norms for the Scheduled Tribes, a group challenged our stand in court. We fought an arduous legal battle in the Supreme Court and won.
The Opposition had voiced its concern over your decision to roll back AFSPA. They felt it would make Tripura vulnerable.
I got rid of AFSPA only after I was certain that we have been able to tame extremism to a large extent.
Moreover, after a new government came to power in Bangladesh under Sheikh Hasina in January 2009, our bilateral talks improved and cross-border tension eased a lot.
We reached out to the people of the state and were successful to convince them that peace was of utmost importance and that there can be no development without peace.
We got people's support in countering extremism. Hence, I felt AFSPA had lost its relevance.
We have heard many tales of oppression of Tripura tribals at the hands of the forest department staff. Has your government dealt with that problem?
In the past, the forest department staff were really unkind to the natives of the state.
They would often set the police after the tribals and the latter would pick them up and keep them in lock up on flimsy grounds.
At times, the tribals were even forced to abandon their native villages.
We fought against these atrocities and when we came to power, we introduced prohibitory orders against such julm (persecution) of the tribals.
I was talking to an old resident of Agartala. He was all praise for your government for easing the tension between the tribals and the Bengalis.
The former felt they had become minorities after the influx of the Bengalis, mainly from East Bengal after Partition. Many Bengalis were massacred in the past. How did you deal with this problem?
Right from the beginning, we were strict in dealing with any disruptive or unConstitutional move.
We could often hear slogans that no non-tribals would be allowed to reside in areas where tribals were a majority and vice versa.
We made our position very clear -- we made both the groups understand that such an anti-national stand would neither be encouraged nor tolerated. And people listened to us as by now they had seen us toiling hard for their betterment.
As for the security forces, our directives were loud and clear -- be strict to the wrongdoers, take strictest steps against them, but never torture the common people.
We told them to be unbiased and not trigger-happy. The security forces listened to us.
The common people too got our message -- they understood that we were there for peace and harmony.
Residents of Tripura realised that the progress of the state lay in peaceful co-existence of tribals and non-tribals.
How healthy are your ties with the Narendra Modi-led government at the Centre?
We always had to fight for our rights with the governments at the Centre.
The erstwhile UPA (United Progressive Alliance) government was not too eager to help us neither is the present government.
Rather, the present government has curtailed many of the benefits that we used to enjoy earlier and this has inconvenienced us.
This is true not only for Tripura, but for other north-eastern states as well.
As for granting financial freedom to the north-eastern states, I find this present government extremely negative.
You mean the present government overlooks Tripura's needs.
Central governments at all times have chosen to overlook the interest of not only my state, but that of other north-eastern states. It is improper and impractical.
Governments at the Centre should never ignore the geographical importance of the north-eastern states. All these states share so many important and strategic borders with neighbouring countries.
Did you have better ties with the previous BJP government? It is said that L K Advani and you were 'good friends'. You once said he was one of the most successful home ministers.
I would refrain from comparing and would stick to what I said earlier -- we had to fight for Tripura's rights earlier and continue to do so now.
As for my ties with Advani, I can only say it was very easy to work with him.
Whenever I took any problem to him, he would analyse its merit at face value and take an impartial decision. Our political and ideological differences never stood in the way.
Is the current Home Minister Rajnath Singh less helpful?
Again, I don't want to compare. (Pauses) But Advani and I shared a comfort zone and it helped both of us.
A lot is said about the Modi government's intolerance.
The present government's greatest weakness is its intolerance. Tolerance is the key tenet of democracy. How can any government stop someone from speaking one's mind?
It is a free country and we are living in a democracy.
Everyone should have the freedom to speak or act according to one's wish. Intolerance of any kind is unacceptable.
One should never forget that prejudice is the breeding ground for fascism. And I can see the rise of fascism in my country.
However, it is a positive sign that voices of protest are pouring in from every corner against the present government's wrongdoings.
Intolerance has never survived in India in the past. It won't survive now. We had seen the Emergency and we all know what its outcome was.
I have faith in people's power. I am certain it will drive the last bit of intolerance away.
The Left Front and other parties should help the people come together to fight this menace.
You once told the media that the Left Front's debacle is a passing phase. Do you really think the Left can regain its lost glory?
People of India have lived under the Congress and BJP (Bharatiya Janata Party) rule.
After Independence, the Congress got 55 long years to prove itself.
What did it do? It favoured the capitalists and showered privileges on the multinationals. The Congress is no more in power, because of its own misrule.
The BJP came to power raising slogans against the Congress. But was it any better than the Congress? No! It followed the same path laid by its predecessor, rather more aggressively.
Now, common people -- the workers, peasants, teachers, small and medium traders -- are asking a question -- which party should they vote for? Who would look after their interests? Common people can neither trust the Congress nor the BJP.
If the Congress was like the frying pan for them, the BJP was fire.
The Congress and BJP are but two sides of the same coin and no one knows it better than them.
The Congress and BJP look after the interests of the rich industrialists which comprise only 10 per cent of India's total population.
Now, why are these political parties so interested in this meagre 10 per cent?
It means a huge and covetable market.
Students, agricultural workers, industrial labourers, teachers are fed up of this shameless stand taken by the Congress and BJP. They are getting united in protest.
A huge protest culminated in the nationwide strike called by 11 central trade unions on September 2.
About 12 to 13 crore (120 million to 130 million) people took part. It was one of its kind in the world.
This alarmed the central government and the latter wasted no time to play the communal card as an antidote. Now, this is where the Communists should step in. Here is their chance to reach out to the people.
Indians, a large section of them, have now realised that the only alternative to the Congress and BJP lies in a unified platform of the people, who are marginalised, deprived and exploited.
The onus now rests on the Communists to take the initiative and help these people unite. Hence, instead of cribbing about what happened in the past, they should act fast.
You are known as India's poorest chief minister. You get an allowance of Rs 10,000 from your party and your assets are very small. How do you manage?
When I joined the party, I had to take a vow of simple living. I had to sign a pledge to work for the people and not for my own interest.
My party taught me to be honest and transparent and to make do with the basic minimum needs. I am happy with what I have.
Manik Sarkar's photograph: Noor Islam