'China was the elephant in the Oval Office and Trump would have sensed that Modi's foreign policy architecture has become disoriented sans the US' pivot to Asia,' points out Ambassador M K Bhadrakumar.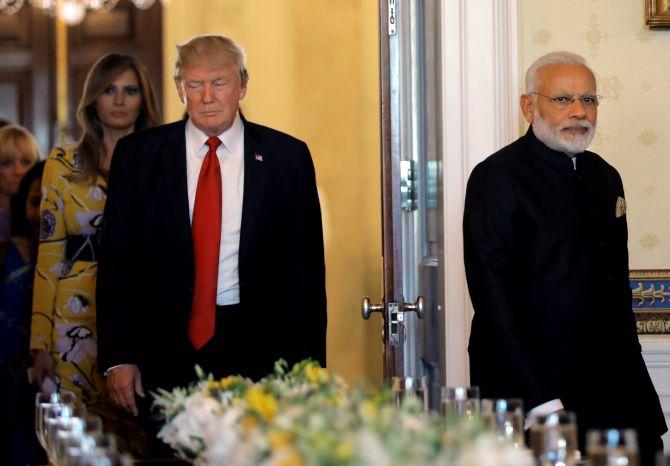 Prime Minister Narendra Modi and President Donald Trump held talks, stepped out into the Rose Garden at the White House and read out prepared statements, each from his own perspective -- and the two versions apparently make a 'joint statement'.
The Trump White House issues joint statements in the conventional format after visits by foreign dignitaries.
That was the case with Canada's PM Justin Trudeau, Turkey's President Recep Erdogan, Vietnamese PM Nguyễn Xuân Phúc, Japan's PM Shinzo Abe or Germany's Angela Merkel, amongst others.
A joint statement highlights convergences and it is usually dispensed with if either side prevaricates.
White House Press Secretary Sean Spicer initially promised that 'after they (Trump and Modi) are done, we'll have a readout for you and we'll make sure that you know what areas they covered and hopefully what ground we've made up.'
But that readout also never came.
However, Modi's talks in Washington covered a range of topics. Although the meeting with Trump lasted only 20 minutes, Secretary of State Rex Tillerson and Secretary of Defence James Mattis -- the so-called 'Axis of Adults' in Trump's team -- called on Modi.
The 5 takeaways from Modi's talks:
One, Trump wasted no time to bring up the trade deficit ($30.8 billion).
He stressed that he intends 'to create a trading relationship that is fair and reciprocal. It is important that barriers be removed to the export of US goods into your markets, and that we reduce trade deficit with your country.'
That was plain speaking. Modi's statement altogether sidestepped the topic.
The big Indian order for 100 aircraft from Boeing and the prospect of a long-term $40 billion LNG deal hasn't pacified Trump.
Last Wednesday, June 21, US Trade Representative Ambassador Robert Lighthizer identified intellectual property rights and 'pricing on pharmaceuticals and medical devices' and an unspecified list of other 'irritants' in trade with India.
There are looming headlines too, and one of them is a US report on redressing trade deficits with 16 priority countries, including India; another, a report from US federal agencies on ways to promote 'buy America(n)' policies; and yet another on recommendations for an overhaul of the granting of H1-B visas for highly-skilled workers.
To be sure, Trump has given to Modi some difficult homework to undertake.
Trade deficit ($30.1 billion) with the US brings in its wake a host of complicated issues -- tariffs, intellectual property rights, market access and so on.
The LNG deal itself means buying natural gas from the US shale industry at a higher price that what imports from Iran or Qatar cost.
Two, Trump showered praise on Modi, but it is yet to translate as 'personal chemistry'.
Modi didn't switch to 'Donald' with the delectable ease with which he called 'Barack'.
But Delhi is also working on a parallel track, which will, hopefully, work up personal chemistry by the end of the year or so.
Following the Chinese path, Delhi too plans to approach Trump via daughter Ivanka and son-in-law Jared Kushner, who are foreign policy wonks but quintessentially a headed business couple.
Modi invited Ivanka to lead the US delegation to the Global Entrepreneurial Summit in India at the end of the year. Ivanka accepted.
Once Ivanka arrives, things will, hopefully, pick up.
Ivanka's influence on Trump's foreign policy is not in doubt. She was reportedly instrumental in getting Trump to order the missile strike in Syria, after watching the horrific television clippings of the chemical attack in Idlib.
Three, Trump harped on his agenda of destroying 'Islamic terrorism'. He claimed that he and Modi have a shared determination. But Modi shied away from using the expression 'Islamic terrorism'.
He instead plunged into the heart of the matter by flagging the imperative need of 'doing away with the safe shelters, sanctuaries and safe havens' of terrorists.
Of course, Modi meant Pakistan.
But, strangely, Trump would not be drawn into such unpleasant specifics.
In essence, the Trump White House put on record that Pakistan is also a victim of terrorism.
The Trump administration visualises that Pakistan will be a key interlocutor on regional security issues and, therefore, as the Americans say, keeps all options on the table.
This cannot please our national security tsars.
All in all, it becomes highly doubtful whether it was the prudent thing on the part of Modi's aides to have advised him to hail from American soil India's 'surgical strikes' against Pakistan.
Just ahead of Modi's speech in Washington on Sunday, the White House released a statement condemning the terrorist strikes in Parachinar and Quetta in Pakistan on Friday, underscoring that it is 'a strong reminder of the threat posed throughout the region by the scourge of terrorism.'
Four, in a veiled reference to Afghanistan, Modi wrote in an op-ed in The Wall Street Journal that India had a 40-year experience in fighting terrorism. But Trump confined himself to thanking the Indian people for their 'contributions to the effort in Afghanistan.'
In this delightfully vague formulation, he probably advised India not to wade into the Afghan war.
At any rate, to quote from Modi's statement, India shall continue to have 'close consultation and communication with the US to enhance coordination' apropos the Afghan problem.
Trump's reserve -- notwithstanding India's eagerness palpable to influence US policies toward Pakistan -- should not come as a surprise.
He hasn't even decided on a new strategy toward Afghanistan.
Should he view it through the Pentagon's prism of the 'Great Game' with Russia or should he prioritise a settlement? That's the question.
However, it is the final takeaway that ultimately frames Modi's US visit -- on China.
Without doubt, China was the elephant in the Oval Office and Trump would have sensed that Modi's foreign policy architecture has become disoriented sans the US' pivot to Asia.
Yet, he kept a deafening silence on China, the South China Sea, or the Asia-Pacific, et al -- and simply appreciated India's sanctions against North Korea.
Modi, on the other hand, had a fulsome paragraph in his prepared text: 'In the Indo-Pacific region, in order to maintain peace, stability, and prosperity in the region, this is also another objective of our strategic cooperation in this area.'
'The increasing possibilities for enhancing cooperation in order to protect our strategic interests will continue to determine the dimensions of our partnership. We will continue to work with the USA in this region,' Modi said.
Trump refuses to inherit the Obama-Modi Joint Vision statement of January 2015 on Asia-Pacific security.
He doesn't want to mislead India into believing that it could be a counterweight to China in US policies. In fact, he isn't looking for any 'counterweight'.
This will come as a huge disappointment to the Modi government. But then, Trump is preparing for a meeting with Chinese President Xi Jinping next week in Hamburg, which will be followed by a State visit to China later this year.
The stakes are high for 'America First'.
Trump is noticeably losing interest of late in foreign policy and is returning to his domestic agenda -- healthcare, tax reform, unemployment, infrastructure development, the growth rate and so on -- which is important for keeping his core constituency satisfied and in consolidating his political base for the campaign for a second term.
To be sure, Trump expects that the profound partnership with China can provide just the underpinning that his domestic agenda needs in a number of key areas.
Whereas, all that Modi could bring to the table was an order for 100 Boeing aircraft.
Trump expects Modi to do much more for 'America First'.
The Indian approach to Trump is fundamentally flawed insofar as it overlooks that in a world without outright wars, geo-economics will inevitably trump geopolitics.
India's 'nationalist' foreign policy and its 'muscular diplomacy' miss the point that geo-economics is going to be the principal focus of inter-State competition.
IMAGE: Prime Minister Narendra Modi, US President Donald Trump and First Lady Melania Trump arrive for a dinner at the White House. Photograph: Carlos Barria/Reuters