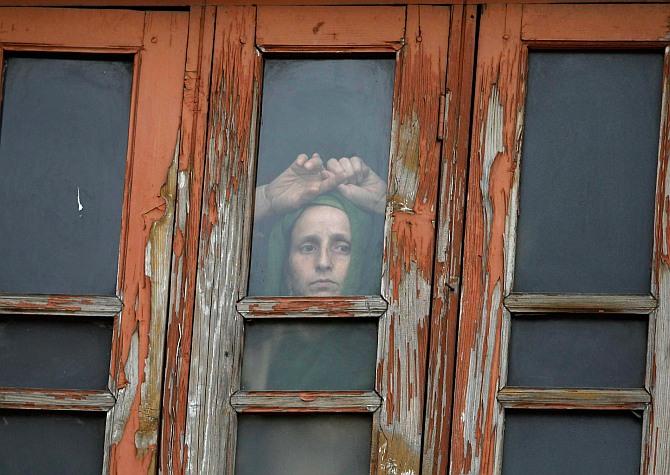 Article 370 is an anachronistic decree that has outlived its utility, militates against India's sovereignty, and discriminates against both Indians and Kashmiris by mutually excluding each other from syncretic growth. It is redundant, can be debated and constitutionally discarded, says Vivek Gumaste.
Is Article 370, the much bandied, much pilloried clause of the Constitution that dictates the governance of Jammu and Kashmir, a sacrosanct entity that brooks no debate; an indelible edict that is etched in stone? Is it an ironclad contract that is the last word on this issue?
Or is it a dinosaur on the verge of extinction; an outmoded concept totally incompatible with changing times and modern ideas, whose demise needs to be hastened to curb its residual deleterious effects?
Responding indignantly to a call for parleys on this topic by the minister of state in the Prime Minister's Office, Jitendra Singh, Jammu and Kashmir Chief Minister Omar Abdullah tweeted: '… long after the Modi government is a distant memory either J&K won't be part of India or Article 370 will still exist. Art 370 is the ONLY constitutional link between J&K & rest of India.'
Abdullah's belligerent riposte is tantamount to blackmail, borders on sedition and reeks of ignorance. To debunk his claim that Article 370 is the 'only constitutional link between J&K and the rest of India,' it is imperative that we recall history.
On October 26, 1947, with marauding Pakistan tribesmen closing in on Srinagar, Maharaja Hari Singh signed the instrument of accession to India allowing Indian soldiers to enter and defend his kingdom. This instrument of accession was exactly the same document that all other states had ratified as indicated by the political scientist M K Teng in his book, Kashmir: The Myth of Autonomy: 'In 1947, when Jammu & Kashmir acceded to India, the ruler of the state, Maharaja Hari Singh, signed the same standard form of the instrument of accession, which the other major Indian states signed. The accession of the state to India was not subject to any exceptions or pre-condition…' (pp.VII)
Karan Singh, the son of Maharaja Hari Singh, who served as the Sadr-i-Riyasat and Governor of J&K, concurs: "It is true that the instrument was exactly the same as the document signed by all the other former provincial states."
By signing the 'same standard form of the instrument of accession,' J&K came to be included in the First Schedule that lists the states and Union territories subject to Article 1 of the Constitution which defines the territorial composition of India. In other words: the basic structure of the relationship between India and J&K is similar to that of other states.
Article 370 came later. True, it modified that relationship by introducing morally untenable caveats but did not alter the basic premise that J&K is an integral part of India like all other states. So let us be clear about one thing: the accession of J&K to India is full and final. It is non-negotiable, with or without Article 370.
Is Article 370 open to debate?
The genesis of Article 370 was steeped in discord. It was not the outcome of popular consensus. It was a crafty ploy engineered by Sheikh Abdullah (the current CM's grandfather) who envisioned himself becoming the supreme leader of a sovereign state in the future by exploiting this concession -- made possible by a pliant Jawaharlal Nehru.
Dr B R Ambedkar, the architect of our Constitution, denounced the idea and told Sheikh Abdullah: "To give consent to this proposal, would be a treacherous thing against the interests of India and I, as the law minister of India, will never do it." (Balraj Madhok, Organiser, November 14, 2004)
Other eminent members of the Constituent Assembly too demurred. Only when Gopal Swamy Aiyangar at Nehru's behest assured the assembly of its temporary nature did they agree:
"It is the hope of everybody here that in due course, even Jammu and Kashmir will become ripe for the same sort of integration as has taken place in the case of other states."
Therefore, Article 370 was never conceived as a permanent statute. It was a transient decree and included under the section captioned, 'Temporary, Transitional and Special Provisions'.
So constitutionally it is not anathema to debate its abrogation.
Debate is the crux of any democracy. To call for a debate is the prerogative of every citizen. To deter discussion, on the contrary, is inherently an anti-democratic gesture.
Moreover, it is befitting that Jitendra Singh, a Jammu resident, has raised this issue. For too long have the residents of Jammu and Ladakh been marginalised in this debate by the more vocal inhabitants of the Valley. Article 370 is equally relevant to one and all regardless of religion.
India is changing. A new generation has emerged brimming with hope and confidence, aspiring to modern amenities and better values. It is hard to assume that Kashmiri youth are immune from this youthful exuberance sweeping across India. It is likely that a debate may throw up an unexpected and refreshing new perspective from the Kashmiri youth fed up with divisive, fundamentalist ideas of their elders and jaded by the perpetual violence orchestrated in their name by Pakistan. This will give them a chance to express themselves. They deserve it.
That brings us to the final question: Is the reversal of Article 370 fraught with legal and constitutional hurdles that are logistically impossible to navigate as naysayers routinely claim. Jai Anant Dehadrai, a Supreme Court advocate, disagrees:
'Equally ludicrous, is another suggestion from Omar Abdullah, who argues that the original constituent assembly be resurrected to debate this issue… The late professor MP Jain whose book is considered one of India's foremost texts on constitutional law, makes it abundantly clear that since no such 'Constituent Assembly' exists anymore, any limitation sought under Article 370 (3) would cease to operate and the entire provision would be open to amendment under the regular route available to Parliament under Article 368.' (Times of India, May 31)
In conclusion, Article 370 is an anachronistic decree that has outlived its utility, militates against India's sovereignty, and discriminates against both Indians and Kashmiris by mutually excluding each other from syncretic growth. It is redundant, can be debated and constitutionally discarded.
Photograph: Reuters