Indian soldiers in Kashmir are not on a joy ride scouting for people to kill, says Vivek Gumaste.
Illustration: Dominic Xavier/Rediff.com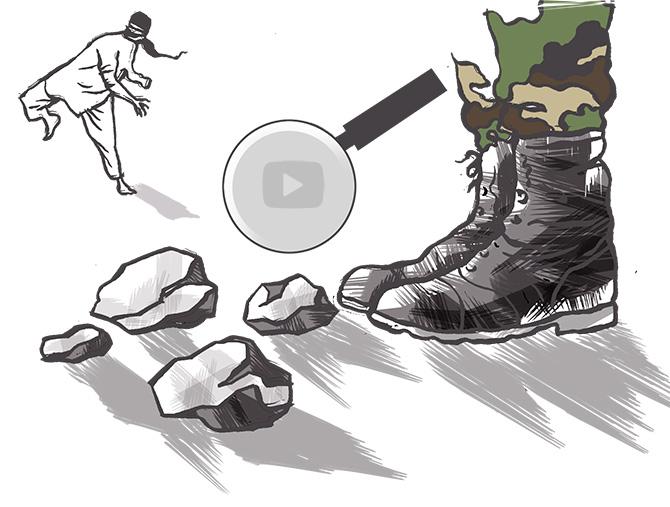 Two conflicting videos that emerged from troubled Kashmir last week have sparked a high voltage national debate, set off a spat of acerbic Twitter exchanges and unleashed a bitter war of words between ideological adversaries.
These two visuals ostensibly project contrasting images of the Indian Army -- one showcases the exemplary restraint of a soldier while the other portrays the Indian Army as a perpetrator of inhuman cruelty.
Visual depictions, whether snap shots or videos, occasionally tell only part of the story; they capture a moment or moments in time without shedding any information on what predated or followed the event, leaving one to speculate at will or fill in the blanks to conform to one's preferred narrative.
Therefore, it is imperative that we scrutinise these videos for their true import, devoid of the politically motivated brouhaha that has accompanied their release.
The first video uploaded on April 9 was unbearably painful to watch, so much so that I had to click out of it after 30 seconds, regain my composure and return to it a few minutes later to finish watching the ghastly drama of brutality: A crazed Kashmiri youth gesturing madly with flaying arms repeatedly taunts a stoic CRPF jawan with incendiary rants and then pounces on him to deliver blow after blow mercilessly, even kicking him in the process.
Throughout this violent attack, the jawan remains unmoved, bravely withstanding the blows he receives; a rifle hangs limply by his side but he refuses to reach for it in a demonstration of extraordinary restraint.
It was Gandhian satyagraha in reverse wherein the establishment stoically tolerates the violence of an insane violent mob.
There can be no two sides to this video. It was a chilling exposition of unbridled bestiality that assaulted your senses, disrupted your emotional equilibrium and provoked a rightful moral indignation.
It was in effect a microcosm of the innards of the ugly Kashmir insurgency; an uprising that can only be summed up as a wayward rampage of fundamentalist, ruthless violence masquerading as a call for freedom and one that exploits to the hilt the licence of a democracy to sustain a diabolical dance of unadulterated evil.
This incident rightfully triggered a strong response from the entire nation, evoking a medley of reactions: Abject humiliation at a soldier being subject to such ignominy, a feeling of pride at the forbearance of the jawan who exemplified the highest tradition of our democracy and our commitment to non-violence and, last but not the least, an intense sense of justifiable outrage.
Not to be enraged in the face of such grave provocation would be morally corrupt, cowardly and a dereliction of one's national duty.
Not to be enraged would be to trivialise the efforts of our jawans who unfailingly and fearlessly put their lives on the line to guard our territorial and Constitutional sovereignty.
So, despite the backlash against his comments, cricketer Gautam Gambhir was totally within his right to voice his sense of outrage in a blunt no-nonsense tweet when he said: 'For every slap on my army's Jawan lay down at least a 100 jihadi lives. Whoever wants Azadi LEAVE NOW! Kashmir is ours.'
Being a celebrity does not mitigate one's fundamental rights as a citizen; neither should it shackle one's freedom of speech.
As to the admonition that a star cricketer must display greater responsibility in taking a stand on a public issue, Gautam Gambhir did precisely that.
Prominent personalities must fearlessly lead the way in issues of national interest, highlighting an issue by virtue of their stardom that lesser individuals may be unwilling or lack the capacity to do so.
By bringing to the fore what was ruminating in the minds of the public Gambhir has executed his responsibility as a celebrity and citizen of the country commendably. Too much need not be made of the phrase '100 jihadi lives' -- it was a reflex response uttered in the heat of the moment.
What is, however, shameful and inexcusable is that certain sections of our otherwise vocal media have chosen to remain silent on this issue. More shocking is the attempt to turn this incident on its head and cast the stone-pelting villains as the heroes of this piece.
It is like saying that a thug on the street who mugs you but does not kill you should be commended for his restraint.
How warped can one's mind become!
How twisted can one's logic get!
Taken aback by the widespread national outrage that the video sparked, Kashmiris retaliated by uploading a video that showed a Kashmiri man strapped to the front of a military jeep as human shield as it patrolled several villages.
The video was posted by the spokesperson of the Jammu and Kashmir National Conference, Junaid Azim Mattu, on April 14, 2017.
At the outset, this appears to be an act of indefensible inhuman cruelty that puts the Indian Army in the dock. But on closer scrutiny and a pragmatic analysis that delves deeper into its antecedents, a strikingly different picture emerges.
An NDTV report outlines the sequence of events that led to this action and eventual outcome: 'Security sources say this video was filmed when polling officers faced a mob of stone-throwers, they would have been lynched by 400 people. An Army Quick Reaction Team was called in to help the group.'
'As the crowd reportedly swelled ominously in size, a group of 15 army men led by a young officer appeared to be hopelessly outnumbered. They were sure to be lynched there since the crowd size increased and opening fire would have resulted in a blood bath.'
'To defend themselves, the company commander caught hold of a protestor and tied him to his jeep. The army and polling officers reportedly then left the area safely.'
Major General Gagandeep Bakshi, a former Indian Army officer in the J&K Rifles and a prominent television analyst on security matters, provides more insight into this episode in the DNA newspaper: 'They are screaming for the scalp of that young major who tied a stone pelter to his jeep. I think in retrospect the boy did some out of the box thinking and saved lives on both sides.'
'The standard military solution would have been to shoot the pelters dead. An operation is judged by its end results. He was able to rescue the boys who were surrounded by a blood-thirsty mob. He seized the stone pelter, used him as hostage to get safe passage for his column. This way no military or civilian personnel was killed.'
'You can always apprehend a stone pelter for interrogation about his links and take him to your post.'
What at the outset appeared to be an act of inhuman savagery turned out to be a prudent display of pristine humanity executed with an innovative approach and with a win-win outcome.
Can the Indian Army be condemned for preventing a blood bath and saving lives, whatever be the modus operandi? The FIR filed by the J&K police against the army is frivolous and must be retracted
Let me remind you again that Indian soldiers in Kashmir are not on a joy ride scouting for people to kill.
They are there as the legitimate arm of a democratic government to ensure the rule of law in a lawless jungle that has witnessed a total collapse of law and order and an ethnic cleansing of minorities that would not be tolerated in any other part of India.
The Indian Army has always acted with restraint and within the framework of the Indian Constitution. I say this with confidence and evidence. This question that I have repeatedly posed over the last 15 years, after first writing it in the New York Review of Books in 2001 (external link), is proof of that.
When the Pakistani army let loose a reign of terror in Bangladesh in 1971, nearly ten million Bangladeshis crossed over to India. The number of refugees is directly proportional to the degree of victimisation.
If the atrocities perpetrated by the Indian army on the Kashmiri Muslims are so widespread and gruesome as Pankaj Mishra claims, then why are Muslims not fleeing the valley? Why are refugees not pouring into Pakistan?
I leave this question with the reader to mull over.
MUST READ features in the RELATED LINKS below...