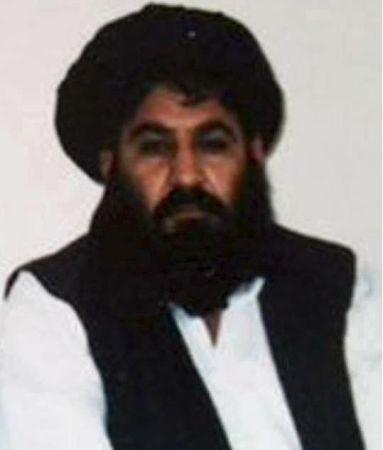 An American drone killed Taliban chief Maulana Akhtar over the weekend.
Rajeev Sharma examines what his death means for various stakeholders in the region.
Taliban chief Maulana Akhtar Mansour's death in an American drone strike in Balochistan last Saturday, May 21, has enormous strategic implications for multiple State and non-State actors in the region. From New Delhi's viewpoint it is good news for India.
Let's see what it means for different actors:
The Taliban
It's not easy to have the world's sole superpower as your enemy number one. The Afghan Taliban, which is the original Taliban and once led by the feared Mullah Omar, has done precisely that.
The US put the Taliban on notice by launching a drone attack on Mansour's car in Balochistan while he was returning to Quetta from Iran by road.
Balochistan had been a no go territory for American drones. This is the first time that the Americans launched a drone attack in Balochistan.
It demonstrates a significant shift in US strategy and also American resolve to take on the Afghan Taliban anywhere in Pakistan.
Significantly, this is the first time since Osama bin Laden's killing five years ago that the Americans have conducted a military strike to eliminate the top man of a major terror outfit.
Mansour's death may lead to closer cooperation among various Taliban groups, if not reunification.
Iran
The Mansour episode confirms how deeply involved Iran is in the activities of non-State actors in the AfPak region.
Mansour, an Afghan national with a Pakistani passport, was a frequent visitor to Iran.
His assassination strengthens Iran's geopolitical leverage for all players in the AfPak region and offers yet another compelling reason for India to have closer political ties with Iran.
Iranian spy agencies must be loaded with vital real time intelligence on Pakistan-based terror outfits.
Russia
The simple thumb rule in today's geopolitics is that wherever Iran is involved in a big way, Russia too is on board given the close ties between Tehran and Moscow. Mansour is known to have travelled to Russia several times.
Russia -- which in its earlier incarnation, the Soviet Union, suffered the humiliation of having to withdraw its military from Afghanistan in 1988, nine years after it invaded the country -- is an avid follower of cloak-and-dagger games in the AfPak region.
This is one reason why Russia's political relations with Pakistan have improved in recemt years.
Pakistan
The Mansour episode marks yet another low in US-Pakistan relations.
By launching an unprecedented drone attack in Balochistan, the US has shown that its patience is wearing thin with Pakistan over Islamabad's various sins of omission and commission on the terror issue.
Like it did when it struck against bin Laden in the heart of Pakistan in May 2011, this time too the Americans did not take the Pakistanis into confidence.
Islamabad's deep anger with Washington was reflected in the fact that Pakistan's powerful army chief General Raheel Sharif -- and not Prime Minister Nawaz Sharif -- met US Ambassador David Hale to convey Pakistan's views about the Americans crossing the 'red line' yet again.
Needless to say, the Americans will remain unflinching despite Pakistani remonstrations at the highest level.
India
Mansour's death and US-Pakistan relations will inevitably come up during Prime Minister Narendra Modi's discussions with US President Barack Obama in Washington on June 7.
The anticipated spike in bloody violence in Pakistan in the aftermath of Mansour's killing will keep Pakistan engaged with its own affairs, leaving little time to plot terrorist activities against India.
Rajeev Sharma, an independent journalist and strategic analyst, tweets @Kishkindha