'The coming two months could unfold unpredictable results or unpredictable consequences or both at the same time,' says Rajaram Panda.
Illustration: Dominic Xavier/Rediff.com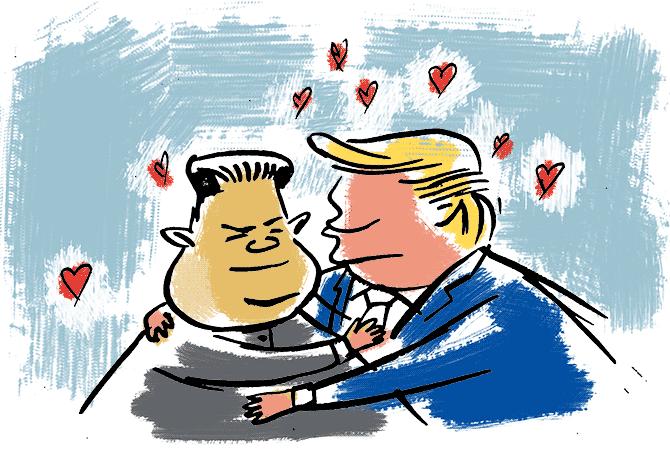 Following the first-ever meeting in Pyongyang between a South Korean delegation led by national security office chief Chung Eui-yong and North Korean leader Kim Jong-un and subsequent dinner diplomacy, the news of a summit meeting between South Korean President Moon Jae-in and Kim, possibly by April-end, provides further balm to the yet-to-heal wounds in the Korean peninsula since it was split into two parts after the three year-long Korean war from 1950 to 1953.
It was a revelation to the delegation to see the brighter side of the feared dictator who months ago rattled the world by talk of a possible holocaust by striking the United States with nuclear-tipped missiles.
Moon's peace overtures seemed to have paid dividends as news started trickling in about a summit between President Donald J Trump and Kim sometime in May.
The question that begs an answers is: Given the deep-rooted distrust between the US and its two Asian allies -- Japan and South Korea -- with North Korea, can the two summits help remove the long-lasting suspicions and misgivings between the two sides so quickly so that peace can be seen to have dawned in the Korean peninsula?
This development taking place with breathtaking rapidity needs to be analysed dispassionately as issues on the ground cannot be dealt or resolved by invoking emotions and sentiments.
Let us assume the Moon-Kim summit and Trump-Kim summit take place in April and May respectively. It may be useful to speculate why this sudden turnaround has occurred and what could one expect as the possible outcome.
First: The Moon-Kim summit. The South Korean president lost no time in reaching out to Kim's peace overtures when the latter spoke about having a dialogue with his South Korean counterpart in his New Year address.
The stage was already set by welcoming a delegation from North Korea for the PyeongChang Winter Olympics which South Korea hosted. Pyongyang must have been pleased that Seoul waived some sanctions to facilitate the athletes' and cheerleaders' visit to the event and covered the cost as well.
Since coming to power, the liberal Moon had made his intention clear to pursue an engagement strategy and abandon the hardline approach of his conservative predecessors. That he was able to reach out to Pyongyang and send a delegation, thus paving the way for a summit in late April without any third party mediation, is significant and pathbreaking.
Kim Jong-un does not perceive South Korea as a threat. His main worry is the United State.
News of a possible Trump-Kim summit in May hogged international headlines, the details of which are not known at the moment though South Korean newspapers flashed the news with great enthusiasm.
The North Korean media did not give major coverage either to the Kim-Moon or Kim-Trump summits. Kim's meeting with the South Korean delegation led by Chung, however, made the front page in the Rodong Sinmum, a leading government newspaper in North Korea.
Surprisingly, neither Kim's policy concessions as claimed by Chung nor the planned summit with Moon in April were reported publicly in Pyongyang.
There is no evidence or announcement that Kim's stance on North Korea's nuclear weapons programme has changed dramatically or that he is willing to discuss its future or what concessions he would be willing to bring to the table.
This makes it difficult to speculate on the course of the forthcoming summits or their possible outcomes. Yet, based on past experience, some conjectures may be made.
After Chung Eui-yong returned from Pyongyang, President Moon dispatched him to Washington, DC to brief Trump that Kim had 'committed to denuclearisation' and to suspending nuclear and missile tests.
But the fact that Kim has not come out with a clear statement endorsing this view on a potentially historic achievement raises doubt on what exactly could emerge from the summit.
Seoul may be chest-thumping that Kim has agreed to a summit with Moon, but there is no clarity on the issue of joint military drills between the US and South Korea which were postponed -- but not suspended -- because of the Winter Olympics.
The military drills are scheduled to be resumed in mid-April and on this Pyongyang's stance has not changed. It continues to perceive the drills as preparation for invasion. If this is the case, what could be the possible fate of the summit is anybody's guess.
Though Chung said in Washington that Kim 'understands' that the upcoming military exercise will go ahead, it would not be surprising if there is a sudden volte face with Kim calling off both the summits if the US and South Korea go ahead with the planned drills.
For now, let us assume that the Kim-Trump summit takes place.
When Chung announced in Washington that Kim had 'expressed his eagerness to meet President Trump as soon as possible' and promised that he will suspend nuclear and missile tests while dialogue is ongoing, the hope for impending peace was raised sky high.
Since Trump accepted the invitation, expectations for a breakthrough further rose.
The question that arises now is: When Trump and Kim sit down, what could one expect from the historic summit and what can the 'Rocket Man' and the 'Dotard' offers each other?
The summit will be the first between a North Korean leader and a sitting US President in history. While confirming that Trump had accepted Kim's invitation, White House Press Secretary Sarah Huckabee Sanders stressed that the US campaign of 'maximum pressure' will continue and all sanctions will remain in force.
Writing in The New Yorker, Evan Osnos draws comparison with then US president Richard M Nixon secretly dispatching Henry Kissinger to Beijing in 1971 to lay the ground work for Nixon's visit to Beijing on February 21, 1972, leading to restoration of diplomatic relations between the US and China.
Nixon met Mao Zedong, which ended 25 years of hostility between the two countries. After dogged diplomatic preparation for months and Dr Kissinger's assiduous secret meetings with then Chinese premier Zhou En Lai, when Nixon shook hands with Mao, he rightly called it a 'week that changed the world'.
When Chung told Trump about Kim's willingness to meet him, Trump instantly said 'Yes'. This is now being interpreted as the 'most audacious diplomatic gamble by an American president in decades'.
Trump's decision to meet Kim is seen as impetuous in certain quarters in the US as the announcement of such an important event bypassed the usual stages of lower-level talks in advance. Trump departed from the usual rules of diplomacy with North Korea.
If the summit takes place as announced, three key questions need to be addressed.
First: Trump's objective at the summit shall be to secure a firm agreement that North Korea will give up its nuclear weapons. That seems to be a mere will-o-the-wisp as Pyongyang does not seem prepared to dismantle its nuclear arsenal anytime soon.
Possession of such arsenal is the ultimate propaganda tool for Kim to convince the North Korean people that he deserves to rule for their safety.
Though diplomacy is always the ultimate tool to address important issues, proper preparation for bargaining terms and conditions are needed to be ready in advance. That is lacking at the moment.
Under the circumstances, it is puerile to hazard a guess on measuring what would be a realistic standard of success.
Second: It is unclear where the summit is to be held, what issues will be addressed and how that will be done.
If Trump decides to invite Kim to the US and if Kim accepts such an invitation, it would be the biggest news of the century as Kim has not stepped beyond the borders of his country since taking power in 2011, not even to China, Pyongyang's main benefactor.
Either the fear of assassination or a coup or both has deterred Kim from leaving his country even for a day.
There could always be an element of surprise. Kim sent his sister Kim Yo Jong to PyeongChang for the Winter Olympics in February 2018, making her the first member of the Kim family to set foot in South Korea.
The other location could be the demilitarised peace village of Panmunjom, the venue where the two Koreas have had talks in the past.
Kim may also invite Trump to travel to Pyongyang. If Trump accepts, he may be trapped into agreeing to concessions, nullifying his core objective to make North Korea abandon the nuclear path.
On the other hand, if Kim invites Trump to Pyongyang and if Trump rejects the offer, the situation would be back to square one and the momentum would have been lost.
Whichever one looks, the glass is either half full or half empty.
The third: There is clearly an absence of Plan B, if the talks fail.
Once the top leaders' talk fails, there would be no diplomatic space left and that situation could be more serious than the one at present as the parties would harden their positions, making future negotiations more difficult. There seems to be no clarity on this.
Despite so much hype on the possible outcome of the Trump-Kim summit, the media in Pyongyang has been restrained and made no concrete statement.
Having tried to sell the Trump-Kim summit idea to the world, Chung headed for China and Russia to discuss the meeting, and South Korea's national intelligence service director Suh Hoon headed to Japan to brief Prime Minister Shinzo Abe.
Abe is scheduled to meet Trump in Washington in April ahead of the Trump-Kim summit. While Abe welcomed the 'change' from North Korea, he holds the same stance as Trump -- continue to put maximum pressure until North Korea takes concrete action towards complete, verifiable and irreversible disposal of its nuclear and missile programme. That could be the sticking point, which could make the summit rudderless.
On the campaign trail in 2016, Trump suggested he would be open to 'eating a hamburger at a conference table' with Kim.
Now that such an opportunity has arrived, how does Trump recalibrate his hard-line position: Pushing a policy of 'maximum pressure' and demanding that Pyongyang express a commitment to denuclearisation if talks are to take place?
Reconciling these contradictions could be Trump's biggest challenge.
Trump claims that his pressure policy succeeded in stopping Kim's missile programme and pushed him to the negotiating table. Even if one accepts Trump's claim, it is unlikely that Trump will stop from pushing for greater concessions. But then there are limits of how hard he can push.
If Kim feels cornered, Trump not only would not get what he wants, but his gamble could backfire as Kim could be expected to be more rigid and even return to his old trick of resuming missile launches.
Should the summit be held, it would represent the most high profile meeting between a sitting US government official and a North Korean leader since then secretary of state Madeleine Albright met the late Kim Jong Il -- Kim Jong-un's father -- in 2000.
One would expect that the mature mind of an 'old man' and an immature mind of a 'young man' demonstrate to the world that they are sane and have the same wave length when it matters most for peace in the region and the world for the sake of humanity.
The coming two months could unfold unpredictable results or unpredictable consequences or both at the same time.
Dr Rajaram Panda is ICCR India Chair Visiting Professor at Reitaku University, Japan. The views expressed are personal and do not represent either the ICCR or Government of India.