The Panama verdict will decide how Pakistan handles its leadership problems, says Aditi Phadnis.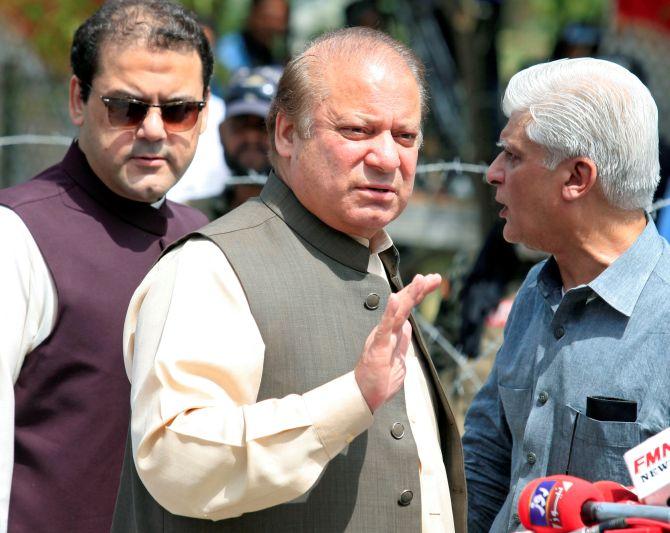 IMAGE: Pakistan's Prime Minister Nawaz Sharif, centre, speaks to the media after appearing before a joint investigation team in Islamabad. Photograph: Faisal Mahmood/Reuters
Things are not going too well for the ruling regime in Pakistan, which faces elections in the summer of 2018.
Newspapers and civil society are baying for Prime Minister Nawaz Sharif's blood after he reportedly gave 'evasive' answers to the joint investigation team set up by Pakistan's supreme court.
The supreme court has studied the report and will soon give a verdict on whether Sharif should resign on charges of corruption.
The Sharif family has decided to brazen it out: A cabinet meeting has declared that Sharif will not resign. But that his moral and political authority has been eroded is indisputable.
The upside -- such as it is -- is that the army is unlikely to intervene and will create conditions conducive to elections. It has already announced that it will accord institutions the respect due to them.
The Pakistan Muslim League-Nawaz (PML-N) cannot be defeated in Pakistan's national assembly because of the majority it enjoys.
Average middle class Pakistanis are shaking their heads and saying what a waste it is -- what Sharif could have achieved with such a mandate and what he has ended up doing with it!
What is happening on the economic front is equally interesting, if a bit depressing.
The Pakistani currency fell 3.2 per cent to Pakistani Rs (PKR) 108 per US dollar from PKR 105 per US dollar after acting State Bank of Pakistan Governor Riaz Riazuddin ordered a devaluation.
This was the sharpest fall in nine years and came on the back of falling exports, with Commerce Minister Khurram Dastgir Khan repeatedly voicing concerns about the overvalued PKR.
Riazuddin was acting in line with the observations of the International Monetary Fund, which had pointed out in 2016 that the currency -- which operates under a managed float regime -- was overvalued by as much as 20 per cent and was hurting Pakistani exports.
When the PKR was devalued, Finance Minister Ishaq Dar (who began life as a young clerk in the Sharif family's then growing Ittefaq empire, eventually cementing a marital alliance between his son and Sharif's younger daughter Asma) charged the acting governor with conspiring against the ruling family.
Within hours, he was replaced with a career bureaucrat, perceived to be loyal to Sharif. Former finance secretary and tax agency chief Tariq Bajwa, who retired at the end of June, was brought back and named the new governor of Pakistan's central bank.
Bajwa, who has been educated at Harvard, has a reputation for being upright. He was finance secretary and also the chairman of the revenue board.
There are no charges of corruption against him. But he owes a post-retirement appointment to the ruling government.
The government's critics said they had been vindicated in their doubts about the independence of the central bank when, within hours of Bajwa's appointment, the finance ministry ordered him to hold an inquiry into the circumstances of the depreciation of the PKR and file a report in 10 days.
Did it have an insider trading angle?
The devaluation itself may help Pakistan curb a widening deficit and boost falling exports.
Pakistan's trade gap has increased about 60 per cent to $3.5 billion through May compared with the same period last year.
The IMF last month said economic stability, reached under a three year $6.6 billion loan programme that ended last year, has begun to erode.
Pakistan's current account gap has more than doubled to $8.9 billion in 11 months ended May compared with $3.2 billion in the same period last year.
Falling remittances from expatriates in the Gulf have added to the country's financial problems.
Most analysts believe Pakistan will have to knock on the IMF's doors again, when it has to begin paying Chinese companies for the infrastructural costs incurred as part of the China-Pakistan Economic Corridor three years hence.
What does all this mean for Pakistan?
When investigations began into the Mossack Fonseca papers, which showed evidence of property acquisition by the Sharif family in London, Pakistan's supreme court said the evidence was 'insufficient' to make out a case of corruption against Sharif.
Leaked drafts of the JIT report suggest falsification of papers by Sharif's daughter Maryam Nawaz, 'evasive' replies by Sharif and worse.
In Pakistan, as elsewhere, smoke and fire go together.
The best case scenario is that the supreme court refers the matter to the national accountability bureau, which is headed by a man whom the Sharifs consider apna aadmi.
But Pakistan has a leadership problem.