'Will the BJP now replace a Muslim name for a street or a railway junction with Naipaul's name?'
'It is the least the party can do for its sole Nobel Prize-winning admirer,' says Amulya Ganguli.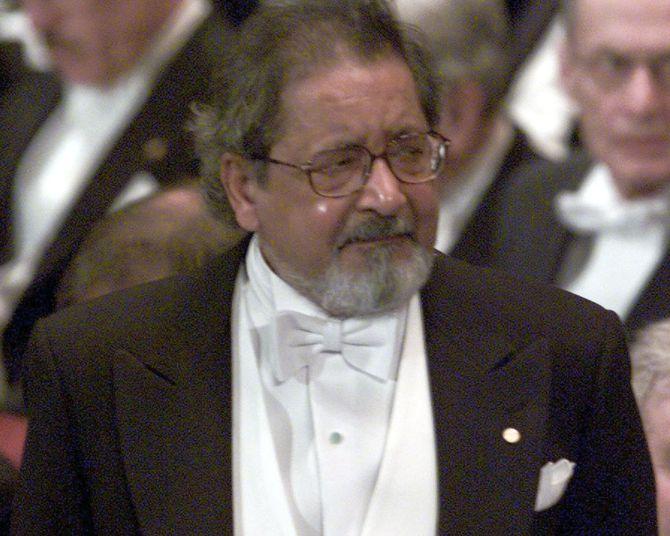 In V S Naipaul's death, Hindutva has lost an icon.
It is an irreparable loss, for there is unlikely to be any other Nobel Laureate who will echo BJP MLA Sangeet Som's view on the Taj Mahal as a 'blot on our culture'.
Like the saffron legislator who said that the monument was built by 'traitors', Naipaul saw the Taj as 'an extravagance that speaks of the blood of the people' at a time when 'North' (India) saw 'mosque on temple; ruin on ruin'.
It is probably his 'ruin on ruin' thesis which made Naipaul describe the reduction of the Babri Masjid to a ruin to make room for a temple as 'an act of historical balancing', the expression of 'a sort of passion', adding that 'any passion has to be encouraged'.
Why? Because 'actions coming out of passion... reflect creativity'.
The Hindu Right must rue Naipaul's silence in recent years on the 'area of darkness', which was India to him, when so much passion is in evidence via lynching.
Would he have seen signs of a Hindu renaissance, to use Subramanian Swamy's phrase, in these 'actions coming out of passion'?
No one knows, for he told a literary convention in Mumbai in 2012 that he would not write on India again.
It is possible that his self-imposed silence on the home of his ancestors, as he described India when receiving the Nobel Prize, is due to his mother's sage advice: 'Beta, leave India to the Indians'?
Evidently, she realised that there was something psychologically strange about her son's ranting and raving on the defecating Indians -- 'they defecate everywhere... besides the railway tracks... on the beaches... on the hills.., on the river banks... on the streets, they never look for cover'.
The obsession was odd considering that no other tourist/author has been so focussed on the locals relieving themselves.
There is little doubt, therefore, that Naipaul would have been full of praise for Narendra Damodardas Modi's prem katha for toilets, to use the title of a recent film.
More than the meeting of minds between Naipaul and the saffron brotherhood on bowel movements, it is their shared antipathy towards Muslims which is the main reason for bringing them together.
Naipaul's animus towards Muslims began in school when he 'understood that Muslims were somewhat more different than others' and that 'they were not to be trusted, they would always do you down'.
He never explained whether this distrust was bred by an interaction with a single individual or with several Muslims.
But tainting an entire community on the basis of what could not but have been a limited experience is again psychologically odd.
In this case, his mother might have said: Beta, leave the Muslims to the Muslims.
However, it is a bias which he carried throughout his life, as does the Hindutva brigade.
Hence, Naipaul's description of Akbar as 'terrible' although the undoubtedly more knowledgeable historian Sir Jadunath Sarkar called the Mughal emperor a 'genius, though unlettered and often hot-blooded'.
Here, again, we see a meeting of minds between Naipaul and the saffron camp which refuses to add the appellation, the Great, to Akbar/s name and wants Akbar Road in Lutyens Delhi to be named after Maharana Pratap, who, the Hindutva 'historians' claim, defeated Akbar in the 1576 battle of Haldighati and not the other way round as the standard history books say.
Will the BJP now replace a Muslim name for a street or a railway junction (like Mughalsarai) with Naipaul's name?
It is the least the party can do for its sole Nobel Prize-winning admirer.
It is probably not only the fact of Akbar being a Muslim which put off 'V S Nightfall', as his critic Derek Walcott called him, but the emperor's pluralism since Sir Vidia was known to despise 'multi-culti', as he derisively termed multicultural tenets.
One wonders what he would have made of France's multi-hued football team.
Amulya Ganguli is a writer on current affairs.