The stakes are high and it is not certain that slow-moving foreign office bureaucracies can measure up to the challenges being thrown up, says Hardeep S Puri.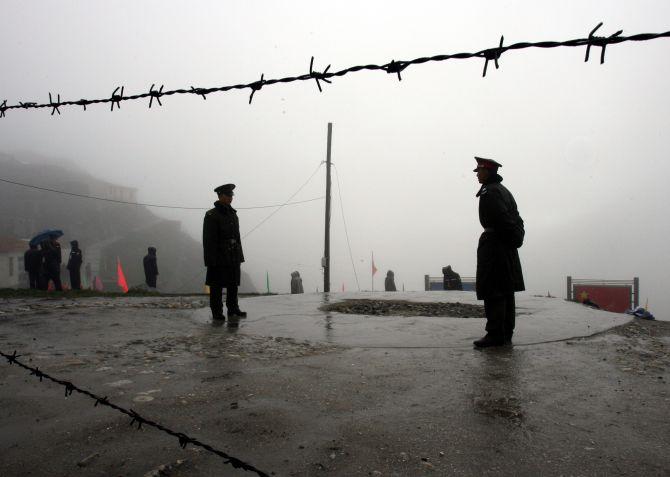 IMAGE: Chinese soldiers at the border with India at Nathu-la Pass in Sikkim. Photograph: Desmond Boylan/Reuters.
In a period of two weeks, Prime Minister Narendra Modi visited the United States, Israel, Portugal, Netherlands, and Hamburg, Germany, for the G20 meeting.
The total number of bilateral meetings with heads of state/government at the G20 was a mind-boggling nine sit-downs, two pull-asides (not counting the one with Chinese President Xi Jinping), and several other conversations with US President Donald Trump, Russian President Vladimir Putin and others.
Why were these visits/interactions so important?
Quite simply, in the short period of about six months or so, the world we live in has suddenly become a more dangerous place. This is not due to any one factor. The stakes are high and it is not certain that slow-moving foreign office bureaucracies can measure up to the challenges being thrown up.
Interactions at the highest political level assume added importance and urgency.
The US, the world's largest economy with a gross domestic product (GDP) of $18 trillion (Rs 1,170 lakh crore) has signalled a desire to go into retreat.
When it opted out of the Paris Climate Accord, very few tears were shed. The rest of the world rallied behind the accord with even more determination. Mayors of cities and chiefs of corporate entities reiterated their support.
More than the US, it is the behaviour of China, the second-largest economy with a GDP of $11 trillion (Rs 715 lakh crore), which is of concern. It is threatening the international order based on the rule of law.
Events currently playing out in Northeast Asia, its conduct earlier, and ongoing in the South China Sea and elsewhere points in the direction of China supporting North Korea and Pakistan to make three countries completely on the wrong side of the mainstream narrative.
After China leveraged North Korea's irresponsible behaviour for a while and increased its bilateral trade in the first quarter of the year by 40 per cent, the US finally seems to have caught on with hopefully a slightly better appreciation of the games underway.
The belligerent bellicosity on display in South Asia is even more intriguing.
China has a $60-billion (Rs 3.90 lakh crore) trade surplus with India and is making a major investment in an automobile plant in Gujarat.
Does that look like a country that wants to 'teach India a lesson'?
China-watchers on the Indian side have acquiesced in and rationalised its misbehaviour in the past. The outcome is then cited as a model of good border management.
Several hundred border incidents reportedly take place every year.
An explanation for the ongoing stand-off would appear to lie in developments relating to Tibet.
India, bound by its friendship with Bhutan and equally mindful of its own vital interests, decided this time to act differently. This naturally led our China specialists to ask for defusing the situation.
An apt Hindi expression 'ulta chor kotwal ko dante (the thief reprimands the police officer)' sums up the situation. The Chinese maintain that India should withdraw its troops which means that China be allowed to continue road construction within Bhutanese territory and enhance India's vulnerability.
Does China look like a country that can step into the void that might be created by a United States retreat and produce global public goods?
Would Israel and the US come to India's assistance, if hostilities were to break out with China? The question itself indicates a certain amount of delusional thinking.
We need good relations with the US for a variety of reasons. The perception of good relations with Washington helps us in our dealings with Beijing.
We also need good relations with Israel for a number of reasons, apart from cutting-edge defence technology from both. Both countries are democracies and hopefully favour a global order based on the rule of law.
Our Palestinian friends are quite happy with the de-hyphenation of the relationship.
Far more important for us, is to carefully watch how Israeli-Saudi relations develop and what impact they will have on Iran. In an evolving scenario, each country must navigate its own course.
One of the more positive outcomes of the G20 meeting in Hamburg was the Trump-Putin meeting.
We need to encourage the US to keep the Russians engaged with a gradual reduction of sanctions rather than Russia joining China in the grouping of the irresponsible.
Sixty per cent of our defence platforms are of Soviet/Russian origin. Israel accounts only for 6 per cent.
Pakistan will begin to look increasingly like a client state of China following the China-Pakistan Economic Corridor. Our ability to deal with the situation in Jammu and Kashmir will necessarily have to factor this in.
Summiteering demands focused and carefully calibrated follow-up. The Indian support systems will be severely tested in the coming months.
Hardeep S Puri is a diplomat who served as permanent representative of India to the United Nations in Geneva and New York and the author of Perilous Interventions (September 2016).