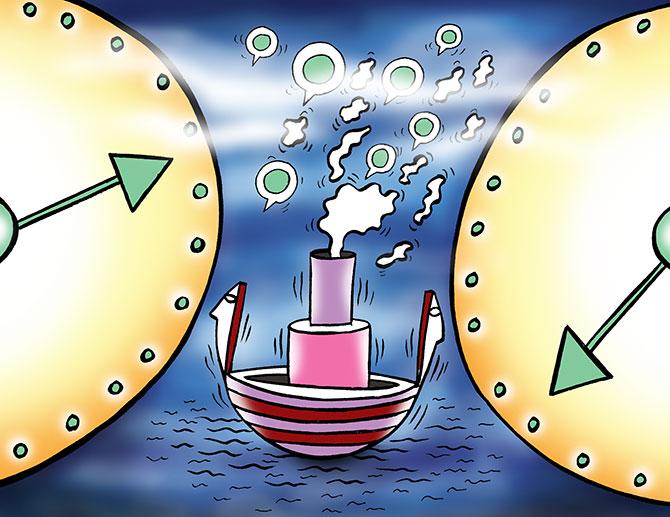 'The whats app messages came as a tsunami on to dry, sparse, corroded, forgotten parts of the brain. Thoughts, memories, faces and long erased episodes were irrigated once again and with that came a turmoil not felt in a long while.'
'In the stark difference of time zones, how does one work in a work day and when checking messages cope with the instantaneous transport to a time that was different in every possible way?' asks Girish Rishi.
Illustration: Uttam Ghosh/Rediff.com
I was born in an idyllic hilly town 100 miles from Benaras and Allahabad, barely on this side of Bihar. With me were a handful of town kids who were all born steps away. What started off as a cohort of six kids in kindergarten ended up being about fifty by high school, as classes from different schools merged. We spent 16 years of our formative years together.
There were two types of kids: The smart ones and those trouble prone. I was not in the first category.
The tradition was that after high school everyone left the town for college. It is something we all knew early on. None of our parents were from the small dwelling, all having migrated, drawn by the setting up of metal smelting furnaces. The transient nature of our life was always in the backdrop but never mentioned. We were there for a long period but not forever.
So, we all left. After all, we had all romanticised about Bhayyas and Didis who left and came back for holidays wearing clothes and a confidence foreign to all. Most of us never saw each other after 1986. We all took off to different places over the next 30 years. With one exception.
One of us went back and made the idyllic town his home. He, uniquely, has the privilege to stare at the backyard where he crawled or the swing set where he defied gravity or where he first noticed a woman in his awakened puberty or the school on the hilltop where much of our life was spent.
I, admittedly, had forgotten about most of them, although not purposely. I had met only five of them, increasingly infrequently, over the last 30 years. Slowly all those with whom I sat in classrooms were lost to the bright and aging confines of the mind.
My travels and nomadic life had successfully, and gradually, chipped away at many of those early year memories.
What were once fresh and vibrant childhood events, had over the decades, gotten layered with coats of new experiences and slowly my origins laid somewhere beneath a large haystack of reminiscences.
I only remember grey hair on a man's chest, that of my father's. Now, at times on a slow morning I look at my chest in the misty mirror and notice the same, only to momentarily slow down and try to recognize the person in the mirror.
As years went by, any periodic intrusions of those very early years were shunned away with an omnipresent 'Do Not Disturb' sign. Now the distant past was so foreign that it felt as if it never happened.
There were those very rare moments over the last 30 years when we came together over an adrenalin heightened, jet lag infused hours, but there was an im-permanence to those moments.
You met, laughed, joked, talked about teachers from many years ago, kept checking your messages on your mobile and then left. You left all of that and them behind to their lives as yours called out.
And then one day a text came. From that lone friend still in the idyllic town, that one morning a few weeks ago, created a stir. It was like any other morning at 9.30 am in the confines of a cemented building on a prairie road of America. It was an atypical exchange between us as we have had almost 50 years of light banter behind us.
Friend: Kya haal hain pyaare
Me: Wah wah kya baat hai bhayya aap ka text. Talked to XYZ who is in the states dropping her son off
Friend: I know...she completed her silver just a day ago
Me: How old is your son? 4 or 5?
Friend: Will be 5 in Dec
Me: Cool. Terrific age.
Friend: Why don't u join our watsap group of classmates...(Censored)
Me: Perhaps that is the reason. (Censored)
Friend: Its half our lives gone... buddy. (Censored)...
Me: I have opted out of all groups because of work reasons and restrictions. But yes invite me in. Will join.
Friend: I will ask...its great to get connected with ur childhood again...nearing the last lap...I don't participate actively but u come to know about everyone their wellbeing etc...that's reason enough.
It was a call to come together on WhatsApp with those with whom I once played and ate in our Kibbutz dirt, laughed away the periodic depositions and took seriously the wild pranks we concocted.
Having avoided all the temptations to join Facebook, Twitter, Instagram and every other social network, I gave in on an impulse. I joined the WhatsApp forum and instantly found myself lying buck naked, sucked in the vortex of uninhibited mental impregnation by all.
Thereafter, the whats app messages came as a tsunami on to dry, sparse, corroded, forgotten parts of the brain. Thoughts, memories, faces and long erased episodes were irrigated once again and with that came a turmoil not felt in a long while.
How does one live in the present and keep checking the whats app messages and get swarmed by mental waves that arouse long dormant brain cells, bright moments of over 30, 35 years ago?
In the stark difference of time zones, how does one work in a work day and when checking messages cope with the instantaneous transport to a time that was different in every possible way? The frozen images of boyhood and adolescence shattered by affirmations of great lives formed and those lost, two in particular for ever.
A gasp as each photo popped on the message service showed latent physical familiarities -- the eyes, the smile, the posture. Those young girls and boys, the memories as fresh as yesterday, now married and with grown children. Thick mustaches around what I remember as innocent faces, the sound of an organ from one musically inclined, empathetic outreaches from a few to whom I remember being unkind to, every new entrant to the whats app market square received with a cheer, the Federer vs Djokovic US Open rekindling our own days on the court at 40 plus degree Celsius days, the banter over cricket between friends, the photograph of the stern faced girls in sari on teacher's day and the picnic far away from home at the age of 10 where we were shoulder locked.
Slowly most are joining the forum. But two never will. The two most brilliant and the mildest of us all, with generous smiles, did not live long enough to join this slowly aging, bantering, reminiscing group. We toasted them, however.
For me, this forum has me trapped. I have likened myself being a boat without an anchor and will break free, it is only a question of time. As that thought arose, a friend shot back a message:
"You are talking like a novice to this stuff. You can choose your time to check msgs."
But, I can't. The effort to live for the future while being drawn to the remote past is too exhausting. The mental tug of war too straining.
But before I leave, eventually, I am happy that I have once more met my childhood contemporaries... albeit only on the binary waves of a digital medium. There is only one proper way to end this and it is with with the opening lyrics of the Beatles song I am the Walrus... I am he as you are he as you are me, And we are all together...
Girish Rishi is a Chicago-based essayist.