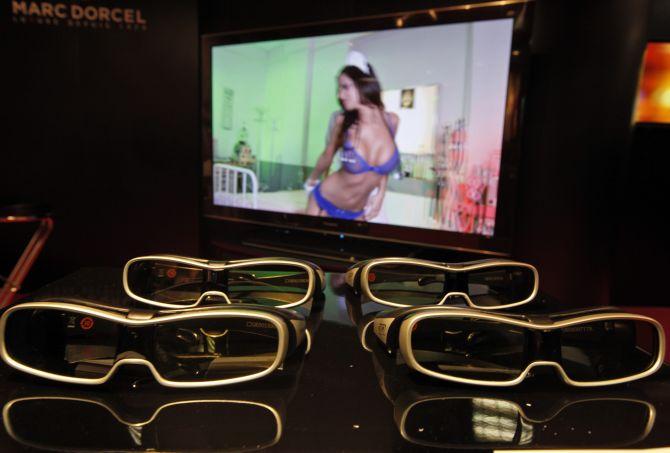 The decision to rethink the ban on porn Web sites is the latest reversal of decisions by the Modi Sarkar. Has the Modi Sarkar become a regime of U-turns, asks Syed Firdaus Ashraf.
Prime Minister Narendra Modi's government seems to have backtracked on its move to ban porn Web sites.
The ban will now be restricted to child porn and hardcore porn Web sites whereas other porn sites can be viewed.
So what was the urgent compulsion for the government to first ban access to porn sites and, when the protests grew, make a U-turn on the issue?
Answer: Because the government found it had become the butt of jokes on social media where Modi bhakts were for once at the receiving end.
Just look at some of the jokes that went viral:
'An unreliable source informed me that the government wanted to ban pork after banning beef. Due to a typographic error they ended up banning porn'
'Na Dekhunga, Na Dekhne Dunga' (I will neither see, nor let others watch -- a takeoff on Modi's statement, Na Khaoonga, Na Khane Doonga (neither I will be corrupt nor will I allow others to be corrupt).
One wit posted porn star turned Bollywood actress Sunny Leone's picture and stated, 'A visionary who anticipated tough times ahead and had a shift in her career'
Then there was the hark back to the government's pet subject, India's ancient heritage: 'If Kama Sutra were written today, it'd be banned. If Ajanta or Khajuraho were built now, the govt would send bulldozers'
'Banned Maggi and Porn. Basically government is against anything which gives you pleasure in 2 minutes'
'Forget about Achche Din, even Achche Raatein is now snatched from the public'
The porn ban was preceded by novelist Chetan Bhagat's column on who exactly is a bhakt. He wrote: 'An inferiority complex ridden Indian male who is sexually frustrated, ashamed of his background and has poor ability in English is vulnerable to transforming into a true bhakt.
Notice the 'sexually frustrated' bit. Surely, the porn ban cannot strengthen their, well, case.
When the issue of Net Neutrality came up, and the government was seen to be dithering over whether to go with Internet users or telecom companies and parts of the online world erupted in indignation, and #SaveTheInternet became a rallying online war cry for the Indian Internet class, the government made a quick U-turn and decided it would not favour the telcos, but support Net Neutrality.
This decision was not preceded by any illuminating debate on what was the right course and why. What forced the government's hand was online outrage, and that it didn't want to be socked with another 'suit-boot ki sarkar' tag.
Soon after the Modi government took over last year, it announced a huge hike in train fares, including for Mumbai's suburban trains. With Maharashtra assembly elections staring it in the face and Mumbai commuters being a powerful voting bloc, the decision was rolled back almost pronto.
This government apparently first floats a trial balloon to see what the public reaction to its policy decisions is and if they see the tide is against them, instant course correction follows, which, to lesser mortals like you and me, comes across as U-turns.
Another trial balloon went up when Maharashtra Advocate General Sunil Manohar was arguing in favour of the state government's decision to ban beef in the Bombay high court. Justices V M Kanade and A R Joshi asked Manohar: 'But what about other animals like goats?'
Manohar, speaking on the state government's behalf, said, 'This is just the beginning. We may consider banning the slaughter of other animals too.'
Surely, the state's top legal officer's comment could not have been an off-the-cuff one, and naturally led to a hue and cry that Maharashtra was all set to ban other meat as well.
The very next day, Maharashtra Chief Minister Devendra Fadnavis told the state assembly, 'I have spoken to the advocate general. He has said his statement in court has been misinterpreted.'
Within 24 hours it was announced that other meat products would not be banned in Maharashtra.
A trial balloon followed by a U-turn.
Next to follow was the issue of a liquor ban. The Maharashtra government, it was announced in July, was considering a ban on liquor sales in the state. Three districts -- Gandhian Wardha and Naxal-affected Chandrapur and Gadchiroli -- already had such a ban in place.
After much rage (can you imagine the Maximum City being dry!), Fadnavis clarified within 24 hours that there was no plan to ban liquor.
But there is one decision the Modi government or its branches in Haryana and Maharashtra will not roll back despite all the protests, all the criticism.
Its ban on beef.
Do you really need an answer why this decision will not be reversed?
Please note: The image is published only for representational purposes. Photograph: Eric Gaillard/Reuters