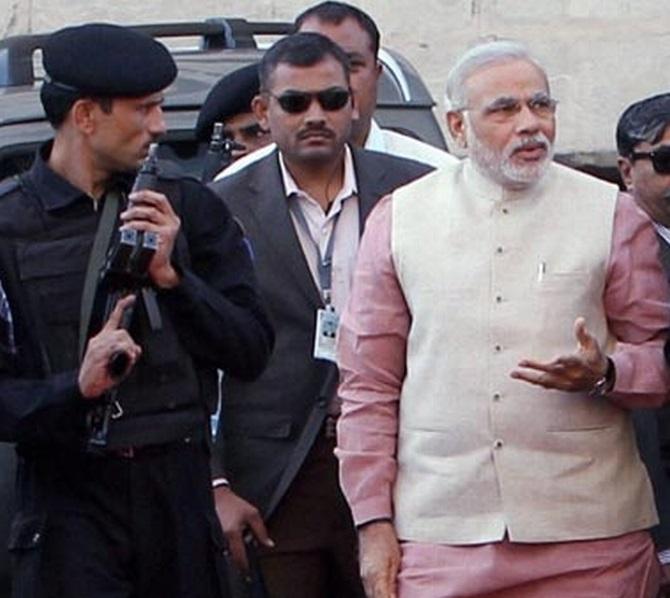 The people in charge of the prime minister's security need to shift the emphasis from the numerical (the number of policemen deployed) to technology-based solutions to sanitise the area where he lives, works and during his road journeys, says Anil Chowdhry, former secretary (internal security), ministry of home affairs.
All eyes were glued to the television channels when Narendra Modi and his Cabinet were sworn in at the Rashtrapati Bhavan forecourt on May 26 evening. An unprecedented number of invitees braced the scorching sun and sweltering heat to witness the long, repetitive, and rather boring ceremony.
In another first, heads of South Asian Association for Regional Cooperation countries were invited and were present at the investiture. Why? Simply because Modi has revived hope, not only among his own countrymen, but throughout South Asia. The man has certainly made history.
After two successful terms as chief minister of Gujarat, and beginning the third, he turned his gaze towards New Delhi -- he worked hard and dexterously to win a spectacular electoral battle, leaving his opponents in a state of shock, awe and despair from which they shall take a long time to recover. Modi's meteoric rise as a public figure at the national level has created synergy in our country, not witnessed in a long time.
More than 1.25 billion people, cutting across caste, linguistic and other sectarian barriers, are now looking up to him to put the country back on track. I have no hesitation in accepting that the United Progressive Alliance government simply could not put its act together in key areas, including development and internal security. Full marks to the Indian voters who have shown the door to the UPA and the Congress.
While I share the general mood of optimism of my countrymen, as a former internal security and VIP security professional, I am compelled to record this note of caution in an area not adequately in public knowledge.
Our new prime minister, in my view, faces a level of threat to his personal security higher than most PMs of the past, and also perhaps among all heads of government globally (the SAARC bonhomie notwithstanding). This is based on my perception of the security scenario of our sub-continent.
Although he will now try to shake it off, he does carry a baggage of being pro majority community and not particularly well disposed towards the minorities. This makes him a target of hardline Islamic fundamentalists and terrorist groups, at home and abroad. We saw evidence of this in attempt to disrupt his election rally in Patna by causing bomb explosions at the venue.
A compounding factor of threat to him is the presence of very resourceful and influential elements across the border, who have vowed to wage a low cost proxy war to destabilise India by inciting terrorist violence and creating strife.
To achieve this, they use their highly motivated, trained and equipped agents/sleeper cells, awaiting the signal to move and carry out jihadi and even fidayeen (suicide) attacks on the indicated target.
The emergence of Modi as a resolute leader, determined to build a strong and united India, shall be anathema to such elements, who may be expected to step up their efforts to prevent this by striking at its very foundation -- Modi. God forbid, if they succeed they would plunge the country into chaos/darkness, and set us back by at least one decade on the growth front.
This scenario underscores the need for greatest caution on the part of our new PM and highest vigilance coupled with professional tools and skills by those responsible for his security, mainly the director general of the Special Protection Group and his team, particularly officers deployed on the prime minister's proximate (close) protection duties.
Similar vigilance would need to be exercised by other state and central police forces required to provide the outer security rings to make sure that no hostile element or harmful object is able to penetrate his sterile zone at any time, at home, work and during his travels to different parts of the country and abroad.
The present DG, SPG is rated high professionally. I wish him all the luck. The Intelligence Bureau and its operatives spread over the length and breadth of the country would, of course, have to play a key role behind the scene in this task by launching intelligence operations to unearth cells conspiring to harm our prime minister.
Thankfully, the most vulnerable phase of protection of a popular leader in India -- electioneering -- is over. The exposure to unchecked crowds during this period heightens the threat to popular leaders. In this context, Rajiv Gandhi's assassination at an election rally in Sriperimbudur may be recalled.
Watching on television, Modi mixing freely with unchecked surge of admirers during his road journeys after his victory sent shivers up my spine as a former VIP security professional with some 15 years of experience. But now I do hope that he will cooperate fully with those charged with the responsibility to protect him, not only for his own sake, but also for the sake of the country. I am told by my friends, who have worked with him in Gujarat, that he is fairly security conscious.
If we were living in the Western world, our precious PM could have been protected better by restricting his appearances before the masses through the electronic media and making him travel from place to place in helicopters or Air Force One. But this is India where the people want not only to see, but also touch their heroes.
In such a scenario, VVIP protection is indeed a daunting task. The assassin has the surprise factor in his favour; he chooses the time and place to strike and carries out several dry runs to minimise the chances of failure.
But the protectors have to be prepared to prevent and repulse such an attack and protect their principal every minute, every hour of the day and night, even in hostile and difficult terrain.
One suggestion from my side to shore up the security arrangements for the PM is to shift the emphasis from the numerical (the number of policemen deployed) to technology-based solutions to sanitise the area where he lives, works and during his road journeys.
Use of cutting edge technologies are available globally, like x-ray scanners, metal and explosives detectors and CCTV networks by highly trained, alert, fit and motivated security personnel alone can deliver the high-end security cover that our PM deserves.
Unfortunately, however, our police forces are trapped in the 'bandobast' syndrome (a colonial legacy) of flooding a VVIP zone with hundreds of policemen, lulling ourselves into a false sense of security. This must be given up and fast.
Anil Chowdhry is former secretary (internal security), ministry of home affairs and special director, Intelligence Bureau.