The Congress sent in Rahul Gandhi to play Aamir Khan at the FTII, but it turned out that he played Imran Khan instead, says Malavika Sangghvi.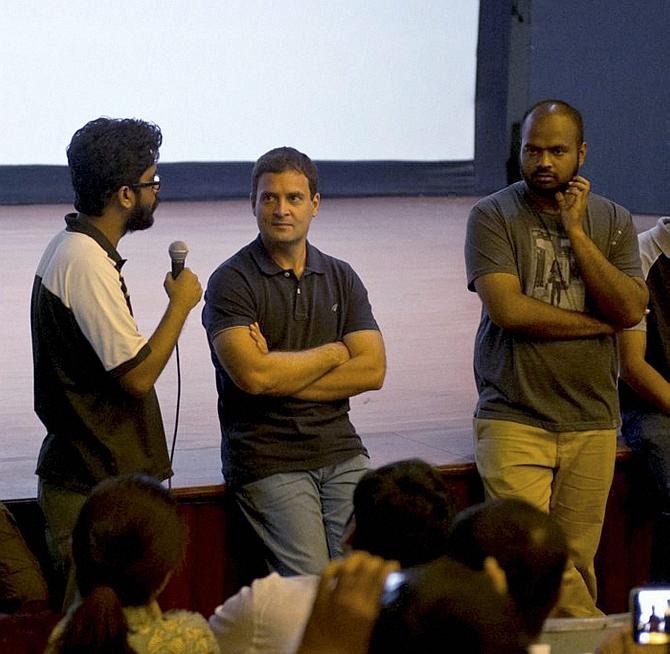 In purely filmic terms, the Rahul Gandhi's appearance at the Film and Television Institute of India to show solidarity with the striking students, who are opposing the appointment of Gajendra Chauhan as their chairman, would be the arc of the plot.
You have a young hero, blue jeans, Polo tee, showing off his impressive biceps making common cause with a beleaguered bunch of young people.
Our hero enters the den of vice, where they have been protesting for 50 days, punches a few villains, shows off his dimples, and emerges victorious after a song and dance.
By making common cause with young students, Gandhi's handlers must have imagined the scene would play to his strengths.
Narendra Modi, Chauhan and the bogey of the Rashtriya Swayamsevak Sangh traditionally would be seen as natural villains, given that students are known to be left leaning in the heady days of their youth. (If a man is not a socialist by the time he is 20, he has no heart. If he is not a conservative by the time he is 40, he has no brain, as is widely believed).
But as happened on Friday, they were let down by their dialogue writer.
When a man who can barely string two sentences together says things like, "You are taking somebody who is mediocre and putting them on top of somebody who doesn't want to be mediocre," or, "Only the PM decides in the Bharatiya Janata Party, only one man has the power," it must assume a very low standard of intelligence of their audience by the scriptwriters.
As I write this not a few hours after Gandhi's outing at FTII, the social media is already rife with much rolling of eyeballs and general hilarity. The irony of Gandhi taking on the cause of meritocracy has not been lost on anyone.
The Congress is full of very competent and senior talent.
In the national scheme of things, the FTII strike is a small affair, regardless of the fact that it may be symptomatic of a larger RSS plot to usurp educational institutions and infect them with its highly toxic ideology.
But it speaks of the paucity of vision that the Congress's vice-president and future leader has to be shepherded to causes such as these because they are the only ones where he may find a sympathetic crowd.
What about the Congress great minds and orators like Shashi Tharoor, Kapil Sibal and Salman Khurshid? Why haven't we heard them speak out against the Vyapam scam and the Sushma Swaraj, Vasundhara Raje or Pankaja Munde episodes?
Why is it that only Gandhi is being sent out to battle the ruling party and that too for causes that most believe are being cherry picked to show him in the best light?
There is no doubt that there is a great national disappointment over BJP's performance.
Its sins of omission and commission and its reneging on electoral promises of acche din have greatly underwhelmed the electorate.
But Gandhi is not -- however much his mother wants him to be -- the only person who can take the battle into the enemy camp, especially not when he's given a speech so easily shot down.
For an epic battle to turn the situation in its favour in true Manmohan Desai style, the Congress needs to call in its other stars. Because, as it was clearly visible, they sent in Gandhi to play Aamir Khan at the FTII, but it turned out that he played Imran Khan instead.
Image: Congress Vice President Rahul Gandhi with the agitating students of the Film and Television Institute of India (FTII), in Pune on Friday. Photograph: PTI Photo