Unlike Bofors, on Rafale, all sides agree that it was the best aircraft to buy.
The only plausible charge right now is cronyism.
Why give the benefit of offsets to a corporate buddy with no experience of defence production?
While cronyism is awful, is it bad enough to convince that critical mass of Modi voters to turn against him now, asks Shekhar Gupta.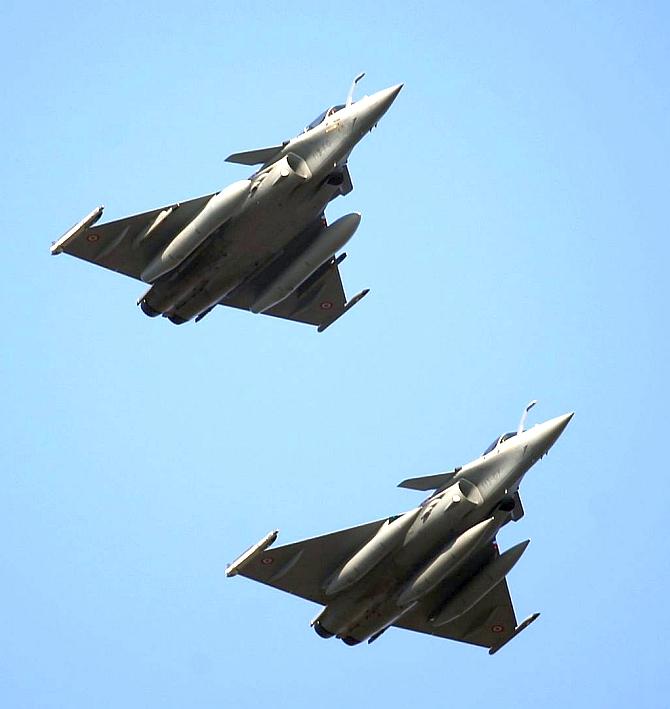 Prime Minister Narendra Modi's harshest critics don't yet say that the Rafale has become his Bofors. But they believe they are on their way, that it has the potential to be the silver bullet, the Brahmastra to bring down one who looked unbeatable till a few months ago.
Just a couple of things, they say, are still missing.
First, not enough people in the 'countryside' know about Rafale -- a recent India Today Axis-My India poll showed that in Uttar Pradesh only 21 per cent know what the Rafale is.
For this, obviously, we journalists are to blame.
Second, that there is no leader with V P Singh's moral authority to take the message to voters convincingly.
The Congress and Rahul Gandhi are particularly unsuited as the shadow of Bofors and many other scams hangs over them.
The Opposition, especially Rahul, has decided to make Rafale the central pylon of its 2019 campaign. With this, they will hang the charge of larger corruption and cronyism.
If Modi can be in a crony relationship with a controversial businessman with so many companies in deep distress, can you ever expect him to say no to the more successful, and richer ones?
To circle back to the old 'suit-boot ki sarkar' formulation, they need the Rafale at the heart of the compass.
The Opposition rues that it does not have the media, no equivalent of Ram Nath Goenka's The Indian Express of the Bofors years, to build public opinion, to wave it in Parliament.
All they have are two individuals with impeccable personal reputations -- Arun Shourie and Prashant Bhushan.
Now, Rahul isn't the horse to be put at the head of this Ashwamedha, and nobody from inside Modi's Bharatiya Janata Party has yet rebelled.
Check out your political history. It was the rebellion of trusted stalwarts Jagjivan Ram against Indira Gandhi and V P Singh against Rajiv Gandhi that changed the equations in 1977 and 1988-1989 respectively.
To expect another V P Singh to rise from some place is unrealistic.
One, because V P Singh had the double sheen of being personally incorruptible, and of sacrifice, having given up a top Cabinet position.
Second, while he was no orator in the class of Modi or Atal Bihari Vajpayee, he turned out to be a wizard on translating a complex defence deal into a metaphor the heartland voter would understand even 30 years ago.
He resigned from the Cabinet in 1987, just as Rajiv's decline began, resigned his Parliament seat and decided to contest the bypoll from Allahabad.
There was a special oomph about the constituency because Amitabh Bachchan had just vacated it under a Bofors-related payoffs cloud.
The setting was perfect, but his friends and enemies were both dead sure he wouldn't be able to make Bofors an issue. How will the poor villagers relate to something so esoteric?
Singh cracked it in style. He campaigned -- in peak summer -- on the back of a motorbike, a gamcha around his neck much like activist-politician Yogendra Yadav does today, and asked people at villages en route a simple question: Do you realise that Rajiv Gandhi has burgled your homes?
Then he would pull out a matchbox from his kurta pocket and hold it up -- see, this is a matchbox. When you buy one to light your bidi or hukka or the kitchen chulha for 'char annas' (25 paise), about one-fourth goes to the government as tax.
With this, the sarkar builds your schools, hospitals, roads, canals and buys guns for your army. This is your money. If somebody steals some of it, and that too while buying guns for the army, isn't it like your house being burgled?
Bofors was more about Singh's story-telling than facts in the end.
Rajiv Gandhi says he has a certificate from Bofors that he's been given no commission, he said. And then asked, isn't it like a lunatic who flourishes a certificate from a mental asylum saying he's sane and asks you how can you be sane if you don't have one?
Or, to convince people that only Rajiv could have taken this Bofors commission, he would tell this story: In a circus, a lion, a horse, a bull and a cat lived close by.
One night, somebody opened the cages. The next morning the owner found the carcasses of the horse and the bull. You think anyone had doubts who had eaten them?
The lion or the cat? If such big money has been eaten here, will some petty cat eat it? Only a lion-sized thief, Rajiv.
And finally, the killer blow at Rajiv's smiling pictures in Congress hoardings: I don't know what he is laughing about, 'Apni chaal par, hamaare haal par, ya Switzerland ke maal par (on his deviousness, our plight, or the wealth stashed in Switzerland)'.
I can't promise to bring you canals or tube-wells, he'd say, but I will surely fix the plumbing from where your wealth is leaking.
Singh's genius is never to be doubted. But his pitch also worked because he had a good case, and the Congress had a product in steep decline, Bofors or no Bofors.
The Opposition doesn't have a V P Singh today. But is Rafale a story anywhere near as strong as Bofors yet?
There is a vital difference between Bofors and Rafale. Unlike Bofors, on Rafale, all sides agree that it was the best aircraft to buy.
Because the Congress had selected it.
The charge, on the contrary, is that the Modi government is buying just 36 instead of 126.
On Bofors, V P Singh could say with a straight face that when troops fired the first Bofors gun, it fired backwards, killing many of their own. Nobody can say this about Rafale.
The second difference, as T N Ninan said in a column, there is still no smoking gun like Bofors.
The statement by (former French President) Francois Hollande is a far cry from the Swedish National Audit Bureau finding commissions paid to three dodgy accounts in Switzerland with Indian links.
The only plausible charge right now is cronyism.
Why give the benefit of offsets to a corporate buddy with no experience of defence production? However, while cronyism is awful, is it bad enough to convince that critical mass of Modi voters to turn against him now?
That is the limitation of the Rafale campaign.
V P Singh was brilliant. But he had a great slogan too: 'V P Singh ka ek sawaal, paisa khaya kaun dalal? (V P Singh has one question: Money has been swallowed, who is the broker?)
It worked because you believed that money had indeed been 'eaten'. The Opposition is very far from that on Rafale.
And finally, the complaint with the media. Rajiv Gandhi was the first powerful prime minister in whose destruction the media, much smaller then, played a central role. It is easy to say now that all journalists are compromised or afraid of Modi. So, what can you expect?
But you need to have the humility to concede that the media, today, doesn't have a story like Bofors.
Second, Modi's graph may be in decline but he isn't as unpopular as Rajiv had become by 1988, after many missteps, so charges don't stick yet.
Third, there is no rebellion in the BJP. Yashwant Sinha, Kirti Azad and Shatrughan Sinha aren't V P Singh.
And the last, that journalists are chastened by Bofors, where three decades have passed without a kroner being recovered or anybody found guilty.
The bar of scepticism on defence scandals is now set higher.
By special arrangement with The Print