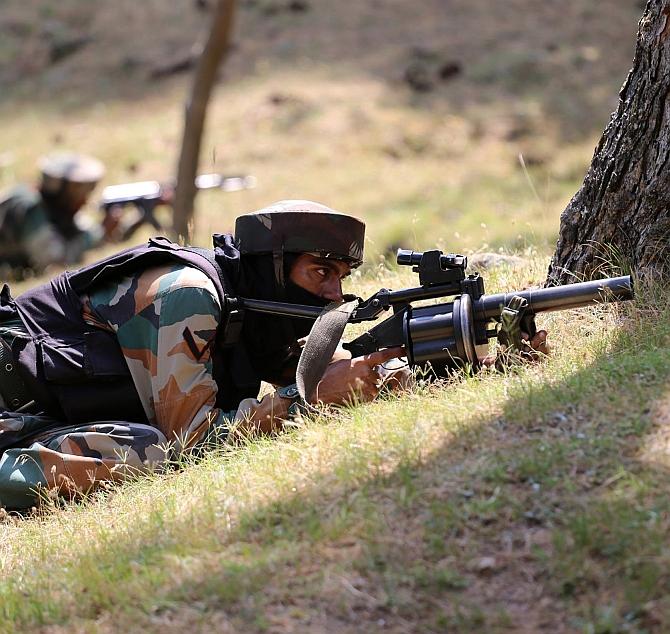 'Pakistan will try to escalate covert operations through terrorism,' says Dr Shalini Chawla.
On October 2, terrorists attacked the 46 Rashtriya Rifles camp in Baramulla district in Jammu and Kashmir. During the gunfight, one Border Security Force trooper was killed and another was injured.
Baramulla lies between Srinagar and the frontier settlement of Uri, where on September 18, terrorists from the Jaish-e-Mohammad attacked a highly guarded army camp in an Indian Army brigade headquarters, killing 19 Indian soldiers.
On September 29, the Indian government announced that the army conducted surgical strikes in retaliation to the Uri attack in Pakistan occupied Kashmir, targeting at least seven terrorist launch pads.
However, Pakistan has been in complete denial of the surgical strikes. Islamabad underplayed the strikes and called it an 'illusion' being deliberately generated by New Delhi. Pakistan has in fact mounted an international effort to deny the strikes.
Maleeha Lodhi, Pakistan's ambassador to the United Nations, said India was 'trying to provoke a crisis with Pakistan' and the development is India's effort to divert attention from Kashmir.
Firing at the LoC is not surprising and Pakistan's much expected response in fact helps confirm India's surgical strikes. Pakistan has been talking about not escalating the crisis with India and a conventional response is not an option with Islamabad at this point in time.
The Uri attack generated tremendous public outrage in India demanding action against Islamabad. At the international level, to Pakistan's surprise, the attack was condemned universally. Pakistan Prime Minister Nawaz Sharif, in his attempt to balance adverse international reaction to the attack, said the incident in Uri was a reaction to the unrest in Kashmir.
India strongly demanded global isolation of Pakistan, which has repeatedly proven itself as a breeding ground for extremism, owing to its belief in terrorism as a foreign policy tool and being used by it against India and Afghanistan. Pakistan faced global criticism and a bigger humiliation for the nation was the boycott of the SAARC summit scheduled to be held in Islamabad.
Pakistan army chief General Raheel Sharif is scheduled to retire in November and it may be unlikely for him not to plan any form of retaliation to India's surgical strikes.
General Sharif has a strong anti-India agenda, which is strengthened by the fact that his uncle and brother were killed in the 1965 and 1971 wars respectively. He has projected himself as a crusader against terrorism and corruption, and is extremely proud of the Zarb-e-Azb anti-terror operation launched on June 15, 2014 in North Waziristan against Tehrik-e-Taliban Pakistan.
He is popular in Pakistan, enjoys a larger-than-life status and his dilated image got a setback with India's counter terror strikes. Although General Sharif and Nawaz Sharif are at loggerheads regarding the choice of the next army chief, they do not differ too much in their anti-India stance.
No matter who the next Pakistan army chief is, its strategy to 'bleed India' will remain unaltered.
Pakistan has opted for a three dimensional approach in its strategy towards India:
Conventional Level: Pakistan has tried hard to attain parity with India in terms of the military build-up. All four wars have been initiated by Pakistan.
Sub-Conventional level: Pakistan opted for the covert war option as early as 1947 when it launched its first aggression in the name of a tribal revolt. Pakistan exercised the covert option in the 1965 War and also during Kargil in 1999. It has relied on the strategy of terrorism for more than six decades.
Nuclear level: For nearly three decades, Pakistan has relied on nuclear weapons to conduct its grand strategy (of indirect approach) against India. Nuclear weapons are perceived as providing a foolproof guarantee of its sovereignty and survivability.
It has been most confident of the 'sub-conventional approach' which, in its mind, is shielded by its nuclear weapons and its excessive reliance on the 'first use' doctrine.
Since the prime objective of the nuclear weapons has been to neutralise India's conventional capability and also to avoid Indian retaliation to Islamabad's acts of terror, Pakistan's adoption of the first use doctrine was not surprising.
Pakistan seeks to deter any conventional response by India through its nuclear weapons and uses the nuclear card rather often. It has relied on nuclear weapons and terrorism as a State policy tool and is likely to continue to do so as it has failed to build other strengths.
Pakistan has been unable to deal with its fundamental challenges and it significantly lags behind India on most parameters of national security. It has been struggling with the problems of rising extremism in its society, low growth and unemployment. Its reliance on terrorism and nuclear weapons to wield its power emerges from its weaknesses within.
India took a strong diplomatic and military stance in response to Pakistan's act of terror. The question is: What is the strategy Pakistan is likely to adopt now? Will it alter its strategic calculus and rethink its India strategy?
Given past experience and the current scenario in Pakistan some inferences could be drawn regarding Islamabad's likely behaviour:
Pakistan will try to escalate covert operations through terrorism with varying intensity. It is not ready to alter its strategic calculus and it would continue to support anti-India groups. It will continue with its posture of deniability for the covert operations.
Islamabad's reliance on nuclear weapons is likely to go up with the increasing tensions between the two countries. For Pakistan, nuclear weapons are the ultimate guarantee for its sovereignty and survivability and it will continue to use the nuclear card as a shield to its acts of terror. Projection of irrationality with a low nuclear threshold would continue with 'excessive' reliance on tactical nuclear weapons.
Pakistan's conventional military capability has gone up significantly in the last three decades with Chinese support. Focus on the military build-up will continue for Islamabad.
Although Pakistan would not opt to fight a conventional war with India at this point in time, build-up of its military capability would enhance its psychological will to continue conducting covert operations.
Dr Shalini Chawla is Senior Fellow at the Centre for Air Power Studies, New Delhi.