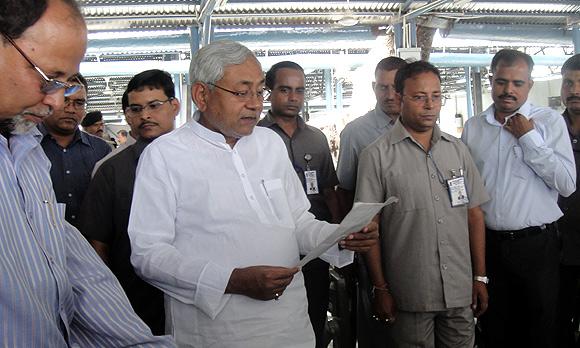 The 'secularists'are more adept at the politics of intense and alarmingly exaggerated fear-mongering, as this kind of politics provides easy votes of Muslims without making them answerable for the concrete issues of poverty, unemployment, lawlessness, and of basic needs like roads, electricity, etc, which is exactly how Nitish Kumar was defeated in the elections, says Mohammad Sajjad.
How does one make sense of the Lok Sabha election verdict in Bihar, where the performing incumbent regime of Nitish Kumar's Janata Dal-United got a humiliating drubbing?
To see it in perspective, the JD-U secured only 16 per cent of the votes, much lower than the thoroughly discredited Rashtriya Janata Dal won.
RJD chief Lalu Yadav cannot even contest elections as he has been convicted for corruption, and whose 15-year rule (1990 to 2005) is remembered more for lawlessness and for arrogantly and dismissively mocking at providing basic minimum things like roads, electricity, public health and public education.

In June 2013, when the JD-U's eight-year alliance with the Bharatiya Janata Party was broken by Nitish, it was expected that the 16.5% Muslims would come back to the JD-U along with the Most Backwards -- the Ati Picchrha (32%), and the Mahadalits (21 out of 22 communities, making 12% of Bihar's electorate; it excludes only the Paswans/Dusadhs, who constitute around 4% of the electorate), besides his own Kurmis, whose significant proportion is confined to only one Lok Sabha seat, Nalanda, Nitish's home turf.

Out of the 41 communities of Muslims, around 37 are listed as Backward (Pasmanda), and of these, 28 have been listed by Nitish among the Most Backward (Ati Picchrha), a few of whom demand inclusion in the Scheduled Castes.
In the elected rural and urban local bodies, the Nitish government has given reservations to these categories, because of which their members got significant representation in these bodies and tasted political empowerment, besides economic uplift through many more flagship schemes for all such hitherto subjugated groups.

Despite the fact that this was seen as a formidable winning electoral combination, and despite the fact that the performance of Nitish's government is appreciated by all, it did not translate into votes in Election 2014. This was aptly put by Indian Express Editor-in-Chief Shekhar Gupta in his pre-poll report that nobody is holding even a 'Thank you' card for Nitish, even though they are not dissatisfied with his performance as chief minister, so much so that they do admit that they will vote for him in the 2015 assembly election.

Till the end of March 2014, talking to a common electorate, across communities and castes, there was quite a mood to vote for the JD-U. By early April 2014 (six out of Bihar's 40 Lok Sabha seats first went to polls on April 10), it started becoming the talk across Bihar, more particularly among Muslims, that nobody, not even Nitish's Kurmis, is with the JD-U so it would be a sheer wastage of votes if one votes for it.

So what should a Muslim do? Lalu's RJD got the formidable and vehement support of Yadavs (12% of the electorate), and that combined with Muslims would form 28 to 29%, hence Muslims, at least in this election, in order to stop Narendra Modi, should go with the consistently vocal opponent of the BJP, and hence 'secular', Lalu, notwithstanding his: wilful failure on all other fronts of governance and development, and Yadavisation at the expense of all other subjugated communities, and concentration of power within his own family.

The Ati Picchrha and Mahadalits are neither vocal and assertive nor consolidated/cohesive. They have the least number of middle classes among them. Generally, the Indian electorate votes for winning. In this context, as these groups saw the Muslims flamboyantly going for the RJD en bloc, the Ati Pichhrha and Mahadalits were left with no choice but to similarly rationalise things that whie Nitish can be thanked in the assembly polls, at the moment let Modi become the prime minister.

The political 'think-tanks' of Bihar Muslims did not let their community realise that a mere 28 to 29% vote cannot make a winning combination. They also didn't let them realise that once Muslims go back to Lalu, the Ati Pichhrha and Mahadalits will move towards the BJP whose alliance with Upendra Kushwaha, a Koeri, and with Ram Vilas Paswan was going to become invincible.

Rather, these Muslim 'think-tanks' of Bihar remained very arrogant and disproportionately confident about their tactical wisdom in voting.

Why and how did this happen? Who started misleading Bihar's Muslims, roughly, as late as April 2014, and what was the modus operandi?

The Congress, in the midst of strong public ire, after much vacillation, once again aligned with the thoroughly discredited RJD and decided to lose its ally the LJP who went over to the BJP. Then began a high-decibel campaign of 'much exaggerated' fear-mongering about Modi and that Nitish may rejoin the National Democratic Alliance after taking Muslim votes in the Lok Sabha elections.
Nitish was also speaking only against Modi, not against the NDA as a whole with whom he had remained for 17 years. Moreover, JD-U President Sharad Yadav kept disapproving of the break-up of the JD-U-BJP alliance. All this helped the Congress-RJD to convince Muslims against the JD-U, even though fairly good numbers of Muslims had voted for Nitish in the 2010 assembly election even though he was then in alliance with the BJP.

Nitish had won over the underclass of 'educated' Muslims, the vernacular intelligentsia, the employees of the madrasas of the Bihar government whose salary and pay perks, dearness allowances, etc, were made on par with other government schools permanent teachers. But this all vanished under the campaign of defeating Modi.

In fact this politics of fear-mongering, at least for the moment, dissolved the Pasmanda identity, made them forget the politics of social justice, and they too joined the aqliyat (minorityism) politics of Ashraf and elite Muslims and of the 'secularist' manipulators.
They were made to forget the empowerment of the Pasmandas, the turnaround of Bihar's economy by Nitish who brought the state back by facilitating the conviction of many gangsters turned legislators whose thriving business of kidnapping for ransom and vehicle snatching had become the order of the day in the Rabri Devi era.
Besides, around one hundred thousand petty criminals were convicted in fast track courts which restored law and order in a big way. Both during the Lalu-Rabri era and before that, the Congress era, Bihar had been made into a highly disreputed region for its perpetual poverty and backwardness as the bureaucracy wilfully failed to utilise central funds.
This longstanding perpetual ailment of Bihar could be cured by Nitish substantially, also because of his personal integrity in administration, a rare thing among politicians, besides his seriousness in looking into and disposing of files with diligence.
An average non-Yadav Hindu in Bihar is scared of the Lalu-Rabri era almost as much as an average Muslim is said to be scared of Modi for the Gujarat riots of 2002. In this scenario, where Muslims-Yadavs combined to revive the 'dead horse' of Lalu, more and more vehement Hindu consolidation in favour of the BJP-led NDA took place in Bihar unlike West Bengal, where Muslims and Hindus alike stayed with Mamata Banerjee; and unlike in Orissa (where the electoral significance of Muslims is negligible) where the 'Hindu Hriday Samrat' called Modi was not a preferred option in comparison to the equally performing Chief Minister Navin Patnaik who succeeded in holding ground even in the Lok Sabha election 2014, besides the concurrent assembly election.

But one question still remains largely unanswered, as to how the Muslim electorate of Bihar was weaned away from the performing Nitish from April 2014 onwards?

Immediately after the RJD struck an alliance with the Congress, a rumour began to circulate dubbing Nitish as electorally weak despite his by and large fairly satisfactory performance as chief minister. The Congress candidate and incumbent Parliamentarian from Kishanganj (which has 70% Muslims) in eastern Bihar, Maulana Asrarul Haq Qasmi, is a Deoband cleric and is among the founders of the All India Milli Council, a Muslim clergy outfit. He was to contest against Akhtar-ul Iman of the JD-U, an MLA from Kochadaman (in Kishanganj) who, foreseeing the RJD debacle, joined the JD-U in late 2013.

Akhtar-ul Iman was counted among clean politicians, having been engaged in many social reform and educational uplift movements in the Kishanganj area. But given Qasmi's Deoband connections, his clout with Muslim outfits like the Imarat-e-Shariah is quite strong and entrenched. Besides, he is also affiliated with the Jamiat-ul-Ulema-e-Hind (again, a pro-Congress outfit of the clergy, founded in 1919, and which was in the forefront of the freedom struggle).

With this kind of entrenched clout, Qasmi succeeded in propagating across Bihar that a division of Muslim votes would result in the BJP's win. The fear-mongering was raised to such a degree that community pressure was pushed to the highest level, so much so that Akhtar-ul Iman withdrew his candidature under this social pressure, and giving a severe jolt to the JD-U (particularly its Muslim support base across Bihar) at a time when it could not have replaced its candidate from the seat.

At the same time, this also proved extremely advantageous for the BJP as this kind of communal pressure tactics resulted in religious polarisation and electoral consolidation across Bihar. Consequently, Qasmi won by a margin of around 200,000 votes; and interestingly, Akhtar-ul Iman too secured 56,000 votes despite having withdrawn from the contest.

Immediately after Iman's withdrawal, the Muslims started mounting pressure on other JD-U Muslim candidates to withdraw in favour of RJD candidates for the sake of avoiding a division of Muslim votes and to defeat Modi.
Nobody was asking why shouldn't the nominees of (the convicted, discredited and non-performing) Lalu be asked to withdraw if at all the politics of withdrawing candidature is a valid political move.

This was happening when almost every RJD MLA, including Abdul Bari Siddiqi (who having bargained the Madhubani seat from the Congress, contested as an RJD nominee to lose for the second consecutive time), was, according to informed sources, about to quit the RJD and join the JD-U, but for its alliance with the Congress at the last moment.
If the Congress had insisted on keeping Madhubani for its candidate and spokesperson Dr Shakil Ahmad, then Siddiqi was all set to contest it as a JD-U nominee. It is also said that Dr Ahmad had tried his best to align the Congress with the JD-U, but Lalu outsmarted him.
In short, 'secularists' like the Congress-RJD in connivance with the clergy and the vernacular intelligentsia of Muslims, know how to play the politics of 'minorityism' at the expense of social justice among the Muslims.
The case of Uttar Pradesh further illustrates it. The Muslim politics of the pulpit is so effective that even having presided over gruesome communal massacres in Uttar Pradesh, the incumbent Samajwadi Party government managed to be called pro-minority and therefore succeeded in extracting substantial Muslim votes in this election, as its leader, Azam Khan, in jaundiced competition with the BJP's Amit Shah, did a lot to make this Lok Sabha elections communally polarised, which was otherwise being contested on concrete economic issues.
These 'secularists' are more adept at the politics of intense and alarmingly exaggerated fear-mongering, as this kind of politics provides easy votes of Muslims en bloc without making them answerable for the concrete issues of poverty, unemployment, lawlessness, and of basic needs like roads, electricity, etc.

But the history of electoral politics often testifies that mere opposition of an individual cannot bear fruit. Rather, it needs some convincing agendas and programmes to attract people.
Mere rhetoric of 'secularism' consistently devoid of governance and development was not going to fetch votes for all time to come. (heir task was made easier by the extremely divisive statement of Giriraj Singh, the BJP candidate from Nawada, who said that critics and opponents should go to Pakistan.
In this way, it was the rhetorical and by-now discredited politics of 'secularism' which contributed, in its own way, towards religious polarisation, at least in Bihar, unlike adjacent West Bengal and Orissa.
This was yet another reason why people moved towards the BJP with greater vehemence, and improving its tally in Bihar. Sadly, this jaded politics of 'minorityism' provided credence to a majoritarian mythical prejudice that the electoral behaviour of Muslim minorities stands in the way of India's economic development.

Now, just talk to an average Bihari Muslim, they will frankly admit how they were misled and how fear was generated among them and they now curse their leaders, the fear-mongers, about whom they now say with huge regret, 'Kya kahein, in logon ne hamein warghala diya (What to say now, our leaders badly misled us).' They particularly repent having been made to vote a dead-horse, Lalu.

They also offer an Urdu couplet:
Kuchh aisay bad-hawaas huay in aandhiyon mein hum
Jo perh tthey kamzor unhin se lipat gaye
(In these storms we were made so mindlessly desperate that we took shelter only with the vulnerable trees).

As this age-old game of the 'secularists' and their politics of 'minorityism' stand badly exposed, they are now in great fear that if the new regime chooses to not go for minority witch-hunting and aggressively implements (depending upon the provincial governments) even the one scheme -- the Prime Minister's 15-Point Programme for Minorities -- then it may become extremely difficult for the 'secularists' to create fear among the Muslim minorities, and in that case, the fear-mongers called 'secularists' may find it difficult to surge back in the near future.

And here lies the possibility of a radical redefinition of Muslim politics, as to shall it really remain hostage to the politics of 'secularism' and 'minorityism' which is devoid of their empowerment, governance and development, or shall it move beyond and ahead as a religious-ethnic minority that is also a citizen.
Image: Bihar Chief Minister Nitish Kumar at his Janata Durbar in Patna. Photograph: Archana Masih/Rediff.com

Mohammad Sajjad teaches late-colonial and post-Independence Indian History at the Centre of Advanced Study in History, Aligarh Muslim University. He has published two books: Muslim Politics in Bihar: Changing Contours (Routledge, 2014) and Contesting Colonialism and Separatism: Muslims of Muzaffarpur since 1857 (Primus, 2014).